The following is a list of stocks that are approaching an inflection point, based on moving average trends. For this article, we define an inflection point as the convergence between the 50-day and 200-day moving averages.

When these two moving averages cross, it often represents a shift in investor sentiment. If the 50-day MA moves above the 200-day MA (bullish), it's called a "Golden Cross" signal.

To compile this list, we started with a universe of stocks that have seen the 50-day MA move above the 200-day MA. In addition, all of these stocks have seen some short covering over the last three months, which may have contributed to some of the recent upside.

Are these rallies sustainable, or can most of the recent upside be explained by short covering? To include perspective on the short interest, we'll also include data on short float as a percentage of total shares outstanding.

Note: All short trends described occurred between 7/15 and 10/15. Short trends data sourced from AOL Money. Current short float and moving average data sourced from Finviz.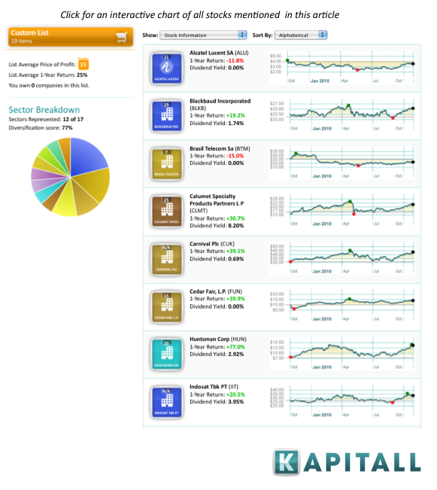 The list has been sorted by changing in short ratio. All short trends described occurred between 7/15 - 10/15.

1. Alcatel-Lucent (ALU): Communication Equipment Industry. Market cap of $7.89B. SMA50 at $3.15 vs. SMA200 at $3.02 (current price at $3.52). Short ratio has decreased from 3.3 to 1.2, with shares shorted decreasing from 27.38M to 18.94M. Current short float at 1.05%. The stock has lost -12.53% over the last year.

2. Pampa Energia SA (NYSE:PAM): Electric Utilities Industry. Market cap of $744.92M. SMA50 at $11.37 vs. SMA200 at $10.96 (current price at $14.2). Short ratio has decreased from 2.4 to 1.1, with shares shorted decreasing from 138,152 to 64,971. Current short float at 0.14%. The stock has gained 26.29% over the last year.

3. Indosat tbk PT (IIT): Telecom Services Industry. Market cap of $3.57B. SMA50 at $29.86 vs. SMA200 at $28.76 (current price at $33.02). Short ratio has decreased from 1.5 to 0.7, with shares shorted decreasing from 25,026 to 15,220. Current short float at 0.06%. The stock has gained 22.9% over the last year.

4. Brasil Telecom S.A. (BTM): Diversified Communication Services Industry. Market cap of $4.11B. SMA50 at $20.19 vs. SMA200 at $20.14 (current price at $21.61). Short ratio has decreased from 2 to 1, with shares shorted decreasing from 384,134 to 338,117. Current short float at 0.3%.

5. KT Corp. (NYSE:KT): Telecom Services Industry. Market cap of $10.03B. SMA50 at $20.09 vs. SMA200 at $19.99 (current price at $20.45). Short ratio has decreased from 3.4 to 1.9, with shares shorted decreasing from 2.43M to 1.58M. Current short float at 0.43%. The stock has gained 27.35% over the last year.

6. Tutor Perini Corporation (NYSE:TPC): Heavy Construction Industry. Market cap of $1.08B. SMA50 at $20.56 vs. SMA200 at $20.41 (current price at $23.11). Short ratio has decreased from 8 to 4.6, with shares shorted decreasing from 2.25M to 1.40M. Current short float at 6.05%. The stock has gained 26.07% over the last year.

7. Lifepoint Hospitals Inc. (NASDAQ:LPNT): Hospitals Industry. Market cap of $1.93B. SMA50 at $33.79 vs. SMA200 at $33.58 (current price at $33.93). Short ratio has decreased from 7.1 to 4.5, with shares shorted decreasing from 2.72M to 2.62M. Current short float at 6.38%. The stock has gained 26.32% over the last year.

8. Transatlantic Holdings Inc. (NYSE:TRH): Property & Casualty Insurance Industry. Market cap of $3.33B. SMA50 at $49.73 vs. SMA200 at $49.23 (current price at $52.48). Short ratio has decreased from 1.8 to 1.2, with shares shorted decreasing from 770,826 to 382,307. Current short float at 0.66%.

9. Rockwell Collins Inc. (NYSE:COL): Aerospace/Defense Products & Services Industry. Market cap of $9.59B. SMA50 at $58.08 vs. SMA200 at $58.07 (current price at $60.75). Short ratio has decreased from 4.1 to 2.8, with shares shorted decreasing from 4.46M to 2.60M. Current short float at 2.19%. The stock has gained 23.47% over the last year.

10. Universal American Corp (NYSE:UAM): Health Care Plans Industry. Market cap of $1.22B. SMA50 at $14.91 vs. SMA200 at $14.81 (current price at $16.18). Short ratio has decreased from 8.2 to 5.6, with shares shorted decreasing from 1.70M to 982,694. Current short float at 4.78%. The stock has gained 86.31% over the last year.

11. Total System Services, Inc. (NYSE:TSS): Business Services Industry. Market cap of $3.06B. SMA50 at $14.99 vs. SMA200 at $14.89 (current price at $15.58). Short ratio has decreased from 10.2 to 7.4, with shares shorted decreasing from 13.01M to 10.29M. Current short float at 5.78%. The stock has gained 2.18% over the last year.

12. Huntsman Corporation (NYSE:HUN): Chemicals Industry. Market cap of $3.28B. SMA50 at $11.02 vs. SMA200 at $10.9 (current price at $13.89). Short ratio has decreased from 2.1 to 1.6, with shares shorted decreasing from 7.09M to 6.87M. Current short float at 3.53%. The stock has gained 83.65% over the last year.

13. Carnival plc (NYSE:CUK): General Entertainment Industry. Market cap of $35.73B. SMA50 at $38.24 vs. SMA200 at $37.78 (current price at $43.34). Short ratio has decreased from 4.9 to 3.8, with shares shorted decreasing from 932000 to 559366. Current short float at 0.1%. The stock has gained 41.2% over the last year.

14. Johnson Controls Inc. (NYSE:JCI): Auto Parts Industry. Market cap of $23.53B. SMA50 at $30.19 vs. SMA200 at $29.89 (current price at $35.2). Short ratio has decreased from 1.5 to 1.2, with shares shorted decreasing from 9.12M to 5.93M. Current short float at 0.92%. The stock has gained 45.93% over the last year.

15. Cedar Fair LP (NYSE:FUN): General Entertainment Industry. Market cap of $784.44M. SMA50 at $12.77 vs. SMA200 at $12.73 (current price at $14.07). Short ratio has decreased from 1.2 to 1, with shares shorted decreasing from 218,518 to 132,422. Current short float at 0.22%. The stock has gained 47.25% over the last year.

16. Yingli Green Energy Holding Co. Ltd. (NYSE:YGE): Semiconductor Industry. Market cap of $1.79B. SMA50 at $11.99 vs. SMA200 at $11.75 (current price at $11.74). Short ratio has decreased from 2.1 to 1.8, with shares shorted decreasing from 7.95M to 7.48M. Current short float at 24.06%. The stock has gained 3.98% over the last year.

17. Blackbaud Inc. (NASDAQ:BLKB): Business Software & Services Industry. Market cap of $1.11B. SMA50 at $23.3 vs. SMA200 at $23.24 (current price at $25.24). Short ratio has decreased from 18 to 15.6, with shares shorted decreasing from 3.23M to 2.37M. Current short float at 6.23%. The stock has gained 21.67% over the last year.

18. MicroStrategy Inc. (NASDAQ:MSTR): Business Software & Services Industry. Market cap of $1.02B. SMA50 at $84.68 vs. SMA200 at $82.95 (current price at $89.). Short ratio has decreased from 6.1 to 5.3, with shares shorted decreasing from 722551 to 483683. Current short float at 5.94%. The stock has gained 21.27% over the last year.

19. Calumet Specialty Products Partners LP (NASDAQ:CLMT): Oil & Gas Refining & Marketing Industry. Market cap of $782.86M. SMA50 at $19.61 vs. SMA200 at $19. (current price at $21.6). Short ratio has decreased from 0.8 to 0.7, with shares shorted decreasing from 73123 to 70213. Current short float at 0.97%.

Disclosure: No positions