According to Stephen Green of Standard Chartered, China's total debt-to-gross-domestic-product ratio hit 251% at the end of June. This is an increase from a ratio of just 147% at the end of 2008.
China's Total Credit Continues to Grow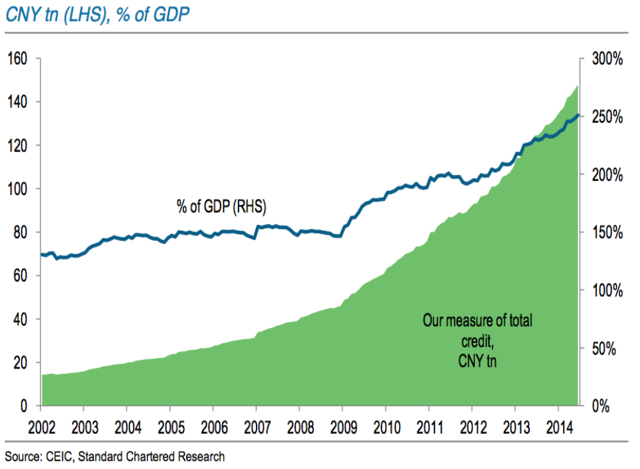 The increase in debt levels are the consequence of the loose monetary policy undertaken in the aftermath of the 2008 global financial crisis, where policymakers turned to credit to fuel growth as export markets slowed down. While the easy credit has successfully mitigated collapsing growth six years ago, question are now being raised as to whether China's increasingly debt-fueled growth is sustainable in the longer term. Furthermore, while credit has increased rapidly, growth has not kept up, slowing down from 14.2% in 2007 to a 7.5% expansion in the second half of 2014.
In the chart below, we see a divergence in total credit and nominal GDP. Green's view is that until the green and blue lines converge, the Chinese economy will continue to leverage up and the market will have reason to remain concerned.
Divergence in Total Credit and Nominal GDP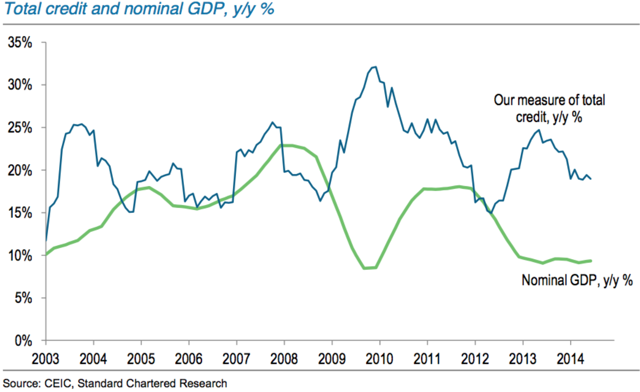 Beijing does not seem to be looking to rein in credit sharply anytime soon because of fears that a combination of slowing growth and a property market decline would result in a "hard landing" of the economy. New credit in China reached $316 billion in June, the highest monthly figure since March and nearly double the amount from the same period last year. The chart I've created below shows a deviation from the trend, indicating a situation of excess credit from 2009 but becoming more significant since 2012, with the latest figures showing the pick up of credit growth.
Credit Boom: Deviation From Trend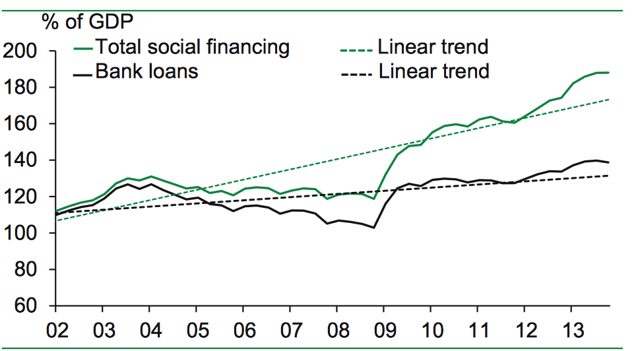 Nevertheless, there is minimal chance of a debt crisis, whereby investors demand higher interest rates that would increase the risk of default. Most of the credit has been supplied by domestic lenders. While foreign borrowing has increased significantly and is quite large in absolute terms, at less than 10% of GDP it remains a minuscule share of the economy.
In this vein, the more pertinent concern about China's debt overhang would be the economy's excessive reliance on investment for growth. Many analysis have called for Beijing to shift the economy away from investment and toward consumption. There is much credence to this, above all the misallocation of resources toward investments that are less and less productive, evidenced by the various empty buildings and phantom malls that we see in China's cities nowadays. Indeed, they are a sign of the chronic oversupply in the ongoing property market downturn.
Right now, Beijing is likely to continue with loose credit policies, with more moderate easing on the way in Q3, including reserve requirement ratio cuts. For the past 30 years, Beijing only had to focus on growth as the overriding objective and now policy makers find themselves having to grapple with multiple objectives. Key among them is the balancing act between supporting growth by its "prudent monetary stance," while ensuring that policies are targeted toward productive investments. It is expected that the boldness of any upcoming policies would be combined with caution because, as always, Beijing's No. 1 priority is the preservation of the communist party -- and it surely does not want to risk upheaval.
Disclosure: The author has no positions in any stocks mentioned, and no plans to initiate any positions within the next 72 hours. The author wrote this article themselves, and it expresses their own opinions. The author is not receiving compensation for it (other than from Seeking Alpha). The author has no business relationship with any company whose stock is mentioned in this article.