By David Russell
iStar Financial (SFI) is rallying after on some positive financial news, and now buyers are jumping into the heavily shorted commercial lender.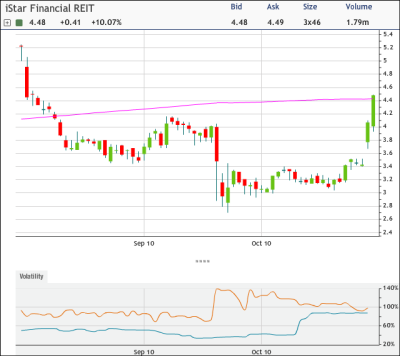 optionMONSTER's Heat Seeker tracking system detected the purchase of 2,220 December 6 calls, mostly for $0.22, and about 1,200 December 5 calls for $0.40. Volume is more than twice the open interest in both strikes.
SFI is up 10.07 percent to $4.48 in early afternoon trading, following a 19 percent jump yesterday. The company is structured as a real-estate investment trust but mostly provides loans rather than owning buildings. Yesterday the company said it would repay $1 billion of debt earlier than expected.
That was enough to trigger a short squeeze in the stock, against which bearish bets accounted for 31 percent of the float in mid-October. Other news in the report was poor, with non-performing loans continuing to increase and the third-quarter loss coming in wider than expected.
SFI has now rallied back to its 200-day moving average (purple line on chart), which some traders may expect to form resistance.
Total option volume in the stock is about twice the average amount so far today, with calls outnumbering puts by 15 to 1.

Disclosure: No position