Tibco enterprise software (NASDAQ:TIBX) has alleged that Bank of America (NYSE:BAC), the second biggest US bank, with an asset base valued at $2.17 trillion, copied $300 million worth of Tibco's enterprise level apps for a massive IT project. The project related to BAC's Merrill Lynch operations.
Tibco alleges that its software was reproduced without its permission and in violation of a license agreement.
Who is Tibco?
Tibco Software is an American IT company with a $5.1 billion market capitalization. It provides 4,000 customers around the world with business intelligence software. The infrastructure is designed to handle big data--the overwhelming amount of data processed by huge corporations that needs to be organized in a way that can be intelligently sorted and applied--for its digital consumers.
The Software Licensing Process
Tibco provides on-premise or cloud computing software to manage streams of real-time information, make key decisions, and keep track of complicated business processes. This software is not sold outright, but leased, under a business model called SaaS or software-as-a-service, which entails ongoing IT vendor support for systems and infrastructure. Under this business model, the software cannot be used outside the agreed terms and beyond its expiration dates.
Allegations in the Lawsuit
According to Tibco's lawsuit, the bank legally purchased large quantities of its software, but then continued to deploy the software for its massive IT project at its Merrill Lynch subsidy after the license expired in February last year.
The lawsuit stated that since Bank of America was a long-standing customer, its 2010 license agreement provided an addendum that allowed the bank to legally use the software for three more years. However, although the license allowed for extended use, it also had specific restriction in place that limited how the bank could use its software. The lawsuit did not disclose the nature of the restrictions due to a confidentiality provision.
According to the narrative in the lawsuit, Tibco noticed that the bank was continuing to use the software six months after the license agreement had expired on a large scale IT project labeled Merrill Lynch One. This project involved deploying the software to 400 financial advisors in September last year with a plan in motion to migrate another 14,000 applications this year.
The lawsuit further alleges that the bank made illegal copies to roll out its project. The bank stockpiled Tibco software during the 3-year licensing period but was now using unauthorized copies on it Merrill Lynch One project. The lawsuit has named Bank of America as defendants, as well as the bank's subsidiaries, who used the software illegally.
Tibco said that it informed Bank of America about the violation of the license agreement once it found out about it, but that the bank refused to make good.
Bank of America's Response to the Lawsuit: Denial of Wrongdoing
Tibco filed its lawsuit in June this year with the US District Court for the Northern District of California, and, as of yet, Bank of America has not filed a response to it.
Tibco is asking for an injunction to stop the bank from continuing to use its software. It is also asking for the unauthorized copies of the software to be impounded and to be paid for compensatory damage.
In an email, Bank of America spokesman Mark Pipitone, denied any wrongdoing by the bank. He wrote that Bank of America had a long, positive history with third party vendors, that the bank had consistently acted in good faith to comply with all of Tibco's licensing requirements, and that the bank intended to vigorously defend itself.
Outlook For BAC
While Tibco has had mixed results recently, along with instances of lowered guidance, and subsequent stock depreciation-BAC has fared far worse.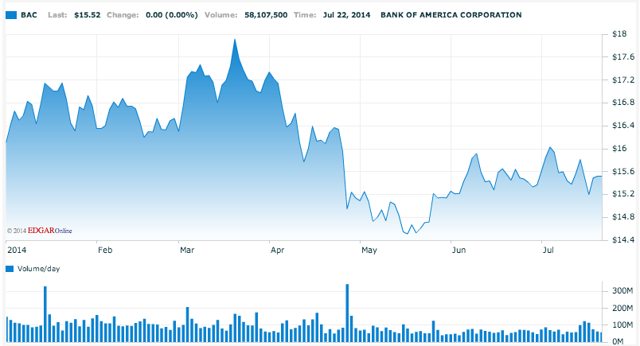 Click to enlarge
(Nasdaq.com)
The mega bank recently posted poor results, largely due to legal fees and fines, which have taken a toll both financially and with regards to its public image.
From the financial crisis alone, BAC has paid out over $50 billion--half of the entire amount that large banks have paid in settlements.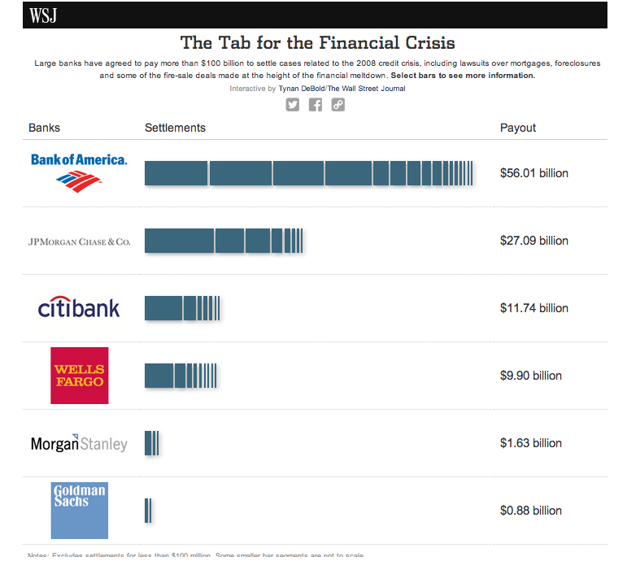 Click to enlarge
(Source: online.wsj.com)
In the case of Tibco, it appears BAC has some untrustworthy employees in the mix, who continued using Tibco software after they were due to stop.
This isn't the first time in 2014 that BAC has misused its power. The bank was fined $800 million for pressuring its own customers to buy credit-card add-ons.
With continued offenses against shareholders, BAC is not a positive pick for us in the second half of 2014.
We invite readers wishing to join the discussion on Bank of America to click the +Follow button above the title of this article, and those looking for the latest updates to click +Get real-time alerts.
Disclosure: The author has no positions in any stocks mentioned, and no plans to initiate any positions within the next 72 hours. The author wrote this article themselves, and it expresses their own opinions. The author is not receiving compensation for it (other than from Seeking Alpha). The author has no business relationship with any company whose stock is mentioned in this article.