First Half of the Year Review
Total S.A. (NYSE:TOT), the biggest French company based on its capitalization of around 120M€ (160B$), has been contributing to the rise of the French CAC40 since January. The graph below of the evolution of the largest oil companies shows that Total achieved the best performance in the first six months, with an increase of 21%, when Exxon Mobil (NYSE:XOM) and Chevron (NYSE:CVX) were only up by 1.02% and 5.26%, respectively.

Source: Google Finance.
In recent years, Total has been underestimated. But if you look closer, you can see great opportunities, and I think that the stock may continue to rise. One of the main reasons is the start of some major new projects such as the CLOV, which began last month, in line with the schedule. These projects should enable Total to meet its production targets (2.6 Mboe/d in 2015).
An Attractive Dividend
The dividend yield is currently attractive at 4.6%, and the company is one of the few in Europe to pay its dividend quarterly (0.61 €/quarter, $0.83 for the ADR). Over the past seven years, the dividend has increased slowly but surely, as you can see below:
| | |
| --- | --- |
| Year | Dividend Amount (€) |
| 2006 | 1,87 ($2.52) |
| 2007 | 2,07 ($2.79) |
| 2008 | 2,28 ($3.07) |
| 2009 | 2,28 ($3.07) |
| 2010 | 2,28 ($3.07) |
| 2011 | 2,28 ($3.07) |
| 2012 | 2,34 ($3.16) |
| 2013 | 2,38 ($3.21) |
| 2014E | 2,46 ($3.32) |
Source: Total Investor Relations.
We can see an increase of 27% over the last eight years, which is not phenomenal. However, the investment peak in 2013 is now part of the past, and investments should decrease with $26 billion this year and about $24 billion next year, compared to $28 billion last year. This will cause an increase in free cash flow. Therefore, I think that Total will be able to increase its dividend every year, and perhaps even initiate a significant share repurchase program.
Assuming that the dividend will continue to reasonably increase each year, below is a possible model I've created for the next five years. I believe that increasing 10 cents per year is possible, which is a conservative estimate.
| | |
| --- | --- |
| Year | Dividend Amount (€) |
| 2014E | 2,46 ($3.32) |
| 2015E | 2,56 ($3.45) |
| 2016E | 2,66 ($3.59) |
| 2017E | 2,76 ($3.72) |
| 2018E | 2,86 ($3.86) |
A dividend of € 2.86 ($3.86) would be equivalent to a yield of 5.4% (June 30, 2014, stock price of $72.20/€ 52.78).
And Now?
Big projects are under development, and some should start their production in the coming months. Here is the road map for the next big projects: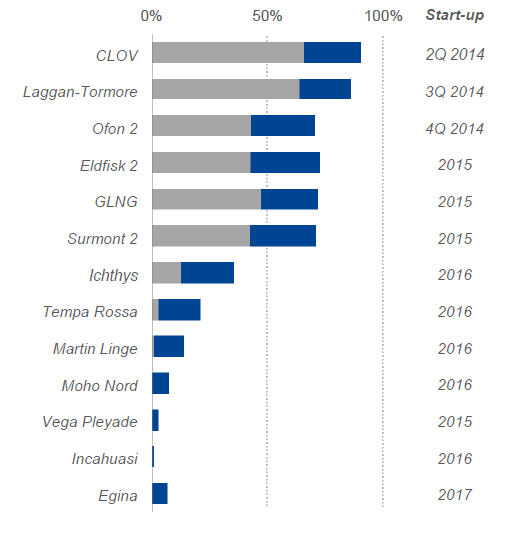 Source: Total's Annual Report.
A key to the success of the company in the coming years will be the implementation of future projects, the next in line being Laggan-Tormore (in the U.K.) and Ofon 2 (in Nigeria).
Laggan-Tormore
This project off the north coast of Great Britain consists of the operation of two gas fields, for an estimated production of 90,000 boe/d. Total is the operator in 80% of these fields. The start of production is planned for the third quarter of 2014.
Ofon 2
Located 60km from the Nigerian coast, the Ofon 2 project is already active. The second phase aims to increase the production from 30,000 boe/d to 90,000 boe/d, with this phase due to start in the fourth quarter of 2014. Ofon 2 clearly shows that Total is one of the best, if not the best, big oil company in Africa. Many other countries are already working with Total, such as Gabon, Uganda, Algeria, Angola, etc.
Reduction of Costs
Another important challenge is the reduction of costs. President Christophe de Margerie has this as one of his priorities. The most recent example, the Kaombo project, had its cost reduced by $4 billion. Indeed, the inflation of cost was renegotiated and reduced by 25%, from $20 billion to $16 billion, for the entire project. One can also cite the Josyn project in Canada where 150 jobs have been cut to optimize costs.
Conclusion
Following the period of 2012-14, marked by a massive investment, Total has entered the period of 2014-17, which could be the golden age for its stock and shares. A decrease in investment, which will mechanically increase the FCF, will leave the field open to dividend increases and will lead the company toward better financial health.
It is also interesting to know that Total now publishes its financial reports and results in U.S. dollars, which clearly shows that the group is willing to improve its communication with its American investors.
Disclosure: The author is long TOT via French stock (EPA:FP). The author wrote this article themselves, and it expresses their own opinions. The author is not receiving compensation for it (other than from Seeking Alpha). The author has no business relationship with any company whose stock is mentioned in this article.
Disclaimer: Investors should always do their own research before investing. Material in this article is not an investment recommendation; the hypothesis and outlook are not granted.