A longtime Dow Industrial Average Benchmark stock, Wal-Mart (NYSE:WMT) has gradually unveiled its dark side.
Disconnect Between Cozy PR and Predatory Practices
On their PR front, Bentonville, Arkansas headquartered Wal-Mart represents American innovation, mom and pop values, great customer service and the best retail prices for families on a budget. However, the corporate, municipal, and community trade-offs for these Wal-Mart offerings have included the following:
1. Wal-Mart has long engaged in predatory practices that have wiped out countless small retail businesses, who could not compete with their volume based discount pricing in communities across the nation;
2. Wal-Mart's volume purchases at barely break even prices for manufacturers and suppliers have jeopardized many small businesses as they become so dependent on Wal-Mart orders that any supply chain problem or cancellation can result in bankruptcy;
3. Wal-Mart is a significant contributor to the US trade imbalance with China by virtue of the sheer quantity and millions of dollars of cheaply made retail products that they import from China every day;
4. A significant number of Wal-Mart employees have to apply for Medicaid and food stamps as their hours and wages often do not cover requirements for corporate medical coverage, in spite of Wal-Mart becoming one the nation's largest suppliers of medications through Medicaid billing in the nation;
5. Wal-Mart tax breaks and municipal subsidization also have led to documented cuts in essential municipal budgets, from education to firefighting.
Scandals Bring The Spotlight To WMT
A number of recent news items have put Wal-Mart front and center in the negative media spotlight:
Comedian/Actor Tracy Morgan of "30 Rock" fame, was severely injured in a NJ auto accident with a speeding Wal-Mart truck whose driver was suffering from sleep deprivation due to tight schedules for deliveries on the road imposed by Wal-Mart management. Ardley Fuqua, a comedian, was injured and a fellow comedian, James McNair, perished in the crash. Morgan has filed a lawsuit against Wal-Mart and this lawsuit will likely highlight the pressures and unsafe and possibly unethical practices that Wal-Mart managers apply to all workers through the entire supply chain.
In 2012, it was reported that Wal-Mart was accused of violations of the Foreign Corrupt Practices Act (FCPA) and possible bribery of Mexican government officials by company executives. Going on two years later, Wal-Mart's Board has allegedly spent hundreds of millions of dollars to cooperate with government prosecutors, but they still have yet to either evidence that Wal-Mart has complied with FCPA or identify which Wal-Mart executives were under investigation;
While Wal-Mart has now expanded or is expanding into other countries, such as China and India, they are facing the problems of the global economy as well out there, and the clash of cultures has resulted in many more challenges than Bentonville was prepared to face. China has levied numerous fines on Wal-Mart, particularly in association with food preparation;
Some environmental groups in Florida and other states are trying to prevent Wal-Mart expansion into areas that may result in environmental impact to wildlife, water supply, and other resources.
Evidence Of Demise
Evidence of widespread unethical behavior by Wal-Mart could create a domino effect to an already negative trend. Wal-Mart's stock has been down and recovery has been anemic relative to the rest of the Dow.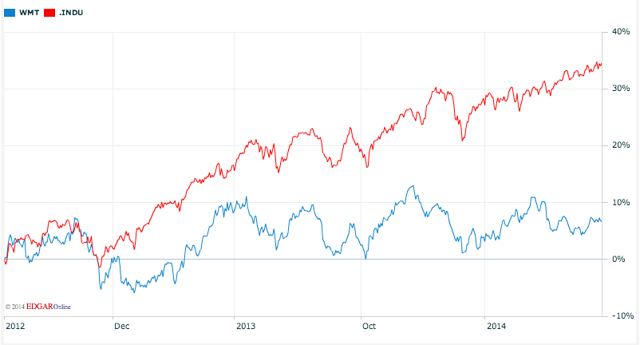 (Nasdaq.com)
The board seems to have a tin ear when it comes to equating executive pay with stock price performance, and has yet to address the imbalance.
The overall retail market outlook has been gloomy.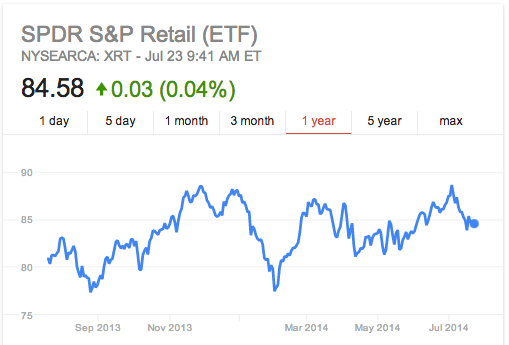 (google.com/finance)
With the bulk of its budget conscious customer base barely making ends meet, Wal-Mart has already been losing customers across the spectrum.
Outlook Negative for WMT Shareholders
With some institutional investors divesting themselves of Wal-Mart stock in the wake of poor quarterly numbers, a spate of negative news can create a deleterious tsunami if retail investors start placing sell orders en masse as well.
Such an occurrence would not be unjustified. The company missed revenues for a historic three consecutive quarters in 2013.
Savings from store closings are offsetting the negative trend in revenues for balance sheet purposes.
However, cash flow dropped $2.34B from January 2013 to January 2014.
We suggest investors take profits in WMT now before news and results get worse in the second half of 2014.
We invite readers wishing to join the discussion on Bank of America to click the +Follow button above the title of this article, and those looking for the latest updates to click +Get real-time alerts.
Disclosure: The author has no positions in any stocks mentioned, and no plans to initiate any positions within the next 72 hours. The author wrote this article themselves, and it expresses their own opinions. The author is not receiving compensation for it (other than from Seeking Alpha). The author has no business relationship with any company whose stock is mentioned in this article.