Our regular readers know that we have been using the idea of buying on the dips and searching for value while investing in this bull market the past few years. The strategy has worked quite well as certain sectors and companies have indeed fallen by 10% or more and qualified as having had a correction, while the rest of the market has not had a true correction over this time period.
Biotech was one of the areas we saw as a value play after investors cooled to its prospects recently. Our game plan was to focus on the larger players in the sector by buying ETFs, such as the SPDR S&P Biotech ETF (NYSEARCA:XBI) and the iShares Nasdaq Biotechnology (NASDAQ:IBB).
Chart of the Day:
Even though we have had another pullback, our thinking about large cap biotech remains the same. If one wants to be long this sector while being able to ride out the rough stretches, the iShares Nasdaq Biotechnology ETF is the logical play. For those wanting more beta and more exposure to the smaller names, the SPDR S&P Biotech ETF fund should be the focus as it essentially gives equal weighting to the companies included in its holdings.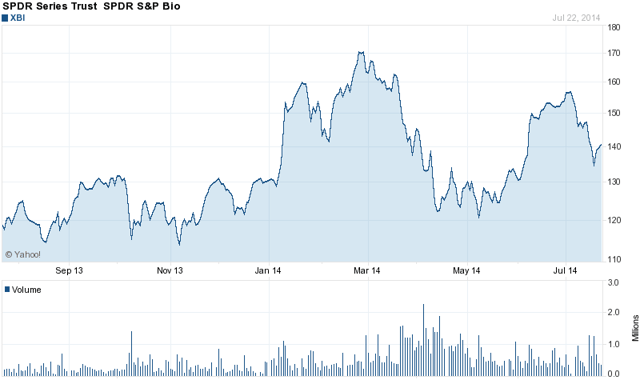 Source: Yahoo Finance
We have economic news today, and it is as follows:
MBA Mortgage Index (7:00 a.m. EST): Est: N/A Act: 2.4%
Crude Inventories (10:30 a.m. EST): Est: N/A Act: -3.969 M
The Asian markets are higher today:
All Ordinaries -- up 0.60%
Shanghai Composite -- up 0.14%
Nikkei 225 -- down 0.10%
NZSE 50 -- up 0.25%
Seoul Composite -- down 0.03%
In Europe, the markets are higher this morning:
CAC 40 -- up 0.49%
DAX -- up 0.50%
FTSE 100 -- up 0.11%
OSE -- up 0.09%
One Biotech Set To Rise
Puma Biotechnology (NYSE:PBYI) is set to soar today after having reported positive Phase III results for its breast cancer drug named neratinib. Many analysts are raising their price targets this morning, including Citigroup which kept its buy rating on the company's shares while raising its price target to $292/share from $99/share. Citigroup also stated that the company could be a takeover target now, especially with patent protection through 2030, with any potential deal valued between $291-351/share.
While the positive Phase III results were great news for Puma and its shareholders, the company also received good news from Pfizer (NYSE:PFE). Pfizer agreed to lower its royalty rate on neratinib from a sliding scale of 10-20% to a fixed rate somewhere between the low to mid-teens if Puma would take over the funding of the legacy trials.
Other Biotech News
Biogen Idec (NASDAQ:BIIB) is catching a bid this morning after reporting revenue and profit growth which exceeded analysts' expectations. Pacing the growth at Biogen was its multiple sclerosis drug portfolio, with its oral treatment, Tecfidera, leading the way and the gel treatments following suit.
We know that $300/share is support for the stock, but looking ahead we are watching the $340/share level as Biogen Idec shares approach what could be resistance.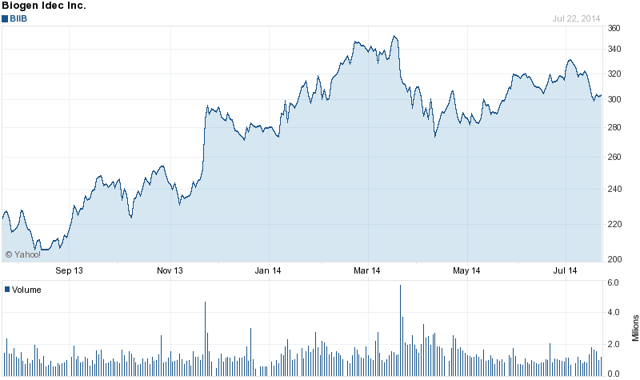 Source: Yahoo Finance
With the strong results across the board, it is no surprise that investors are excited, and the analyst upgrades and price target increases over the next few days should encourage further buying. The process has already started with Piper Jaffray raising its price target on Biogen Idec shares to $420/share from a previous target of $370/share. Piper Jaffray also kept its overweight rating on the shares.
Disclosure: The author has no positions in any stocks mentioned, and no plans to initiate any positions within the next 72 hours. The author wrote this article themselves, and it expresses their own opinions. The author is not receiving compensation for it (other than from Seeking Alpha). The author has no business relationship with any company whose stock is mentioned in this article.