1 year ago, I believed it was "Time To Order Some Thai", and purchased iShares MSCI Thailand Capped ETF (NYTHD), a call that unfortunately was a few months too early. However, at the beginning of this year, THD bottomed, and has since been on a steady rise. The ETF is up 31.51% YTD. Driving this growth is an economy that continues to grow, disregarding political turmoil.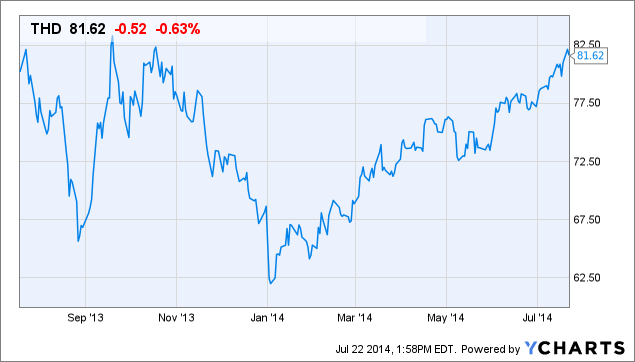 The Good News
The Bad News
Recovery remains slow. As with any new government, policies take months (if not years) to prepare and implement. One can only hope that the military is more effective at pushing forward much-needed changes.
Political unrest has driven some tourists away. Tourism accounts for 16.7% of Thailand's GDP.
The divide between rich and poor has not been addressed. Much of the political divide seen today stems from this flawed social structuring.
The elections will eventually come. The junta has delayed elections for at least one year, but when election season comes around, expect uncertainty.
Key Fund Facts:
Total Assets: $561.8 million.
1-Year Performance: +0.66%
5-Year Performance: +133.02%
The fund has 123 holdings.
Low expense ratio of 0.62%.
Yield of 2.23% provides some steady income.
Large exposure to Financials (34.08%) and Energy (17.69%).
THD's largest position, Siam Commercial Bank, posted a record high net profit, a testament to the recovery of the economy. Profits were "due to lower operating costs, loan growth and gains from asset sales".
Another top holding, PTT, an oil and gas company, has recently pushed the military junta to end costly government fuel subsidies. Similar actions have been successfully taken by General Sisi in Egypt to reduce the government's bill. Higher fuel prices will likely benefit PTT.
Conclusion
THD provides great exposure to a Southeast Asian market that continues to grow. While one should keep a very close eye on political developments, this ETF is likely to continue rising as investors realize that Thailand remains a strong investment choice. Expect to see pro-business reforms in the upcoming months.
Disclosure: The author is long THD. The author wrote this article themselves, and it expresses their own opinions. The author is not receiving compensation for it (other than from Seeking Alpha). The author has no business relationship with any company whose stock is mentioned in this article.