Do you remember Jeff Spicoli from the 1982 movie Fast Times at Ridgemont High? Well, today, he's apparently a member of the senior management team at Volcom (NASDAQ:VLCM).
Yesterday, VLCM management reported Q3 2010 EPS of $0.54. But, take away the $0.04 benefit from a FX gain, EPS came in $0.03 below consensus expectations of $0.53. What's interesting is that VLCM management had the audacity to make no mention of the $0.04 FX gain in its press release or its prepared remarks on its quarterly conference call.
VLCM has been a long-term underperformer. The company was wildly successful back in its early-growth stage. But, EBIT margins have since fallen off a cliff with no end in sight. It's our view that the management team that originally built the company is not the management team that can get VLCM to the next level. Many buy-side investors that we've talked to over the years agree with our assessment that the management team lacks the necessary business skills/acumen to morph the company into a sophisticated global brand. (Click to enlarge)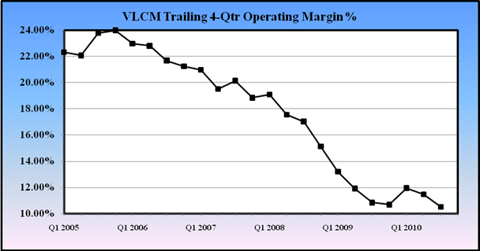 Click to enlarge
Think about it. Pacific Sunwear (NASDAQ:PSUN) is likely to report a -6.0% EBIT margin this year and has delivered miserable financial results for over 5 years (i.e. pre-recession). Yet, we're still sitting here listening to VLCM disclose each quarter that PSUN is the company's largest customer. We believe that a shrewder management team (sans Mr. Spicoli) would have diversified away from PSUN years ago.
There's more. The company disclosed yesterday that its inventory levels increased +65% at the end of Q3 2010 versus LY (versus Q3 2010 sales growth of +11%). Wow! Almost EVERY retailer is reporting well controlled inventory levels and higher merchandise margins today. Yet, VLCM management now says that they'll have to liquidate the excess inventory in Q4 2010 (helps explain why sales guidance in Q4 2010 was higher than consensus).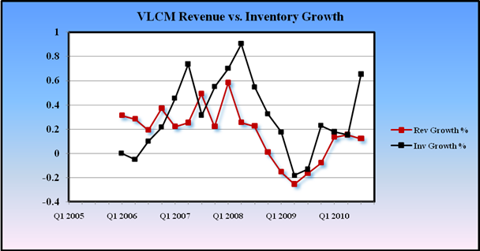 Click to enlarge

It appears that EBIT margins are heading below 10.0% this year. Where's the bottom? Until we see wholesale changes in the management team at VLCM we don't believe that we've seen the bottom just yet.

Disclosure: No positions