Apricus Biosciences (NASDAQ:APRI) and Takeda Pharmaceutical recently launched Vitaros in the United Kingdom, a topical cream for treating Erectile Dysfunction. This is the first launch in an anticipated series of launches this year and representing a major milestone in bringing Apricus to a point of monetizing Vitaros. Over the rest of the year, Apricus has announced that investors can continue to see launches throughout the rest of Europe and Canada.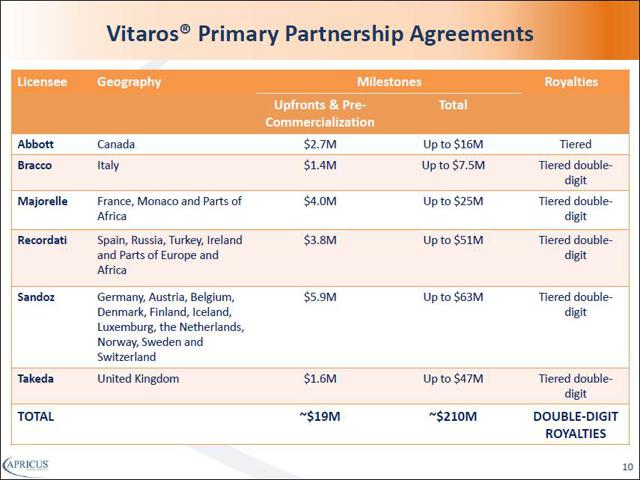 Click to enlarge
(Source: Company presentation dated 15 July)
No love for Apricus?
While it was a highly anticipated event and the company saw a small bump in the price leading up to the launch, it has since fallen 25%, and investors still seem to be reluctant to move on this small-cap company.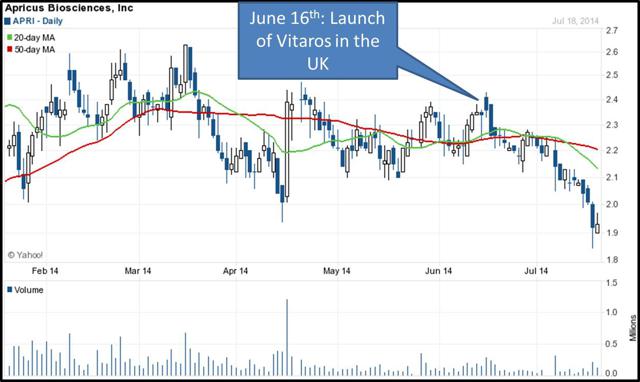 Click to enlarge
The coming earnings release (not yet announced, but will likely take place the second week of August) will help to quantify how well the launch has gone and any likely setbacks along the way.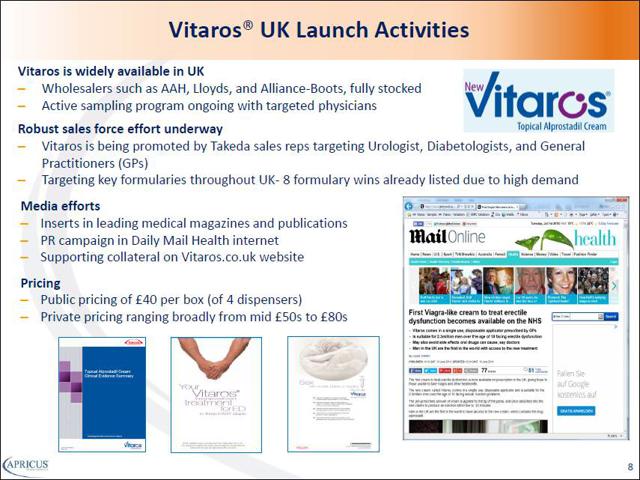 Click to enlarge
(Source: Company presentation dated 15 July)
Apricus has its critics in the message boards and in the blogs, most of it based on previous history and past leadership.
The company began its current operations in 2010, and shortly after, announced Canadian approvals for Vitaros and its first partner, Bracco SpA, with approval to market Vitaros in the Italian market. Since then, the company has failed to be able to capitalize on these approvals and partnerships. While there has been anticipation of a launch in Canada, the company has failed to bring any product to the market with its partner, Abbott.
These stalls by the company, in the face of approvals, have left a sour taste in the mouth of investors. With each approval and partnership announcement, investors have moved money into the company, only to see delays in getting the product to market.
The launch of Vitaros in the UK represents a major milestone in turning the tide on investor sentiment. The company has committed to launching in additional countries this year, including Canada. The first launch, on schedule, helped to restore some confidence in the company, but it will require additional launches before investor sentiment completely comes around.
While the company has brought Vitaros to market, it is still making strategic plans for continued growth of the company. The company is actively seeking a partner for Femprox (for treatment of Female Sexual Dysfunction), and is working towards approvals for RayVa in the treatment of Raynaud's Phenomenon.
Thesis
The long thesis for this company is based on the belief that the company can continue moving forward in the following:
Launching Vitaros with additional partners
Vitaros captures significant market share currently dominated by Viagra and Cialis
Long-term development of Femprox and RayVa
The Takeda launch in the UK represented entry into a large market. As part of the launch, the company issued a safety leaflet and video demonstrating the use of the product (not graphic).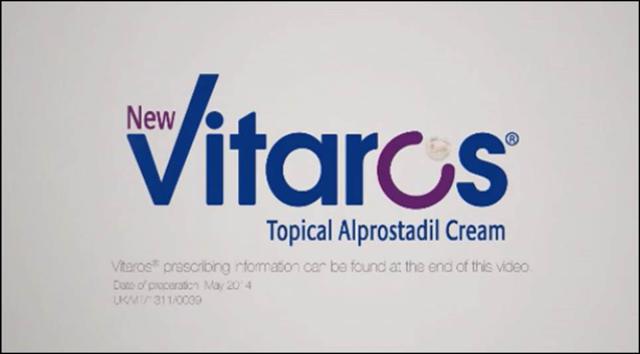 Click to enlarge
Increasing Market Share
Viagra and Cialis both target the PDE5 enzyme to treat ED, and some individuals show no response to that treatment. There are also restrictions on combining medications, so any individual being treated for a disease, especially a heart condition that requires a blood thinner, would be unavailable for treatment with the PDE5 inhibitor. And then there are those that find the little blue pill cumbersome and the wait time frustrating.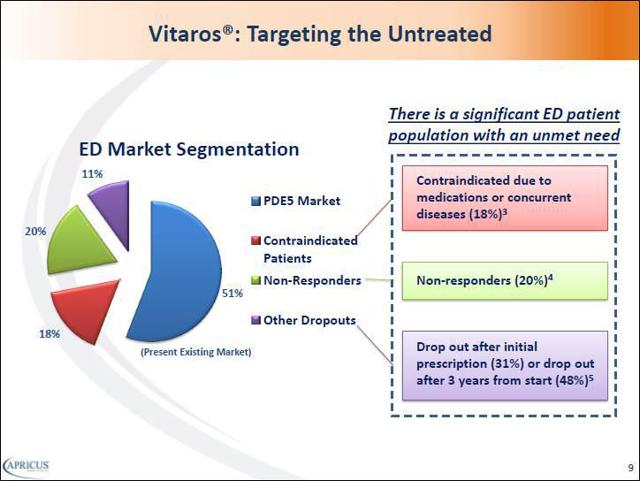 Click to enlarge
(Source: Company presentation dated 15 July)
By targeting a different activating mechanism, PGE1, known pharmaceutically as Alprostadil, Vitaros aims to capture some of those that are not potential customers of Viagra, Cialis, and Levitra. Alprostadil has been available for use in treating ED previously, but was applied through either a suppository or an injection. Apricus has combined the Alprostadil with its proprietary drug, NexACT, in order to deliver the drug without a cumbersome suppository or painful injection.
Looking at the future
While the company continues to seek market share for Vitaros, investors should expect the company to continue to move down a strategic path for growth.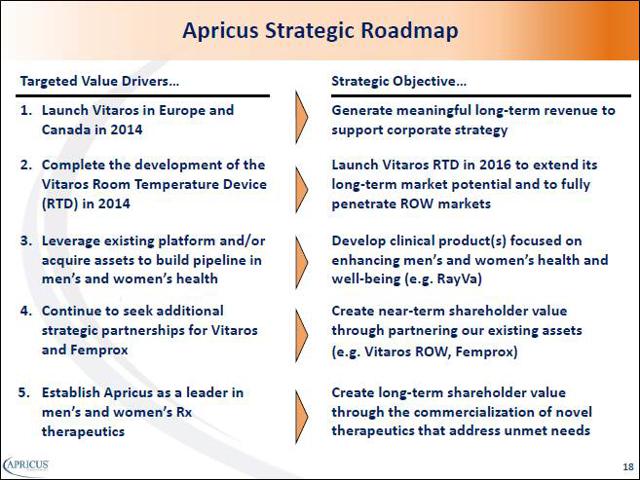 Click to enlarge
(Source: Company presentation dated 15 July)
Vitaros Room Temperature Device: One of the drawbacks of Vitaros is the need for the cream to be refrigerated. This can prove problems for shipping and traveling with it. While it does not need to be continuously refrigerated, drops in temperature can affect the effectiveness of the product. The development of a room temperature device will help with these challenges.
Leverage Existing Platforms: While the focus has been on Vitaros, Femprox, and RayVa, the real gold mine for the company is NexACT. NexACT is a proprietary water-soluble small molecule permeation enhancer, which temporarily changes the permeation dynamics of the lipid bi-layer and transiently loosens the tight junctions between the cells, so that active drug molecules can be rapidly absorbed into systemic circulation. This is what helps Vitaros and Femprox deliver the active ingredients in a new way. RayVa is delivered the same way. Investors can expect to see the company develop additional medications for treating issues that can be solved in a similar manner.
Continued Strategic Partnerships: The company is actively seeking a partner for the global launch of Femprox. Unlike the partnerships with Vitaros, the company wants to work with a single partner to launch Femprox globally. An announcement of a partnership should expect to see a major cash infusion for the company. Vitaros brought in $19 million in upfront payments and $210 million in milestone payments, in addition to royalties the company will earn. A deal for Femprox should see a similar deal.
Downside Risk
The first risk is the inability for Apricus to distribute Vitaros to its partners, or its partners' inability to market it in their countries. Vitaros has been proven through trials and is effective, but properly advertising it to the market as a legitimate drug and not a gimmick will be necessary to gain the appropriate exposure.
The second downside risk is if there are any adverse effects that come about from mass producing and commercialization. While the drug has proven effective, mass producing could induce unseen issues brought about by a poor batch or lot.
Financial Stability
The company is currently sitting in a comfortable place financially. The company currently has $22.5 million in cash, and uses approximately $3.5 million per quarter, or about $15 million per year, including about $5 million in annual R&D costs.
Last year, the company brought in $2.5 million in revenue, but should see a boost this year with royalty and milestone payments from the launch. If the company can double revenue to $5 million, it would have enough cash to continue operations for another two years without having to reach back for another offering. Additional cash could come in the form of a partnership for Femprox or an increase in sales from additional marketing and launches of Vitaros in Canada, Europe, and Africa.
Conclusion
In spite of the recent pullback, I remain long on the future of Apricus. The company has made the first launch, and it should continue throughout Europe and Canada. It also has a strategic roadmap for the future, and isn't relying on Femprox to be its only source of revenue. The next quarter's earnings release will help to either confirm or deny this thesis.
Disclosure: The author is long APRI. The author wrote this article themselves, and it expresses their own opinions. The author is not receiving compensation for it (other than from Seeking Alpha). The author has no business relationship with any company whose stock is mentioned in this article.
Editor's Note: This article covers one or more stocks trading at less than $1 per share and/or with less than a $100 million market cap. Please be aware of the risks associated with these stocks.