Investment banking giant Goldman Sachs (NYSE:GS) stands to profit from the current merger frenzy sweeping through global markets.
Total M&A in 2014 to $2 trillion
Last week, U.S. drug manufacturer AbbVie Inc. announced it had agreed to purchase Shire from Ireland for $54 billion. This deal put the total value of mergers and acquisitions in 2014 over $2 trillion, an accelerated pace that has not occurred since 2007.
International mergers and acquisitions activity has increased 53 percent since early this year, and the string of large deals has touched market segments from telecommunications to cable to pharmaceuticals. As companies watch while competitors make deals, the pressure to participate grows and momentum builds.
Drivers Behind M&A Pickup
Several drivers are contributing to the sudden pickup after a long lackluster period for tie-ups following the global economic crisis:
Organizations are seeking global mergers to take advantage of better tax rates. A more stable stock market is allowing companies to complete deals, and company executives feel encouraged by others taking risks.
While some drivers that make for an accelerating mergers market, including low interest rates, have existed for some time, the current lack of volatility in the equities markets has eased the way for successful deals.
Larger organizations may have more sway to squeeze vendors on costs or charge clients more. In addition, integrating two organizations poses some risks, including a complete fall out.
However, currently executives have felt less worried over these risks. Companies have been more inclined to bid for disinterested sellers, a significant change from recent markets that saw executives far more wary of hostile takeover attempts.
Unsolicited Bids Highest Since 1995
This year, unsolicited bids top $444 billion, the highest ever mid-year accumulation since 1995 when Dealogic began to keep score. Although the total number of hostile bids has declined from 2013, the total value has skyrocketed as companies pursue large targets. Recently, Pfizer pursued AstraZeneca for a merger that would have exceeded $120 billion. Pfizer eventually stopped its pursuit when AstraZeneca resisted.
An Outstanding Healthcare Industry
Moreover, tie-ups in the health care industry have been astoundingly strong with an increase of 230 percent for $341 billion in mergers. The value of the deals half-way through 2014 is higher than any complete year since 1995.
While many market segments have been seeking lower tax rates abroad, the majority of the transactions have been made by American health-care organizations, which frequently have international profits they wish to protect from high U.S. taxes.
In addition, the media and telecommunications sectors have seen large consolidations in 2014 as companies reconsider their own size, market penetration and benefits as competitors do the same.
A Bonus for Goldman Sachs
The increase in mergers has been a bonus to investment banks and legal firms that work with structuring and floating mergers. Goldman Sachs reported large increases in merger consulting revenue for the second quarter of 2014.
While some market analysts believe the opportunity for tie-ups is winding down, other point to continued low-cost debt and healthy profit margins as reasons for the frenzy to reach even higher levels.
While YTD, GS stock has been somewhat inconsistent, it has shown strong recovery over the past 24 months.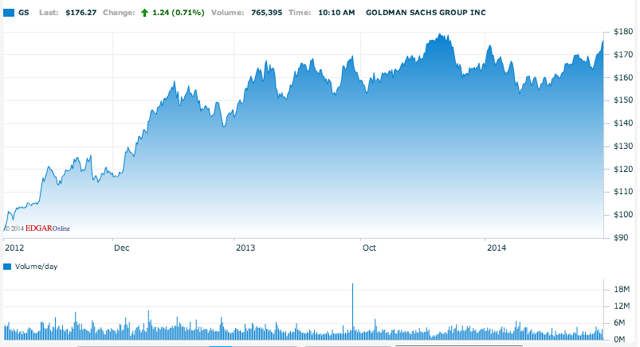 Click to enlarge
(Nasdaq.com)
The firm has beat earnings estimates consistently for the past nine quarters and revenues estimates eight out of nine times - the past two times by a very healthy $588 million and $1054 million, respectively.
With a strong wealth management platform, in addition to its solid trading business, despite a tough environment, we are positive on GS moving forward in 2014.
We invite readers wishing to join the discussion on Goldman Sachs to click the +Follow button above the title of this article, and those looking for the latest updates to click +Get real-time alerts.
Disclosure: The author has no positions in any stocks mentioned, and no plans to initiate any positions within the next 72 hours. The author wrote this article themselves, and it expresses their own opinions. The author is not receiving compensation for it (other than from Seeking Alpha). The author has no business relationship with any company whose stock is mentioned in this article.