The following is a list of small-cap stocks that have seen significant institutional inflows over the last three months. All the stocks in this list have market caps between $250M and $300M.

We won't be going into detailed analysis for each stock. The goal here is to give you a starting point for your own analysis.

Institutional data sourced from Reuters, short float data sourced from Finviz.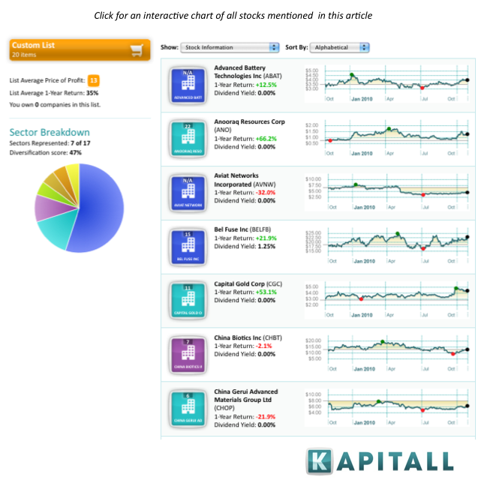 The list has been sorted by change in institutional research.

1. KEMET Corp. (NYSE:KEM): Diversified Electronics Industry. Market cap of $274.25M. Institutional investors currently own 7,442,155 shares vs. 5,740,228 shares held three months ago (29.65% change). Short float at 0.31%, which implies a short ratio of 0.38 days. The stock has gained 181.67% over the last year.

2. Hi Tech Pharmacal Co. Inc. (NASDAQ:HITK): Generic Drugs Industry. Market cap of $279.78M. Institutional investors currently own 8,374,171 shares vs. 6,686,561 shares held three months ago (25.24% change). Short float at 15.09%, which implies a short ratio of 11.73 days. The stock has gained 19.63% over the last year.

3. Anooraq Resources Corporation (ANO): Industrial Metals & Minerals Industry. Market cap of $262.29M. Institutional investors currently own 3,757,430 shares vs. 3,168,394 shares held three months ago (18.59% change). Short float at 0.17%, which implies a short ratio of 0.3 days. The stock has gained 68.83% over the last year.

4. Nanometrics Incorporated (NASDAQ:NANO): Scientific & Technical Instruments Industry. Market cap of $292.4M. Institutional investors currently own 59,841,323 shares vs. 52,415,978 shares held three months ago (14.17% change). Short float at 7.98%, which implies a short ratio of 1.81 days. The stock has gained 84.67% over the last year.

5. Furniture Brands International Inc. (FBN): Home Furnishings & Fixtures Industry. Market cap of $256.33M. Institutional investors currently own 42,781,162 shares vs. 38,572,872 shares held three months ago (10.91% change). Short float at 5.17%, which implies a short ratio of 7.41 days. The stock has gained 8.86% over the last year.

6. China-Biotics, Inc. (OTC:CHBT): Drug Related Products Industry. Market cap of $276.27M. Institutional investors currently own 7,922,547 shares vs. 7,202,669 shares held three months ago (9.99% change). Short float at 40.12%, which implies a short ratio of 8.04 days. The stock has lost -3.59% over the last year.

7. Powerwave Technologies Inc. (NASDAQ:PWAV): Communication Equipment Industry. Market cap of $260.21M. Institutional investors currently own 100,848,863 shares vs. 91,915,791 shares held three months ago (9.72% change). Short float at 10.56%, which implies a short ratio of 9.58 days. The stock has gained 60.66% over the last year.

8. ModusLink Global Solutions, Inc. (NASDAQ:MLNK): Internet Software & Services Industry. Market cap of $297.14M. Institutional investors currently own 26,318,264 shares vs. 24,000,319 shares held three months ago (9.66% change). Short float at 4.02%, which implies a short ratio of 8.7 days. The stock has lost -16.15% over the last year.

9. Capital Gold Corp. (CGC-OLD): Gold Industry. Market cap of $264.38M. Institutional investors currently own 22,104,211 shares vs. 20,222,096 shares held three months ago (9.31% change). Short float at 4.08%, which implies a short ratio of 4.1 days. The stock has gained 50% over the last year.

10. Exar Corp. (NASDAQ:EXAR): Semiconductor Industry. Market cap of $294.44M. Institutional investors currently own 35,695,828 shares vs. 33,077,248 shares held three months ago (7.92% change). Short float at 3.62%, which implies a short ratio of 4.97 days. The stock has lost -0.6% over the last year.

11. China Gerui Advanced Materials Group Ltd. (NASDAQ:CHOP): Steel & Iron Industry. Market cap of $291.6M. Institutional investors currently own 1,962,406 shares vs. 1,845,100 shares held three months ago (6.36% change). Short float at 5.38%, which implies a short ratio of 7.6 days. The stock has lost -19.75% over the last year.

12. Advanced Battery Technologies, Inc. (OTCPK:ABAT): Industrial Electrical Equipment Industry. Market cap of $273.82M. Institutional investors currently own 24,387,756 shares vs. 23,052,913 shares held three months ago (5.79% change). Short float at 10.38%, which implies a short ratio of 7.86 days. The stock has gained 13.39% over the last year.

13. China MediaExpress Holdings, Inc. (OTCPK:CCME): Diversified Investments Industry. Market cap of $292.22M. Institutional investors currently own 6,024,676 shares vs. 5,726,007 shares held three months ago (5.22% change). Short float at 24.71%, which implies a short ratio of 6 days. The stock has gained 80.94% over the last year.

14. EMS Technologies Inc. (NASDAQ:ELMG): Communication Equipment Industry. Market cap of $269.74M. Institutional investors currently own 14,332,324 shares vs. 13,645,916 shares held three months ago (5.03% change). Short float at 3.66%, which implies a short ratio of 7.33 days. The stock has lost -3.77% over the last year.

15. NCI, Inc. (NASDAQ:NCIT): Information Technology Services Industry. Market cap of $256.3M. Institutional investors currently own 7,563,859 shares vs. 7,211,786 shares held three months ago (4.88% change). Short float at 3.22%, which implies a short ratio of 4.66 days. The stock has lost -27.84% over the last year.

16. Bel Fuse Inc. (NASDAQ:BELFB): Diversified Electronics Industry. Market cap of $262.2M. Institutional investors currently own 1,892,214 shares vs. 1,811,229 shares held three months ago (4.47% change). Short float at 3.18%, which implies a short ratio of 10.52 days. The stock has gained 21.46% over the last year.

17. Main Street Capital Corporation (NYSE:MAIN): Diversified Investments Industry. Market cap of $256.24M. Institutional investors currently own 1,974,402 shares vs. 1,907,598 shares held three months ago (3.5% change). Short float at 4.71%, which implies a short ratio of 5.16 days. The stock has gained 37.04% over the last year.

18. Aviat Networks, Inc. (NASDAQ:AVNW): Communication Equipment Industry. Market cap of $259.58M. Institutional investors currently own 52,512,745 shares vs. 51,225,411 shares held three months ago (2.51% change). Short float at 3.66%, which implies a short ratio of 7.26 days. The stock has lost -34.68% over the last year.

19. Internap Network Services Corp. (NASDAQ:INAP): Internet Software & Services Industry. Market cap of $255.92M. Institutional investors currently own 31,793,113 shares vs. 31,015,438 shares held three months ago (2.51% change). Short float at 3.35%, which implies a short ratio of 5.86 days. The stock has gained 57.51% over the last year.

20. Hyperdynamics Corporation (NYSE:HDY): Oil & Gas Drilling & Exploration Industry. Market cap of $264.74M. Institutional investors currently own 2,178,462 shares vs. 2,126,985 shares held three months ago (2.42% change). Short float at 2.41%, which implies a short ratio of 2.26 days. The stock has gained 100% over the last year.

Disclosure: No positions