Energy M&A has been a driver for the market as buyers are eager to add premier properties to their portfolio and help drive production growth. The market has been waiting since May of this year to figure out where the European oil companies were planning on deploying their capital and after reports began to trickle out yesterday it appears we at least have some idea of their thinking.
One of the companies we thought was a prime target, Kodiak Oil & Gas (NYSE:KOG), was recently purchased by an American company and that took some really good acreage off of the market. Looking at the facts that have come out in the last 24 hours, we think that the European shoppers will most likely be targeting companies with good acreage across multiple plays.
Chart of the Day:
Gasoline has corrected smartly after its run and this is most certainly good news for American consumers. It certainly appears that we are headed towards the $2.80/gallon level, at which point the market will have to decide whether support will hold or if the trend will hold moving forward.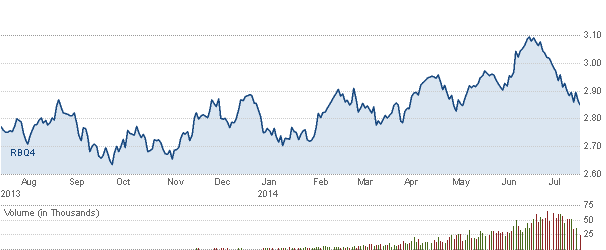 Source: CNBC
Commodity prices are as follows (at time of submission):
Gold: $1,304.20/ounce, down by $2.10/ounce
Silver: $20.98/ounce, down by $0.028/ounce
Oil: $102.81/barrel, down by $0.42/barrel
RBOB Gas: $2.849/gallon, down by $0.0317/gallon
Natural Gas: $3.80/MMbtu, up by $0.028/MMbtu
Copper: $3.2085/pound, up by $0.005/pound
Platinum: $1,484.20/ounce, down by $4.10/ounce
Talisman In Play
Canada's Talisman Energy (NYSE:TLM) confirmed that it had received interest from Spain's Repsol (OTCQX:REPYY) after Bloomberg reported the news from sources. As readers will remember, Talisman is a company that Carl Icahn purchased a stake in a few months back and announced that he would assist the company in maximizing shareholder value. It is still unclear as to his thoughts, but the company's shares have resumed trading after being halted and we would suspect that he will have something to say in the future regarding potential offers.
Talisman has long been a rumored takeover target, but the most recent focus on selling assets and realizing hidden value on the balance sheet had shifted investors' focus. When the company and its joint venture partner in the Eagle Ford shale, Statoil ASA (NYSE:STO), failed to draw acceptable bids for a project they hoped would fetch up to $4 billion, talk again shifted towards an outright sale of the company.
A Repsol purchase could be a good thing for investors, as it would allow them to realize significant upside by unlocking the value management seems to have failed to accomplish while also keeping some upside in the combined entity (assuming Repsol does not use its entire cash position on Talisman and instead includes an equity component in the deal). The market could also see a situation where Repsol looks to cherry pick the portfolio and either take stakes in Talisman's projects or purchase them outright.
Another Name To Watch
It was our belief that Rosetta Resources (NASDAQ:ROSE) would be at the top of the list for the European oil companies looking for North American exposure. Thus far that has not been the case; however, with the addition of the Permian acreage and the continued development of the Eagle Ford acreage, the company gets more attractive by the day in our opinion.
Takeover speculation, opening up the oil market for US exports and increased interest in the Permian Basin have all supported the recent rise in Rosetta shares.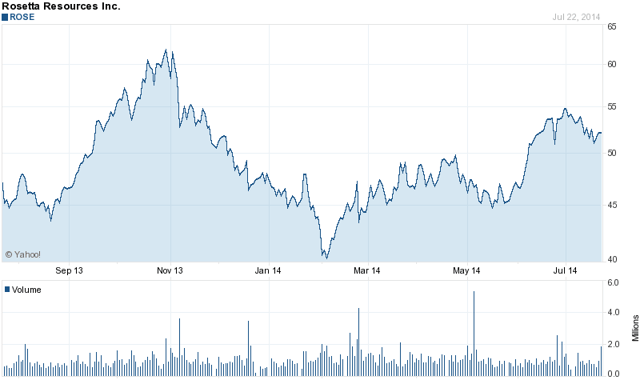 Source: Yahoo Finance
Rosetta's stock has been a solid performer, with the latest run having taken the stock to levels not seen since late 2013. At current prices, we are less bullish of the name than in the past because a lot of the easy money has been made, but long-term we remain bullish as it is our belief that the company is worth somewhere around $65/share based on the portfolio and possibly more if a buyer were to emerge.
Disclosure: The author has no positions in any stocks mentioned, and no plans to initiate any positions within the next 72 hours. The author wrote this article themselves, and it expresses their own opinions. The author is not receiving compensation for it (other than from Seeking Alpha). The author has no business relationship with any company whose stock is mentioned in this article.
Editor's Note: This article discusses one or more securities that do not trade on a major U.S. exchange. Please be aware of the risks associated with these stocks.