Innocoll AG (Pending:INNL), a commercial-stage specialty pharmaceutical company that develops biodegradable products through its collagen-based technology platform, plans to raise $74.9 million in its upcoming IPO.
The Athlone, Ireland-based firm will offer 5.4 million shares at an expected price range of $13-$15 per share. If the IPO can reach the midpoint of that range at $14 per share, INNL will command a market value of $292 million.
INNL filed on June 19, 2014.
Lead Underwriters: Piper Jaffray & Co.; Stifel Nicolaus & Company, Incorporated
Underwriters: JMP Securities LLC
Summary: Post-Surgical Products
INNL is a commercial-stage specialty pharmaceutical firm currently in the latter stages of developing products, based on its collagen-based technology platform. These product candidates are biodegradable and can be fully broken down and absorbed by the body, removing the need for surgical removal. The firm uses purified bovine and equine collagen in its products to combine therapeutics with localized delivery and customized drug release properties.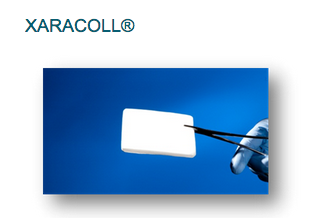 (Source)
The firm has three currently marketed products, including Collatamp Gentamicin and Septocoll, both implants to assist in the prevention of post-operative infection, and CollaGuard, a barrier to prevent post-surgical adhesions. INNL has formed partnerships with several much larger healthcare firms to market its products throughout the world, including Jazz Pharmaceuticals (NASDAQ:JAZZ), Biomet (Pending:BMET) and Takeda Pharmaceutical Co. (OTCPK:TKPHF).

INNL is currently in the latter stages of development for a pair of product candidates, XaraColl and Cogenzia; the firm expects to initiate Phase 3 trials for both candidates in the second half of 2014. XaraColl is a collagen sponge designed for post-operative pain relief through the controlled release of bupivacaine hydrochloride, a local anesthetic. The firm hopes to take advantage of increasing medical efforts to avoid the use of opioid painkillers for post-operative pain relief, which are associated with nausea, dependency, and other negative side effects.
Cogenzia is a topical collagen sponge for diabetic foot ulcer infections (DFIs) that releases a high dose of gentamicin at the site of infection. DFI is currently treated with systemic antibiotic therapy, which has a treatment failure rate of approximately 30-50% and is associated with toxicity risks; INNL hopes to offer a more effective, less dangerous alternative in Cogenzia, which would be the first topical treatment approved for all types of DFIs.
INNL's product pipeline, and already marketed products are shown below, respectively.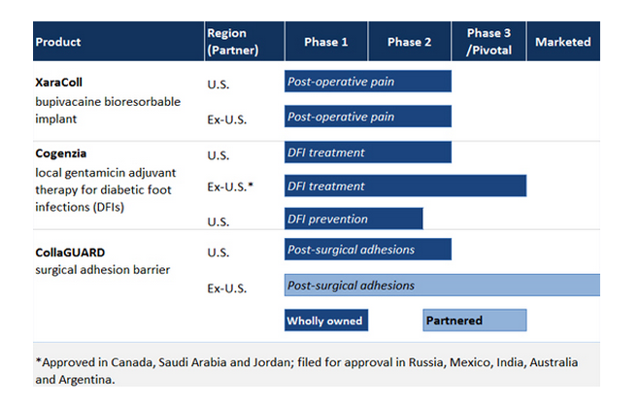 Click to enlarge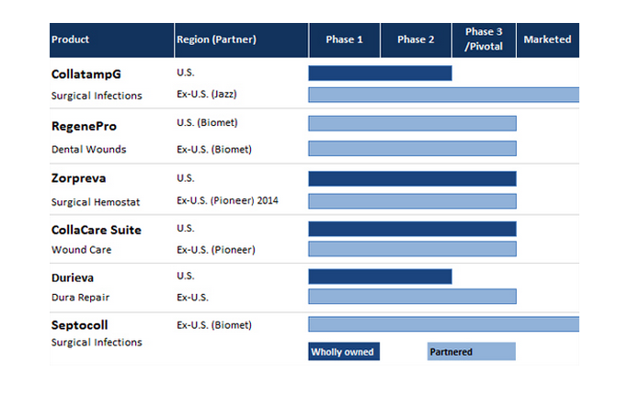 Click to enlarge
(Source)
Valuation: Expected Low Revenues In Early Stages of Commercialization
INNL offers the following figures in its F-1 balance sheet for the three months ended March 31, 2014:
Revenue: $1,772,000.00
Net Loss: ($6,608,000.00)
Total Assets: $5,175,000.00
Total Liabilities: $102,881,000.00
Stockholders' Equity: ($97,706,000.00)
As INNL has only recently commercialized its first products and has yet to gain regulatory approval for some of those products in major markets including the United States, the firm's current low revenues and substantial losses are unsurprising, and we do not believe that they are reflective of the firm's potential for future success.
Significant Competition Looms
If approved, INNL anticipates that its product candidates will face significant competition from other products currently used to treat similar indications, many of which are offered by firms with much greater financial resources and marketing abilities than INNL.
These potential competitors include Kimberly-Clark Corporation (NYSE:KMB), Pacira Pharmaceuticals (NASDAQ:PCRX), Sanofi SA (NYSE:SNY), Baxter International (NYSE:BAX), Ethicon, and Mast Biosurgery.
Management Overview
Michael Myers, PhD is the chairperson of INNL's management board and has served as the firm's CEO since 2003.
Dr. Myers previously served as president of the drug delivery division of West Pharmaceutical Services and president of pharmaceutical operations for Fuisz Technologies (Biovail).
He has held various positions with Flamel Technologies and Elan Corporation. Dr. Myers holds a PhD in Chemistry from the University College Cork.
Conclusion: A Promising Pick For Investors
We are optimistic on this IPO.
INNL's products and product candidates, especially XaraColl and Cogenzia, address significant medical needs, and are well on their way to completing the clinical trial process.
While there is always the risk that INNL will not be able receive regulatory approval for its candidates, we are encouraged by the firm's history of receiving such approval for its other candidates and by its history of partnering with major pharmaceutical firms for distribution.
Experience gained from the commercialization of its earlier products, as well as the establishment of a manufacturing facility in Germany, should play in the firm's favor as it attempts to commercialize Cogenzia and XaraColl.
We suggest investors consider buying into this IPO.
We invite readers wishing to join the discussion on IPOs to click the +FOLLOW button above the title of this article -- and those looking for the latest developments to click +Get real-time alerts.
Note: As a large sample of information sources does not yet exist for INNL, we have taken much of the information for this article directly from INNL's S-1 filing.
Disclosure: The author has no positions in any stocks mentioned, and no plans to initiate any positions within the next 72 hours. The author wrote this article themselves, and it expresses their own opinions. The author is not receiving compensation for it (other than from Seeking Alpha). The author has no business relationship with any company whose stock is mentioned in this article.