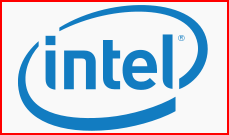 For quite some time now, conventional wisdom held that Intel Corporation (NASDAQ:INTC) will never climb past $30. The reasoning included competition, saturated market conditions, and so forth. Well if you've been holding this company in your portfolio, don't look now. Over the past two months, shares of Intel climbed from roughly $26 to $34 - approximately 30%. So what is an investor to do? Jumping in after such a rise certainly seems like buying high. Unless you can sell higher.
The Basics
It's quite a stretch to imagine there are investors who have not been exposed to Intel's product line. The company primarily manufactures microprocessors and chipsets used in a wide range of products and devices to include computers, smartphones, tablets, automobiles, data centers and medical devices. The company is a member of the DJIA, has a market capitalization of nearly $170 billion, operates internationally, and is headquartered in Santa Clara, CA.

Reviewing the numbers in the table above reveals not much out of the ordinary. The TTM P/E of 16.86 and the forward P/E of 14.96 are both very much inline with the DJIA numbers of 16.48 and 15.08 respectively. The dividend yield of 2.64% does compare favorably to the DJIA's 2.16%, but is not excessive. Debt appears under control, earnings are projected to grow 11-12% next year from $2.02 to $2.28, and the Beta stands at .97 - very close to the benchmark of 1.
So then why do we see the stock in an overbought condition while it pummels the indices?
The PC Refresh Cycle
At this time, Intel is indicating a belief the worst may be over for the PC industry. When Apple (NASDAQ:AAPL) released the iPad in 2010, the mobile computing industry put a serious dent in the traditional PC market. Naturally, this delayed what would have been considered a normal PC refresh cycle as businesses purchased tablets in lieu of updating laptop computers. However, Microsoft's (NASDAQ:MSFT) decision to discontinue support for Windows XP will likely encourage updates for additional legacy computers. If the PC market has in fact stabilized, this would be a very positive indicator for Intel looking forward.
Recent Earnings and Buyback Plan
Intel's most recent earnings report is undoubtedly positive. The company beat estimates for both revenue and EPS, reported PC shipments have grown for three consecutive quarters, and additionally boosted the buyback plan by $20 billion. Intel currently plans to repurchase $4 billion of stock in the coming quarter, although the effect may be offset to a degree if the share price continues to climb. The company did not announce any plans for a dividend increase, but we may revisit that issue next quarter.
When looking at Intel's earnings history over the past three years, the company has reported a quarterly earnings surprise of +2% or more nine times. The company has been within 2% of estimates the remaining three times. The company's record of meeting or beating estimates should be considered in light of the future outlook. Intel has clearly indicated a positive outlook for the future, and plans to place some of the profits back in the hands of shareholders.
New Product Development
Intel has continued development on new chips for both PCs as well as tablets and smartphones. The new chips are a significant upgrade from what Intel previously brought to market and what many consumers are currently using in their personal computers and tablets. The thinking from here is that as older computers are replaced with much better quality products, Intel should see increasing demand and revenue for the next several quarters.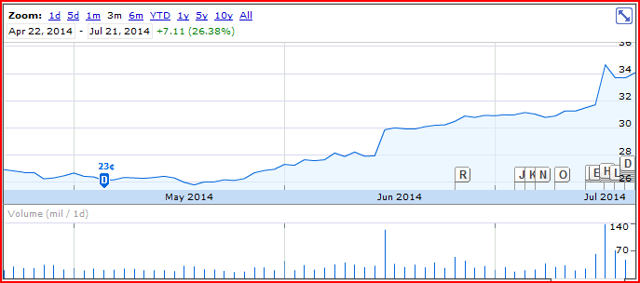 Price Momentum and The Way Ahead
For most of May, we see Intel trudging along in the $26 range with no real volume changes before slowly reaching $28 in June. On June 13, Intel adjusted its earnings estimate and the stock reacted with the bump to $30 as seen. Once earnings were actually reported, we see the increase to above $34. You can also see the spike in volume on June 13, as well as the increased average volume after that date.
From here, an investor must decide if the stock has overreacted to the upside or if it has more room to run.
Any stock that climbs 30% in a short span of time should cause an investor to approach cautiously. Retail investors are especially vulnerable to getting in on the tail end of a run, only to lose out by being the last to exit the cycle as well. However, there are examples of companies that climb and pause, only to climb farther. Netflix (NASDAQ:NFLX) broke its all-time high by exceeding $350 in 2013, only to exceed $450 this year. Tesla Motors (NASDAQ:TSLA) was extremely overpriced when it broke through $100 in 2013. Only it wasn't. The point is that just as it is impossible to know when a stock has bottomed and is at its cheapest, it is difficult to say if a stock has peaked.
If you believe the run is over or mostly over, your best bet is to simply stay out. Some might advocate taking a short position to capitalize on a future decrease in stock price, but that is not guaranteed. Additionally, unless an investor hedges a short position there is significantly more risk than in a long position.
If you believe the stock has the momentum to continue rising, then there are numerous methods for structuring a position to benefit. The simplest is a long position with a trailing stop as a protective measure. This method has the advantage of allowing for upside gains while providing an established exit point to minimize possible loss. This position additionally is not locked into a set time period as an options trade.
Conclusion
By the nature of its size, Intel's industry and outlook does not tend to change quickly. The recent positive announcements concerning PC refresh rates and future earnings provide an opportunity for further price appreciation as the momentum continues over the next few quarters. Investors wishing to capitalize upon this momentum have several options in structuring a long position to benefit.
As always, remember to do your own homework, understand the trades you make, and good luck out there.
Disclosure: The author is long INTC, AAPL. The author wrote this article themselves, and it expresses their own opinions. The author is not receiving compensation for it (other than from Seeking Alpha). The author has no business relationship with any company whose stock is mentioned in this article.
Additional disclosure: I currently hold long positions in INTC and AAPL. I intend to increase my long position in INTC within the next three trading days using stock and/or options.