Gold (GLD) and Silver (SLV) are in bullish territory if we consider the 200-day simple moving average as a limit. However, the short interest of commercial hedgers (read: bullion banks) surged to a multi-year high last few weeks. In a recent past, an extreme short interest in commercial hedgers has regularly been followed by a 10% correction or more. The picture is quite similar for both metals, the next chart shows it for gold.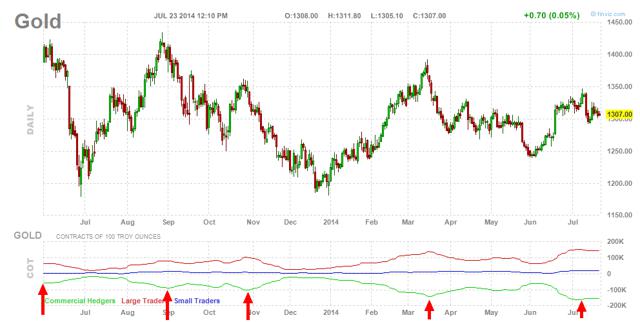 Will it be the same this time? I don't know. I don't recommend selling short anyway. A possible black swan from the Black Sea or from the Middle East might propel precious metals. By the way, one of the best insurances against this bird of ill omen is probably neither gold nor silver, but Palladium. Mostly produced in Russia, it has just broken its 2011 resistance level.

A note of caution for conservative investors: Palladium is also a volatile animal. From a trader's point of view, it might be better to wait for a pullback before buying, but once again, black swans are what they are: unpredictable.
That said, my aim in this article is not to make predictions, but to show investors where they can find the best value for their money. The next table shows discounts, premiums, and real metal allocated for some Canadian funds on 7/22/2014. They are an alternative to GLD, SLV and PALL.
Data: 7/22/2014 on close

Tickers

+Premium -Discount

Annual Fees

% of NAV in bullion*

Central Fund of Canada

NYSE: CEF

TSX: CEF.A

-5.5%

-5.5%

0.45%

99.3% (gold 57.7%, silver 41.6%)

Central Gold Trust

NYSE: GTU

TSX: GTU.UN

-5%

-5.3%

0.35%

97.9%

Silver Bullion Trust

OTC: OTC:SVRZF

TSX: SBT.UN

-5.9%

-6.7%

0.4%

98.7%

Sprott Physical Gold Trust

NYSE: PHYS

TSX: PHY.U

-0.45%

0.35%

99.4%

Sprott Physical Silver Trust

NYSE: PSLV

TSX: PHS.U

+2.39%

0.45%

99.6%

Sprott Physical Platinum & Palladium Trust

NYSE: SPPP

TSX: PPT.U

-0.28%

0.5%

99.7%
*complement is in certificates and cash assets.
A few points to conclude:
CEF and GTU discounts are up since last month, providing a 5% safety margin.
If you are interested in SBT, there is more liquidity in Toronto in Canadian dollar.
Sprott premiums and discounts are less attractive.
An arbitrage trade, long GTU and short GLD, is not a very good idea. Borrowing and margin costs may erase expected gains if the trade lasts too long.
Next update in August.
Disclosure: The author is long CEF. The author wrote this article themselves, and it expresses their own opinions. The author is not receiving compensation for it (other than from Seeking Alpha). The author has no business relationship with any company whose stock is mentioned in this article.