Kandi Technologies (NASDAQ:KNDI) is a great story stock with a compelling bull thesis. It's in a hot sector (electric vehicles) in the largest market, China, with support and subsidies from the government. Until recently, I was long the stock. Very long, until I read the most recent 10-Q.
In over 15 years of investing, I've rarely ever been short a stock; but after reading this 10-Q, I immediately began liquidating my common shares and call options and initiated a short position instead. I suggest you read the 10-Q for yourself, as it reveals several items of concern which should be of great concern to anyone who is long the stock:
1. Complicated Organizational Chart: The first thing that is striking in the 10-Q is the highly complicated organizational chart (shown below) with obscure and similar names, which makes it very difficult to understand. A comprehensive understanding of this chart is necessary in order to make sense of the 10-Q. If you do not take the time to understand the organizational structure, you are putting your portfolio at risk. The most important thing to know from this is well-known and -- on the surface -- benign: KNDI only owns 50% of the EV business in a joint venture (JV) with Geely Automobile Holdings, Ltd. This means KNDI only receives 50% of the economic benefit of EV sales. You should remember this fact when considering EV sales, subsidy payments, and other metrics. However, as you will see below, there is much more to this than meets the eye.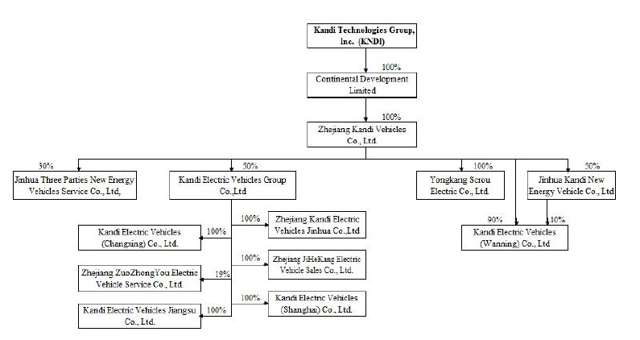 2. EV Sales to Itself: Now this is when an understanding of the above chart starts to bear its fruits. In Q1, the company boasted a 384.5% increase in EV sales in their press release.
The press release doesn't spell it out, but the 10-Q is clear: "The increased unit sales were driven by sales to Hangzhou Public EV Sharing System (the "Carshare" project)." The 10-Q also states that 60% of EV Sales were to KNDI subsidiaries which you can see on the chart above: "Kandi Electric Vehicles (Shanghai)" and "Kandi Electric Vehicles (Changxing)." The other 40% of sales were to one outside entity, most likely involved in the Carshare project.
So there was a 384.5% increase in sales driven by sales to the Carshare project and 60% of those sales were directly to KNDI subsidiaries. We'll get back to the Carshare project, but let's keep this in mind and move on to EV parts.
3. "EV Parts" Tactic: In Q1, a new "EV parts" business was, according to the 10-Q, launched and brought in $25 million in sales. The 10-Q states that this revenue was entirely from the "resale" of battery packs at a loss after considering "labor and overhead costs." The 10-Q does not say who the battery packs were sold to, but one could assume the majority was sold to the JV with Geely or other KNDI subsidiaries. The more concerning part is how KNDI spun this to boast 174% revenue growth from $14.7M to $40.2M. Without this questionable tactic, revenue growth would have been roughly flat. This is worth repeating: Without the launch of the financially engineered EV Parts business in Q1, revenue growth would have been 3.4%, not 384.5%.
4. Building Inventory Masked as Demand: By considering the above three points, it suddenly becomes apparent what is actually going on. KNDI is building inventory for it's Carshare project. In fact, what they are passing off as a growth in sales is actually a growth in expenses for the initial and unprofitable build-out of the Carshare project. However, thanks to their creative organizational setup and carefully worded press releases, KNDI is creating the impression that sales are exploding -- when, in fact, all that is exploding is the buildout of inventory from one KNDI subsidiary to another.
5. Carshare Project: So now we know that the stellar sales growth is occurring at a loss to build out the Carshare project. The Carshare project does sound promising as it seems to be rapidly growing. The problem is, it's not clear how much economic benefit KNDI will get from the rental revenue. There is no direct description of who owns the Carshare project, but in the 10-Q in reference to the Carshare project it says that the JV wants to increase their ownership of this "Service" business from 19% (see above chart) to 70%. They are currently in negotiations with Jiaxin Jiale Investment Partnership Co., Ltd. to purchase this additional 51% interest. The 10Q states that this transaction would "enable our Company to have a larger percentage of any profits earned by that entity." Without any other information about the Carshare project, we have to assume that KNDI only has a 9.5% economic interest in the Carshare project (remember, it's 50% of 19% since it's a JV with Geely).
Importantly, we have no idea how the Carshare project is actually doing. KNDI has only released data to date on sales of EVs to the Carshare project. For all we know, actual rental revenue is not growing or not operating profitably.
Conclusion
Now we have a clear picture of what is going on. KNDI is selling EVs and battery packs at a loss to the JV and certain other corporate entities for the buildout of the Carshare project of which they only have a 9.5% economic interest in. The most disturbing part of this is how KNDI continually boasts about huge revenue growth when, in fact, all they are doing is building out inventories and selling battery packs at a loss to create the appearance of rapidly growing company revenue.
This now solves the mystery of:
1. Why there is no analyst coverage
2. Why there is very low institutional ownership (mostly just index funds)
3. Why there is a large and growing short position
4. Why KNDI recently filed a $300M shelf offering
It appears that the function of KNDI stock on the Nasdaq is to raise money from American investors for the benefit of Chinese entrepreneurs who are building the Carshare project; a project for which KNDI shareholders will see very little economic benefit. Expect KNDI to issue further carefully worded press releases soon designed to run up the stock price followed by a massive equity offering which will dilute shareholders as they continue to funnel money, at a loss, out of KNDI and into the Carshare project.
An Alternate View?
The JV did recently receive $31.8M in subsidies (so that's $16.4M for KNDI) from the PRC (People's Republic of China) and they are expecting additional local subsidies soon. One could make an argument that it doesn't matter what tactics KNDI employs because perhaps those tactics also helps them qualify for the maximum amount of government subsidies, thus making KNDI a viable and profitable business model. Before you rely on this thinking, though, remember to completely back out the massive battery pack resales from your fair value calculations, consider only a 50% share for the JV, consider only a 9.5% share for the Service business, be 100% certain of how KNDI actually benefits from the Carshare project, and evaluate every PR from KNDI with a skeptical eye.
Perhaps with this approach, you could make an argument for staying long the stock. I for one, could not entrust my family's financial future with KNDI given the multitude of concerns I discovered in the 10-Q. Also, I should note that I contacted the KNDI Investor Relations Department at the email listed on their website (IR@kandigroup.com) asking for clarification on these issues on July 17, at 11:29 p.m. ET, and have not received a response to date.
Disclosure: The author is short KNDI. The author wrote this article themselves, and it expresses their own opinions. The author is not receiving compensation for it. The author has no business relationship with any company whose stock is mentioned in this article.