The last time I visited the subject of home builders, the stagnation in the housing market was just beginning to set in. Since the beginning of the year we've seen fits and starts from the home builder stocks, but no sustainable momentum. If you've wondered why your home builder stocks have underperformed the market lately, look no further than the stagnating earnings power of your average American worker. The fundamental problem plaguing the housing sector is still affordability.
Yesterday we learned that existing sales were down 2.3% year-over-year. A week ago we heard that sales and permits disappointed as well, with single family starts down 4.3% in June and permits up less than one percent. It's no surprise that the Housing Index (HGX) and associated builder stocks have had a rough go of it so far this year. All of the builders have been hit by weak economic recovery and poor wage growth for average workers.
Lennar (NYSE:LEN), D.R. Horton, (NYSE:DHI), Pulte (NYSE:PHM), KB Homes (NYSE:KB), Hovnanian (NYSE:HOV), Toll Brothers (NYSE:TOL), and Beazer (NYSE:BZH) have all been affected, and the builders with weaker fundamentals have noticeably underperformed the overall market. With the recent acquisition of Trendmaker homes by TRI Pointe, I decided to look at that stock as well. As it turns out, the stocks of both TRI (NYSE:TPH) and Taylor Morrison Home Corp (NYSE:TMHC) are both cheaper than where they initially traded last year. Go figure!
Yesterday a notable real estate blogger had the gumption to call the latest NAR sales report "solid." I find that rather amusing, particularly in the face of the underlying fundamentals. The consecutive quarters of stagnating sales for the builders amid rising prices has led to some interesting dynamics in the housing market, but "solid" is not exactly how I would characterize the situation in our current real estate markets. As Professor Anthony Sanders detailed yesterday, real average hourly and weekly earnings just experienced the first year-over-year negative growth since 2012.
The declining purchasing power of the American worker combined with rampant asset inflation has created quite the conundrum for would-be home buyers. Home builders have adjusted so far by catering to higher price segments and the easy sales offered by cash buyers, both foreign and domestic, the same buyers who have benefited from the print fest of global central banks. Maybe that's cause for rising builder optimism, but I wouldn't bank on it. At the same time, builders have basically abandoned the first-time home buyer because they know that buyer is still AWOL, strapped by a mound of student loan debt and possibly some subprime auto debt to go along with it.
The housing stocks have benefited the past few years from pulling demand forward. This is a subject Charles Smith touched on describing the current rot in our economy. Inflation is not growth, and this reality is coming home to roost for the home builders as well. That phantom expansion provided by the Federal Reserve is getting long in the tooth, and there really are no more card tricks to play if things go haywire again.
"In an economy dependent on debt-based consumption, inflation is absolutely essential to reduce the real costs of servicing old debts so households can afford to buy more stuff on credit."
We are now seeing that earned income for most real Americans is not keeping up with the real inflation in home prices (that "stuff"). Now that sales have already stagnated, I'll leave it up to you to figure out what the next step in the process will be.
My question to housing bulls and apologists is this. What is your excuse going to be in Q3 if the sales numbers still don't improve? You would expect housing stocks and sales fundamentals to show some meaningful improvement from last year's numbers considering the fact that mortgage interest rates are now roughly 20 basis points lower than where they were a year ago. The story of rising interest rates will no longer hold water. That leaves the simple explanation of high home prices and diminished affordability. Will builders be able to weather the next phase in this "recovery"? Only time will tell, but I'm certainly not going to hold my breath for a breakout in housing stocks.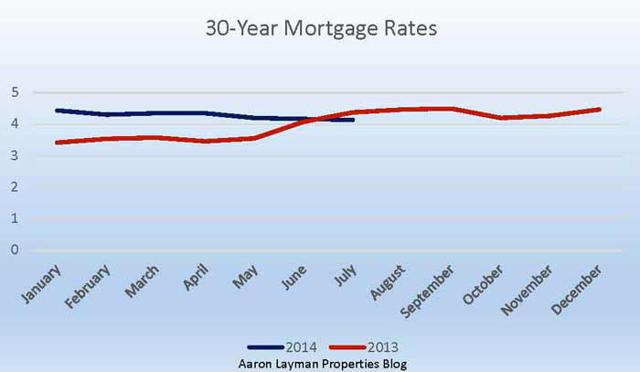 Disclosure: The author has no positions in any stocks mentioned, and no plans to initiate any positions within the next 72 hours. The author wrote this article themselves, and it expresses their own opinions. The author is not receiving compensation for it. The author has no business relationship with any company whose stock is mentioned in this article.