With the recent turmoil stemming from the Ukrainian crisis, Russia has re-emerged as a geopolitical powerhouse. In the short-term Russia's economy has struggled as sanctions and a flight of investment has pressured its economy.
However, Russia's economy continues to provide ample investment opportunities for the value investor. The country's businesses are still rapidly growing at BRIC rates and expanding their global footprint. One of the best ways to gain exposure to Russia is through the Market Vectors Russia ETF (NYRSX).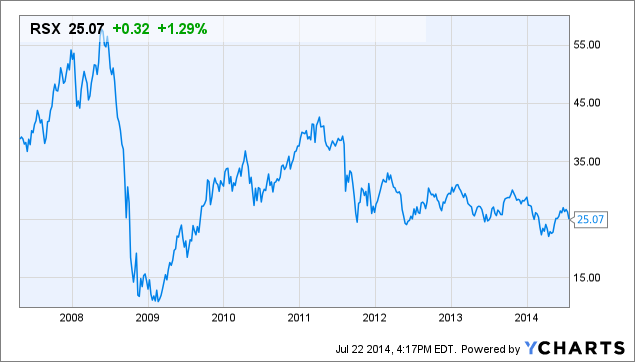 As seen in the graph above, RXS has yet to fully recover from the global recession and continues to struggle. However, looking forward Russia's path could be brighter.
The Weak West
American sanctions against Russia have so far been relatively weak and at the end of the day can only go so far. President Obama has rolled out new sanctions which targeted Russia's financial, energy, and military sectors. One can only see this effort as being too little, too late.
Obama's calls for his European counterparts to join in imposing hard-hitting sanctions has so far fallen on deaf ears. France, Germany, and Britain have provided much vocal support, but are unlikely to implement any long-term sanctions. France is still pushing forward the sale of two warships to Russia. With much of Europe dependent on Russian fuel, it would be economic suicide if any widespread, hard-hitting sanctions were applied.
The International Business Times estimates that Western sanctions could cost up to 25,000 German jobs. Hawkish British Conservative, George Osborne, has already warned that the U.K. should prepare itself for "an economic hit under a tougher sanctions regime against Moscow." With Europe's economy still fragile, few of the continent's politicians are willing to risk hurting local economies in favor of Russia-bashing.
Additionally, many in Europe are already looking towards the winter. Fears that Russia could cut off fuel to Europe during the cold months, has kept many politicians on their toes. Already, due to the limited sanctions, natural gas prices in the U.K. have risen to a 2 week high. Those hoping to cut ties with Russia altogether must realize that it will take years, if not decades to reduce Europe's dependence on Russian energy. At least for the next decade, Russia will hold many European nations (Germany included) by the neck. The map and graphs below show the extent of Europe's dependency of Russian energy.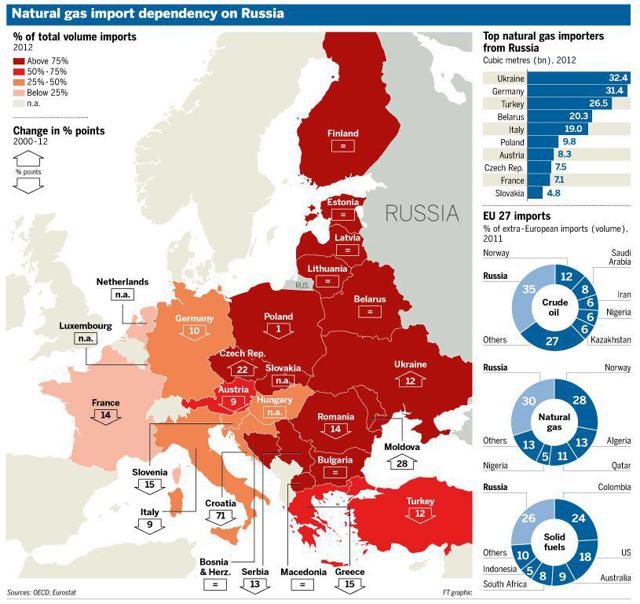 Source: The Financial Times
Along with energy dependence, Europe also has relatively strong banking ties with Russia. As CNN reports:
"In Europe, French banks have lent the most, with a total of $51 billion, followed by Italy ($29 billion), Germany ($24 billion), the U.K. ($19 billion) and the Netherlands ($18 billion)."
Still a BRIC Economy
Some have claimed that Russia's economy could fall into a recession due to sanctions. In the short-term, retractions in the Russian economy are possible, but will not impede the country's long-term upward momentum. Over the past decade, Russia has profited off the rise of global commodity prices. As this market cools down, Russia's economy will need to grow other sectors. That being said, unemployment is only at 4.9%, recently slipping to record lows as wages rise. Obviously, Putin is doing something right.
Sanctions have already reduced access to Western funding, but Russia's energy deposits will keep the party going. In addition, increased cooperation with China will help Russia ease the effects of sanctions in the future. In May, Russia signed a 30-year gas deal with its Sino-neighbor that is estimated to be worth over $400 billion.
Russian companies are currently some of the world's cheapest, trading around 5x earnings. Such valuations have attracted the likes of Pimco and other non-biased investors looking for a bargain.
The ETF
RSX has heavy exposure to the Russian energy sector (42.4%). The ETF has 49 holdings, the largest being Gazprom (OTCQX:GZPFY) at 8.28%. In the face of the recent sanctions, Gazprom has been able to run business as usual and "settle all of its payments in Russian and foreign currencies." Many still remember the 1998 Russian flu and its longstanding effects.
Sberbank (OTCPK:SBRCY), another top holding, has made large investments in the former Soviet-bloc. While such investments are very political in nature, they help provide exposure to other frontier markets that will likely benefit from Russia's eventual rise.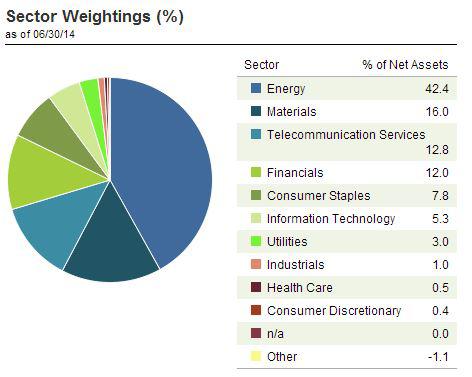 Source: Van Eck Global
On a technical front, RSX is approaching buy levels as 14-day relative strength reaches a 3 month low. The current sell-off does not look like it has bottomed out yet, but this may change in the upcoming weeks. Once political tensions have subsided, which is likely as Europe remains powerless, one can expect sanctions to be removed and another "reset" button to be pushed. At the end of the day, few can afford alienating Russia.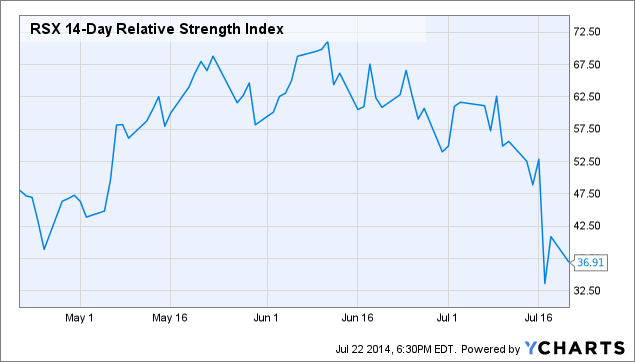 RSX 14-Day Relative Strength Index data by YCharts
There are a few alternatives to RSX, including the iShares MSCI Russia Capped ETF (NYERUS). This ETF is less diversified, containing only 23 holdings (many of which are the same as RSX). State Street also offers an alternative- the SPDR S&P Russia ETF (NYRBL). RBL has a similar makeup to RSX, with 46 holdings. However, the ETF is much smaller (only $24.41 million net assets) and therefore has less trading volumes.
Another option to invest in Russia is RSX's small-cap brother, the Market Vectors Russia Small-Cap ETF (NYRSXJ). This fund has 31 holdings and is well diversified in numerous sectors of the Russian economy (ERUS, RSX, and RBL have high exposure to the energy sector). That being said, RSXJ has underperformed its large-cap peers; Russia's oligarchic system may be to blame.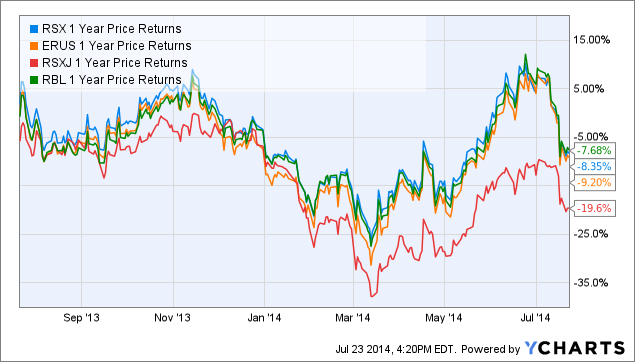 RSX 1 Year Price Returns data by YCharts
Macro Predictions
Looking forward, one must remove oneself from the noise of everyday media and understand Russia's future. Below are some debatable predictions that should pan out in the next years.
The Ukraine crisis will die down as eastern Ukrainian provinces declare independence and re-unite with Russia.
Existing sanctions will eventually be removed due to mutual-business interests. In this globalized world, everyone loses from sanctions.
Russia's economy will diversify and grow. Over the past few years, Putin has sought to grow his nation's technology sector. A 10 year plan to create Russia's own Silicon Valley is ambitious but a step in the right direction.
If one sees truth in the predictions above, RSX should make a good addition to your portfolio.
Disclosure: The author has no positions in any stocks mentioned, and no plans to initiate any positions within the next 72 hours. The author wrote this article themselves, and it expresses their own opinions. The author is not receiving compensation for it (other than from Seeking Alpha). The author has no business relationship with any company whose stock is mentioned in this article.