In April of 2004, a small company called Travelzoo (Nasdaq: TZOO) had a number of investors who started pushing a concept - buy shares of TZOO, subscribe to their email travel specials newsletter (give them your email address) and then get as many of your friends and associates as possible to buy the stock and subscribe to the newsletter too. It was a grass roots marketing twist on the old Peter Lynch concept of investing where you shop and shopping where you invest.
Travelzoo's business model was driven by the distribution of travel discounts and specials through email newsletters, so the company was able to charge travel suppliers higher rates when they had more subscribers. The concept apparently worked, as the number of subscribers increased significantly and TZOO reported sequential revenue gains of 11% for the first quarter this movement began (Q2 2004) and then 32% the next quarter (Q3 2004).
The movement was quite effective and rewarding for those who participated. The stock had an even greater trajectory, moving from the $7 - $8 range in March to over $20 per share over the next few months as it became apparent that TZOO's growth was starting to accelerate. What happened after that is debatable, but most agree that a short squeeze became the primary driver of TZOO's stock for the rest of 2004, with the stock moving to over $100 per share towards the end of the fourth quarter.
What is often overlooked- or at least marginalized- is the impact that the huge spike in subscribers and revenue likely had on the stock and the effect of new retail buyers showing up daily to buy more shares while the short sellers were scrambling to cover their positions. At a minimum, the 32% sequential growth TZOO reported in Q3 of that year added fuel to a fire that needed very little. It seemed to start the "snowball effect' - the more the stock moved up, the more consumers/investors became aware of the company, the more people that bought the stock and subscribed to the newsletter, the more that TZOO could charge to an ever increasing stable of advertisers, the more revenue TZOO reported... and so on.
It is really quite amazing what transpired in less than a calendar year, where investors who bought into the concept early enough could have made 20x their money in TZOO stock and even the late-comers (TZOO was still trading in the teens in June) had the chance to make 5x or 6x their money in six months. All of this for a tiny company based in New York that had 42 employees, a single digit stock that traded less than 30,000 shares per day and earned essentially all of its revenue in a business that seemed to have very few barriers to entry.

Vertro (Nasdaq: VTRO) is a small company that appears to be benefiting from a nascent "buy the stock / use the service" movement, much like the message board-driven movement that began with Travelzoo shareholders in 2004. The similarities between Travelzoo in March of 2004 and Vertro in October of 2010 are striking: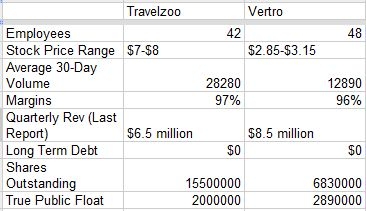 While Vertro does not have quite as many shares sold short as Travelzoo reportedly had prior to its run, it actually carries a higher short ratio given the extraordinarily low trading volume in its shares. The short interest could be covered in about seven trading days at current volumes. This is really not all that surprising though, considering how far off mainstream investors' radar screens Vertro is currently. How could a company with the potential of Vertro - increasingly strong reported results, cash equal to 1/3 of market cap in the bank, very high margins and seemingly (per recent PR's) on the verge of a major growth spurt - remain so far below investor's radar?

Quite simply, it is due to guilt by association. Not enough time has passed since Vertro was a division of a company called Miva. In fact, if you visit the Motley Fool website and type in the stock symbol for Vertro (VTRO), you will get the current stock quote for Vertro, but it is still listed as "Miva". Miva has the ignominious misfortune of being known as the company who pursued the same business model (Pay Per Click Advertising - PPC) that made Google (Nasdaq: GOOG) into one of the world's largest / most powerful companies, but failed to turn a profit and managed to miss revenue targets year after year.
Even worse, Miva was in the PPC advertising business BEFORE Google but never could put the pieces together to make it consistently profitable. When the current Vertro management took the reigns at Miva, they set out to dump the red ink gushing from Miva's PPC business and focus on a division within the company called Miva Direct (now ALOT.com) that actually made money. That division marketed value-added toolbars, home pages and desktop search functionality that was monetized through a partnership with Google. The business that became ALOT.com was an extraordinary business: It did over $40 million in revenue when management first took over, turned out 95% or better margins that could be run with signficantly fewer employees, less risk, less capital, etc.
It was adding over $5 million per year to Miva's bottom line, but the Miva PPC business was losing money faster than ALOT.com could make it. It took existing management almost two years to jettison Miva and near the end it was taking so much cash to keep it afloat that it almost strangled the ALOT.com business, which declined by about 40% as a result of the cash drain necessary to prop up the Miva PPC business. The sale of the Miva PPC business and the Miva name was completed in late March of 2009 for $10 million in cash to Adknowledge. The company formerly known as Miva became Vertro and the sale proceeds left enough for management to slowly rebuild the ALOT.com business while working through the many legacy issues from the Miva business. The process took about 18 months and has only recently been completed.

Vertro's ALOT.com business has evolved to the point where it has now been GAAP profitable for three straight quarters (will likely be four straight when they report in a couple of weeks) and we believe that Q4 2010 will see the business climb back to the $10 million + revenue range in a quarter where opex will actually DECREASE from Q1 , Q2 and Q3 levels. While there are some idiosyncracies about this business and the timing and flow of traffic and revenue, we believe that the results for Q4 will herald a new period of growth for Vertro. The company has now achieved a critical mass of toolbar/home page users that should allow it to easily cover all the fixed operating costs of running this business each quarter. It should also generate enough revenue to begin spending more on advertising to attract new users for its Alot toolbars and HomePage. Thus, we believe that the company can grow revenue by 20% or more per year. It can do so by increasing its ad spend around 15-20% per year while maintaining non-advertising opex at existing levels or only fractionally higher.

The premise of the Alot.com business is very simple and easy to understand. The company makes money when consumers click on the ads provided by Google (or Yahoo (NASDAQ:YHOO)/ Bing (NASDAQ:MSFT) for certain searches) while using the Alot applications. If a consumer is searching for something, for instance, if they want to open an account to trade stocks online, they might enter the term "online stock broker" into the search box on their Alot toolbar or homepage. The search is powered by Google and returns the same websites and ads that would appear if the search had been conducted from the Google homepage. There will be website links at the top and on the sides of the page that are "paid links" that are placed by advertisers who bid in an auction type format to have their ad at the top of Google results for that given search term. When a searcher/consumer clicks on that ad/link to the company's website, the advertiser/company pays the amount it bid per click to Google. Google will in turn pay some percentage of that revenue to Alot.com/Vertro. While this percentage is not disclosed, we have determined from a number of evidentiary sources that the amount is approximately 80%. So it is basically a split where Google keeps 20% and pays the remaining 80% of the revenue to Vertro.

The company's motto is - "We make the internet easy". Alot offers customizable toolbars, buttons and what is arguably the best and most user friendly customizable home page available. The buttons can be used to allow a consumer to interact with their favorite apps (Facebook, Email, MySpace, Hulu, etc.) without leaving the web page they are on and it allows them to use many unique Alot apps (ALOT Radio Player, "To Do" list, Stock Quotes, scrolling news feeds from the Wall Street Journal, BusinessWeek, Fast Company, CNN, Fox News, literally hundreds of options) in a format that is easy to access and interact with. The ALOT Home page setup is remarkably simple and allows any consumer to have just about everything they use online just one click away from their start page with less than a five minute initial setup that allows a user to just click, drag and drop the content of their choice where they want it on their own home page.

Vertro's business model is to acquire toolbar/home page users at an average customer acquisition cost of around $1 who will use the search service enough to generate $1.50 - $1.60 in revenue over the time that they keep the toolbar installed. Due to the time it took to complete the sale of Miva and the management focus and resources necessary to work through all the Miva issues remaining (shuttering European offices, unraveling currency hedge transactions, sub leasing office space, dealing with Nasdaq listing issues and other issues finally resolved over the last few months), Vertro management has only had a short time to focus on improving the fundamentals of the business. In this very short time, they have already been able to achieve greater efficiencies in ad buying, increased conversion ratios and improved customer retention.
Now that management can focus its entire attention on growing Vertro (instead of undoing the last vestiges of Miva), we expect to see a number of initiatives that can potentially allow Vertro to acquire customers at even lower rates, offer those customers greater valued added applications so that they will continue to use the toolbar/home page longer and simply find more ways to keep their existing customers "engaged" so they will not just keep the toolbar, but use it on a regular basis for their searching.
We believe these are very attainable goals and note that $1.60 of search revenue over the lifetime of a toolbar user seems very, very low. That is only four clicks on an average ad over the time that a user has the toolbar installed if you apply Google's average cost per click of around 50 cents and take Vertro's estimated 80% revenue share. If the company has achieved profitability with a model that seeks to earn search revenue of $1.60 over the life of each user, how profitable will they be if they can find a way to average one more click per user? Based on the averages, that would equate to a 20% increase in revenue for Vertro on the same expense base, which would scale earnings per share by more than 100%.
While noting what an enormous difference it would make to Vertro's bottom line if they could incease that average by 20% or 25% without increasing their cost structure, we have to also consider the possibility that they could come up with a way to keep toolbar users even more engaged - where they might use the search function on a more regular basis (ie more than four or five clicks over their installed lifetime). Should they succeed, Vertro could begin posting annual profits that exceed its current cash adjusted market cap.

We believe that Vertro is actually a better candidate for long term stock price appreciation based on an influx of consumer/investors who "buy the stock / use the service" than Travelzoo. However, we note that Travelzoo still trades at about a 500% premium to where it traded before it started its meteoric rise in 2004. At that time, Travelzoo was valued at approximately $15 per subscriber, so the thinking was that each new subscriber to the "buy TZOO stock, subscribe to its newsletter" program added $15 or more in value for Travelzoo. As the stock increased in value, it was easy to argue that this incremental value increased as the company became better able to monetize its growing subscriber base as new advertisers came on board to gain exposure to the rapidly growing stable of subscribers. As more investors signed up for the TZOO newsletter and bought the stock, the stock moved higher and the value per subscriber (market cap divided by the number of subscribers) kept climbing and there became an increasingly more tenuous relationship between the number of new subscribers and the actual value that a new email address in the newsletter database added for Travelzoo. This metric evenutally surpassed $200 per subscriber. Of course, that was not a sustainable valuation and we eventually saw this metric decline to more realistic levels and settle in its current $20 - $30 per subscriber valuation range (based on the range of the last couple of quarters).

In our estimation, Vertro is a superior candidate for a "buy the stock / use the service" approach because there is a more tangible connection between the value of each new consumer/investor and the value of the company, as each new user will generate actual revenue in real time based on how often they use the Alot toolbar/Home Page for searching and shopping online. Each of these free (Vertro has no customer acquistion cost for these users recruited by other consumer/investors) toolbar/homepage users will have a vested interest in seeing Vertro earn more revenue. They will be more likely to remember to use the Alot toolbar for all of their searching and online shopping or adopt the ALOT home page as their default starting point.
Additionally, the types of search queries performed by these consumer/investors are more likely to be among the higher search revenue generating verticals than a typical toolbar user acquired through the Vertro marketing machine. Investors are among the most coveted (by advertisers) of consumers, due to their propensity to consume high margin financial services, which is reflected in the rates advertisers are willing to pay to reach them. This is why many large, well-financed companies will pay among the highest of pay per click fees to be at the top of searches that are likely to be queried by investors.
Such search queries that include terms like insurance, stock broker, online banking, tax attorney, credit cards, mortgage rates, refinancing, etc. are competitvely bid very high by firms like Geico, Allstate (NYSE:ALL), E*trade (NASDAQ:ETFC), Schwab (NYSE:SCHW), Ameritrade (NASDAQ:AMTD), Capital One (NYSE:COF), JP Morgan Chase (NYSE:JPM) and Citgroup (NYSE:C). These firms routinely pay rates of more than $20 per click to have their ad at the top of the search results. Thus, when a new consumer/investor buys Vertro stock and starts to use the ALOT.com toolbar or HomePage to do his searching and shopping online, he could generate ACTUAL REVENUE to Vertro of $20 - $30 just by clicking two or three of the ads the first time he decides to shop his auto insurance, compare discount stock broker offerings or shop rates to refinance his mortgage.
Given that Vertro/ALOT has built a base of users that generate enough revenue to cover its small fixed expense base, one could argue that each dollar of revenue that is generated by one of these new consumer/investors goes straight to the bottom line. If that same consumer/investor uses the ALOT.com toolbar / HomePage every day for all this searching and shopping online, he could literally generate hundreds or even thousands of dollars in revenue for Vertro over his lifetime. Each use of the search services generates CASH that is paid by Google to Vertro at the end of each month versus the theoretical increase in value for an incremental Travelzoo newsletter subscriber.

We also believe this business model makes Vertro an extraordinary example of a new and improved version of the Lynch concept of investing where you shop and shopping where you invest. Whereas, Lynch might suggest you invest in Starbucks (NASDAQ:SBUX) because you buy your coffee there or that you shop at Best Buy (NYSE:BBY) because you own their stock, Vertro's unique business model allows an investor to enhance his company's bottom line merely by SHOPPING there.
At Starbucks, you need to actually BUY the $4.50 cup of coffee to help the company's bottom line. At Best Buy you need to PURCHASE a $500 - $600 laptop computer to generate $4 - $10 in profit for the company. A Vertro shareholder using the ALOT.com toolbar/homepage can generate more than that $4 - $10 for Vertro by using his ALOT toolbar or HomePage to search/shop for a laptop computer, when he visits several of the advertiser's sites before deciding which one to buy from. Thus, a consumer/investor can add substantial incremental revenue for Vertro just by using the ALOT toolbar and/or HomePage for all of his searching and online shopping.

The concept of buy the stock / use the service started as a spark and eventually became an enormous blaze for Travelzoo. It would be difficult to counter the assertion that the combination of this consumer buy-in and the short squeeze actually had a large substantive impact on Travelzoo's prospects, with the best evidence being the huge spike in the number of users, advertisers, revenue and profits that occurred during this period. This would probably not have occurred in the absence of the buy-in and the buzz that surrounded it. Additionally, the company was able to float a private placement of stock that generated enough cash to keep the company's coffers full through any slow periods that materialzed over the next few years.

It appears that a similar movement may be ramping up with Vertro as we see more message board chatter, recent management indications of large increases in toobar users / revenue with lower average customer acquisition costs and increased stock trading volume with smaller lots.
We recognize that it would be a stretch to suggest that any stock is going to increase 20-fold in less than a year as Travelzoo did in 2004. It would be a stretch even to say that another company could experience the full blown impact that we saw with Travelzoo, where the attention of millions of investors was captured for a time. We do believe that a grass roots/viral investor movement seeking to add a few thousand toolbar users could snowball, take on a life of its own and result in exponential gains for holders of a small company like Vertro's stock. However, we do not believe that is necessary for investors in Vertro shares to be rewarded substantially. We believe that the Vertro story is going to start being "discovered" by more retail and institutional investors over the next few months, just as Vertro's leverage and ability to scale earnings becomes evident in its reported results each quarter.
As that plays out, it is difficult to imagine a scenario that would allow it to continue to trade at single digit multiples of its earnings. Investors able to build a position in the current trading range ($2.85 - $3.15 over the last few trading days) could score a "10 bagger" over the next 12 - 18 months as the stock moves higher based simply on its reported results and improved investor awareness of the story. We believe that Vertro is entering a growth phase that will begin to be evidenced by results in the current quarter (Q4 2010), where we expect that the company will achieve $10 million in revenue for the first time since becoming a standalone company. We believe Vertro will be able to scale rapidly moving forward now, with percentage increases in opex much smaller than the percentage increases in earnings that will result. Our earnings target for 2011 is $1.02 per share based on 6,830,000 shares outstanding and the following assumptions:

Revenue Non Ad Opex Advertising
Q1 2011 $10,100,000 $2,700,000 $6,000,000
Q2 2011 $10,650,000 $2,700,000 $6,700,000
Q3 2011 $11,342,250 $2,700,000 $7,000,000
Q4 2011 $11,909,363 $2,700,000 $6,500,000

Totals = $44,001,613 $10,800,000 $26,200,000
Total 2011 Opex = $37,000,000
Total 2011 Profit = $7,001,613 or $1.02 per share

In the same way that stocks receiving much favorable attention from Wall Street analysts and main street investors can experience a valuation disconnect (ie P/E ratios of 100x for stocks growing at 30 - 40% per year) while they remain in favor, stocks that are either out of favor with Wall Street analysts or undiscovered by main street can experience a valuation disconnect going the other way. We believe that is the current situation with Vertro, where retail analyst coverage is nonexistent and most investors are unaware that the company even exists.
The result is a stock that it is only trading at 3x 2011 earnings even though it is solidly profitable and should grow earnings by 100% or more over the next 12 months. We believe this is an extreme example of a valuation disconnect. We expect that investors will soon bid the shares up to a valuation more in line with what should be expected for a company with 96% margins, a highly predictable and disciplined cost structure and the ability to produce double digit revenue growth for the next couple of years while producing triple digit percentage earnings per share growth.
Given the valuations accorded other consumer-oriented stocks that have shown exponential growth potential like Netflix (NASDAQ:NFLX) and Open Table (NASDAQ:OPEN), we do not think it unreasonable that a stock with these characteristics could be trading at 25 - 30x 2011 earnings over the next 12 months, giving us our ten bagger without the necessity of a Travelzoo type scenario. On the other hand, given that there are only 2.9 million shares in the public float and that it has averaged trading only about 13,000 shares per day, any uptick in demand could trigger a "snowball effect" that attracts even greater investor attention to the story and accelerates the grass roots "buy the stock / use the service" movement similar to the Travelzoo shareholders' experience.

Disclosure: Long VTRO, Long GOOG