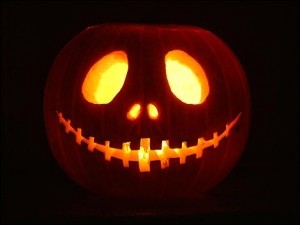 by Jack Sparrow
Trick or treat, smell my feet, give me something good to eat…
Trick or trade, long or fade, bulls or bears will soon get played…
Were I a fresh-faced trick-or-treater roaming the swanky neighborhoods of Greenwich, Connecticut — i.e. the hedgie capital of the world — I would do so in a Ben Bernanke devil mask.
Then, whenever a leveraged long fund manager opened the door, I would shout in my best Seinfeld-Soup-Nazi voice: "No QE for you!!!"
In all seriousness, betting on a "QE2 comes through" rally continuation here feels like backing the heavy favorite at the Kentucky Derby. Sure your horse has the chops to win — but the reward to risk is lousy, expectations are nosebleed high, and the dark horse bet offers a much better payout. (Remember Big Brown?)
With investor sentiment at its most bullish in two years, the crowd seems convinced Bernanke will come through for the bulls. Having already anticipated all kinds of good juju and inflationary effects of the not-yet-arrived QE2, Mr. Market is effectively taking the "over" on Wednesday's big announcement. But if we get the "under," what then?
Mike McD and I are more or less "taking the under" in the Mercenary portfolios. The reward to risk profile here, and the extended leanings of the crowd, favor the dark horse bet that pays off big — in the form of big downside — if Helicopter Ben comes in light relative to the Street's expectations.
At the same time, we are hedging our bearish bets — and prepared for further upside if BB delivers — with a profitable roster of gold and silver names, plus select blue chips with global profiles like Dupont (NYSE:DD).
As PTJ so wisely advised, "Don't be a hero; don't have an ego." Take your big shots, but take 'em when the stars align just right — not when the world is in thrall to some guy with a beard.
We're ready for whatever Bernanke throws at us… which is part of what being a Mercenary is all about.
Disclosure: As active traders, authors may have positions long or short in any securities mentioned. Full disclaimer can be found here.