If you've never experienced the painful symptoms of gout, consider yourself lucky. The buildup of uric acid crystals in joints has been likened to having skewers pushed into flesh.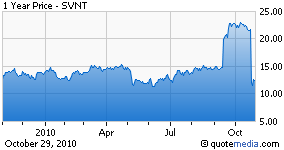 It's estimated that over one million people suffer from gout attacks every year - and if a person with a proverbial skewer sticking out of their joints isn't a motivated buyer, I don't know who would be.
The company I'm talking about today markets a specialized gout treatment. There are other gout treatments on the market, but this company's treatment targets chronic cases that haven't responded to other medications. The company has put the potential number of patients at around 172,000, and industry watchdogs have estimated potential annual worldwide sales could range from a low $200 million to upwards of $1 billion. The company has indicated in regulatory filings that the drug would be relatively cheap to manufacture.
I'm talking about Savient Pharmaceuticals (Nasdaq: SVNT)
Right now this company's stock is beaten up. Sometimes a company will try to sell itself in order to grow. Savient tried to do that, and suffered the consequences of a shareholder overreaction.
Yet there's still some interest in the stock of the company, which recently announced plans to go it alone with its new treatment for gout after it failed to interest any other companies with deep pockets to take it over.
Shares of Savient hit a 52-week low of $10.43 on Oct. 25, and are down about 8 percent this year. But if you had bought the stock five years ago, you could have pocketed a 254 percent gain. If you were able to buy it in May, when it dipped below current levels and sold before the no-buyer news came out, you could have doubled your money.
In late May, Savient announced that it had received FDA approval for its drug — and that the company was for sale.
Such is the world of small-cap biotechs.
I don't think that all is lost with Savient, despite the recent huge bearish over-reaction by investors - a selling spree that led the stock to fall off the cliff on Oct. 25.
FDA approval for a drug is a long, drawn-out and costly process. It can wear down, or financially break, small companies like Savient - not to mention the huge expenses associated with actually starting to manufacture an approved medication.
Based in New Jersey, Savient is a specialty biopharmaceutical company, and it really doesn't have anything in the development pipeline. The company was founded in 1980 as Bio-Technology General Corp. and the name was changed to Savient in 2003. Currently, its only product is Oxandrin, an anabolic steroid that helps patients gain weight after extensive surgery, illnesses or other problems. It hopes to turn Krystexxa for chronic gout into a blockbuster.
It appears that Savient thinks Krystexxa is its ticket to profitability by entering an untapped market. Krystexxa was developed in part through Duke University research, and roughly nine years later, it's about ready to come to market.
Having an 'orphan' drug like Krystexxa to sell has its advantages. Once it reaches market, a company has seven years to sell it without competition. It also gets some nice tax breaks.
Back in 2005 and 2006, now-unprofitable Savient was making money, reporting annual revenue approaching $50 million. But that has changed, with sales hovering around $3 million the past two years as generic competition increased for its product Oxandrin. During those profitable years, Savient also was selling off a British subsidiary, and an Israeli-based manufacturer, as it focused on Krystexxa.
After the one-day sell-off, the stock could prove a bargain, especially since Savient has definitively said that it will begin selling Krystexxa in December with its own sales staff. It has lined up distribution partners and third-party manufacturers for a U.S. launch, with its eyes on rapidly rolling out the product around the world.
Responding to the 44 percent one-day sell-off, company officials said that Savient has $89 million in cash available, although it did report more than $240 million in debt at the end of 2009 — which was about what it had to spend on developing Krystexxa in 2007-09.
Back in September, a Bloomberg News story noted that if the company had attracted a $25-a-share takeover offer, it would be valued at $1.69 billion. On Oct. 27, Cowen & Co.'s Eric Schmidt upgraded Savient to outperform, a couple of weeks after he had cut it to neutral, writing to his clients that Krystexxa alone could be worth $19 a share, pegging the potential annual worldwide sales at $600 million.
Big pharma is always in the market to buy up the little guys who are sitting on a potential pot of gold. Once they determine just how much Savient and its potential big seller are worth, shareholders who buy this undervalued little stock could find it lights up their portfolio - of course that is only if Krystexxa turns out to be the blockbuster that the big fish want to swallow up.
Savient is a risky small cap - there is no doubt about it. But finding hidden gems is exactly what being a small cap investor is all about.