Who would have thought that Burrito Bowls and Red Envelopes would be hotter than the iPad in 2010? Sounds crazy but it's true. By looking at the YTD performance chart from Yahoo! Finance you can see that the stocks for Chipotle Mexican Grill (NYSE:CMG) and Netflix (NASDAQ: NFLX) have significantly outpaced Apple Inc.'s (NASDAQ: AAPL) stock price so far this year.
All 3 companies have tremendously successful business models and management teams who understand how to create wealth for their shareholders (click to enlarge).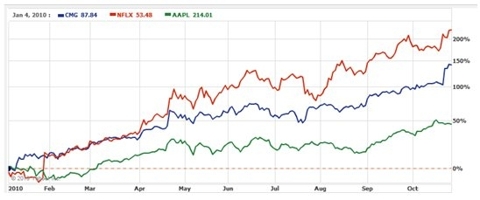 Click to enlarge
There is no question that Chipotle has a great product at a great value for their customers. Our firm frequents Chipotle on a weekly basis. Positioned between casual dining and quick service restaurants, Chipotle offers better quality food than quick-service chains, at lower price points than casual dining chains.
Likewise Netflix's movie rental service, which charges a low monthly fee for unlimited rentals and downloads, provides a compelling value proposition. Netflix's broad selection of content and its convenience factor is virtually unmatched by any existing competitors.
And who doesn't know someone who owns an iPhone, iPod or iPad these days? From an investor's standpoint, it is no doubt that these firms are doing a great job of rewarding shareholders so far this year by following what we call a wealth creating strategy of growing a profitable business. However, not all good businesses make good investments, a principal starting point for conversations with many of our institutional clients. Often times these high quality companies gain momentum and their expectations become high and their stock becomes overvalued.

Think of it from this perspective, if you were offered the choice of a new car between a 2011 Mercedes Benz SL600 or a 2011 Chevrolet (GM) Impala, the obvious choice would be the Mercedes as it is the more luxurious of the two and the all around superior vehicle. As investors we understand the importance of value, so what if you were offered the same two vehicles except the Mercedes price tag is $1 million and the Chevy retailed for $100? The Mercedes is still the superior vehicle no doubt, but which is the better investment? Note: Despite unpopular perceptions, if you value your Chevy at $100, call me, I am a buyer!
Under the same principles of understanding value, we will now take a look at the valuation of these 3 companies to see if they are good investments. By looking at the following Intrinsic Value charts from The Applied Finance Group (NYSE:AFG) we can see that AFG's model has done a good job tracking these firms by their high accuracy scores (accuracy score calculated by measuring how far AFG's Intrinsic Value (Red Line) deviates from the company's trading range (Blue Bar)). Also by looking at these charts you can see that CMG and NFLX--while they have enjoyed great performance YTD--we believe that both companies are beginning to look expensive according to our valuation model. click to enlarge
Netflix NFLX – Looks Expensive
Click to enlarge
Chipotle Mexican Grill CMG – Looks Expensive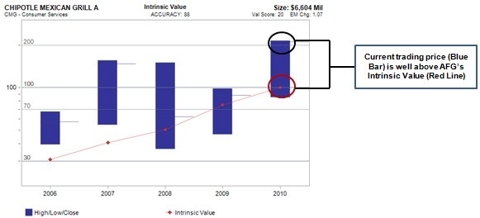 Click to enlarge
Now that we have pointed out that we believe these firms are overvalued, we will provide our readers a list of 4 companies from the consumer services sector that look more attractive from a valuation standpoint and present attractive investment opportunities going forward.
AFG
Ticker
Name
Sector
Investment Opportunity
Attractive S&P 500 Consumer Services Companies

(NYSE:WMT)

WAL-MART STORES INC

Consumer Services

Attractive

(NASDAQ:ORLY)

O'REILLY AUTOMOTIVE

Consumer Services

Attractive

(NYSE:TGT)

TARGET

Consumer Services

Attractive

(NYSE:KSS)

KOHL'S

Consumer Services

Attractive