by David Sterman
The Russell 2000 index is widely seen as a proxy for small cap stocks. Yet the definition of "small cap" can be quite loose. Riverbed Technology (Nasdaq: RVBD), the Russell 2000's largest component, is worth more than $4 billion, while a number of members of the index are worth less than $200 million. Historically, the biggest names in this index eventually graduate, often to the S&P 500, where they become one of the smaller companies in this large company index. Such a move often triggers a nice little gain, as index funds need to buy up shares of any new S&P 500 entrants to ensure that they own the whole portfolio.

So which stocks are most likely to graduate and matriculate upwards? Let's take a look.

The candidates
To gain inclusion in the S&P 500, decision-makers at Standard & Poor's like to ensure that new entrants have a reasonable level of current business and a bright future. Here's a look at the top 10 companies in the Russell 2000 in terms of market value, along with their current sales base and projected growth rates for 2011.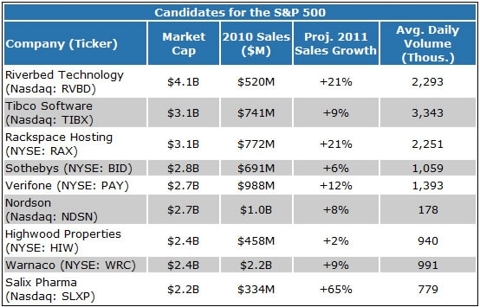 Now, let's take a look at the smallest 10 members of the S&P 500 by market value. Every one of them is worth less than the 10 Russell 2000 components noted above. Yet by annual sales, most of the S&P 500 stocks are far larger, with several sporting annual sales in excess of $10 billion.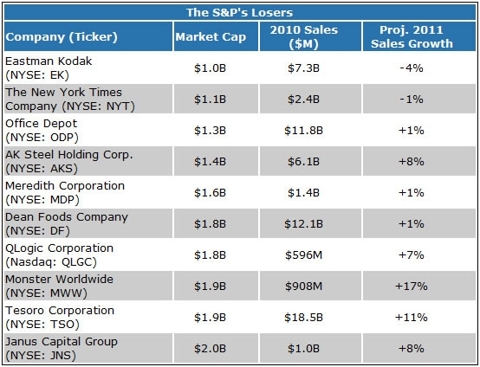 To be sure, Standard & Poor's isn't looking to actively boot any of these companies out of the S&P 500. They only do that when a company is acquired, moves its headquarters offshore, or slips into bankruptcy. (Ironically, clothing maker Warnaco (NYSE: WRC), noted earlier in the Russell 2000 table was once in the S&P 500 before it went into bankruptcy). What S&P wants is a company that helps maintain a balanced exposure to various aspects of the U.S. economy. So if an industrial firm exits, another industrial firm is likely to take its place.

The S&P 500's next freshman class
Looking at potential candidates, Riverbed Technology looks like the most logical choice simply because of its $4 billion market value and fast-rising sales base. Then again, the company's focus on data storage management means that it could be a takeover candidate, as M&A activity in that segment is white-hot. And the S&P is unlikely to add a company that will soon be exiting the index.

The company's stock has nearly tripled in value in the past year, a possible turn-off at S&P, which tends to avoid Johnny-come-lately stocks (annual sales for Riverbed didn't even crack $100 million until 2007). Indeed, this stock has risen so fast that it has become disconnected from the fundamentals. So you may want to steer clear, regardless of the S&P 500 prospects.

And you can forget about industrial adhesives firm Nordson (Nasdaq: NDSN), which only trades 178,000 shares a day. Index funds would trample over each other trying to get into this stock, sharply inflating its value -- and S&P likes to avoid that. The sub $500-million revenue bases for Highwoods Properties (NYSE: HIW) and Salix Pharma (Nasdaq: SLXP) are likely too small to warrant inclusion, as well.

If S&P is looking for high-tech exposure (which will likely be the case in light of all the deal-making taking place in high-tech), then Parametric Technology (Nasdaq: PMTC) is the logical choice. Parametric's software helps companies extend the life cycle of existing products through engineering design tweaks, which has enabled Parametric to develop robust streams of recurring revenue. Of importance to S&P, Parametric is consistently profitable and has seen annual sales fall only once in the past six years.
In all likelihood, former S&P 500 member Warnaco is likely the best fit for the index. Annual sales of $2 billion and $200 million in annual EBITDA is nothing to sneeze at, and that brush with bankruptcy is a thing of the past. Nowadays, analysts see a phoenix-like rise and have recently boosted forecasts. Shares trade for a reasonable 13 times projected 2011 profits, and a set of new product lines is expected to help keep sales growing at a +10% pace. Along with Parametric Technology, Warnaco looks set to get a tap on the shoulder from the S&P advisory board. You may want to get in ahead of time.
Disclosure: Neither David Sterman nor StreetAuthority, LLC hold positions in any securities mentioned in this article.