Silver Wheaton Corporation (NYSE:SLW) Up 4.36% Friday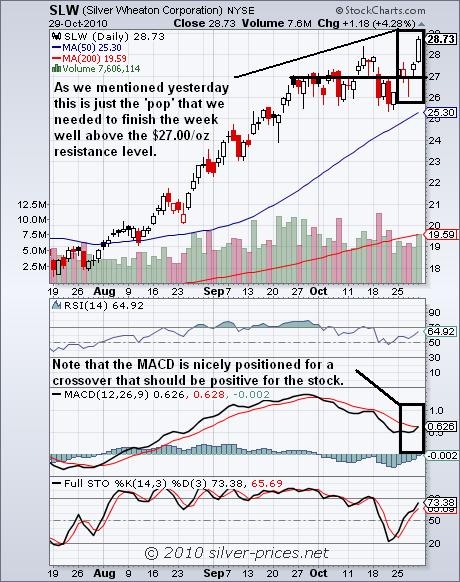 As we mentioned in our update Thursday, this is just the 'pop' that we needed to finish the week well above the $27.00/oz level, which had been acting as resistance to Silver Wheaton's progress. So it gave us great pleasure to watch this stock close at $28.75, for a gain of $1.20, or 4.36%.
The chart is looking fairly good at the moment with the MACD being nicely positioned for a crossover that should also be positive for the stock. The one thing we don't like is the gap between the stock price and the 200dma, but we can live with it, for now.
This, of course, is all on the back of the progress being made by silver prices which closed at $24.72, for a gain of $0.72 or 3.00%. That would be a great move over a week, but this move took place in just one day. Where else can you get so much volatility and excitement crammed into such a short period of time? Earlier on the day over at The London Stock Exchange we watched as prices drifted lower, Fresnillo Plc., was down around 2% at one point. So, it was looking like another down day with the shorters winning the day, however, things can and did turn on a dime.
A quick look at position regarding our options play and we can see that they have improved dramatically and hopefully put a smile on your face too.
December 2010 $26.00 Calls @ $1.55, now at $3.60 for a gain of 136%
December 2010 $30.00 Calls @ $0.58, now at $1.44 for a gain of 144%
and
January 2011 $26.00 Calls @ $2.00, now at $4.15 for a gain of 106%
January 2011 $27.00 Calls @ $1.64, now at $3.50 for a gain of 114%.
We also acquired more SLW stock on 9th August 2010, for an average cost of $19.76 per share, which now stand at $28.75, giving us a paper profit of 45% in a little over two months, which is not a bad gain for a stock with such a large market capitalization. However, if you have something whose performance is better, then stick with it, otherwise give SLW some consideration.
Disclosure: SLW, GLD
DISCLAIMER: Silver Prices makes no guarantee or warranty on the accuracy or completeness of the data provided on this site. Nothing contained herein is intended or shall be deemed to be investment advice, implied or otherwise. This represents our views and nothing more than that. Always consult your registered advisor to assist you with your investments. We accept no liability for any loss arising from the use of the data contained on this website. We may or may not hold a position in these securities at any given time and reserve the right to buy and sell as we think fit.