As was somewhat expected in the market, online retailer and payment company eBay Inc. (NASDAQ:EBAY) issued $3.25 billion in debt.
Details of the offering are: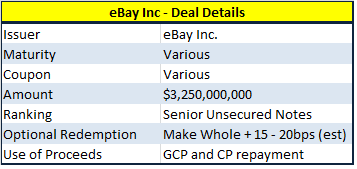 The deal is broken down among the following maturities:

The prospectus can be found here.
Covenants include:
Limitation on liens (up to $500mm carve-out),
Limitation on sales and leaseback (up to $500mm carve-out),
Consolidation, Merger and Sale of Assets (boilerplate surviving entity, successor obligor language)
eBay Inc. is a global technology company that enables commerce through three reportable segments: Marketplaces, Payments and Enterprise. The Marketplaces segment includes the eBay.com platform and its localized counterparts and related commerce platforms, such as online classifieds sites and StubHub. The Payments segment is comprised of PayPal and Bill Me Later. The Enterprise segment provides commerce technologies, omnichannel operations and marketing solutions for merchants of all sizes that operate in general merchandise categories and includes our Magento business. eBay "enabled" $205 billion of total commerce volume in 2013 and, as of June 30, 2014, the Marketplaces segment had 149 million active buyers and the Payments segment had 152 million active registered accounts.
eBay has strong debt metrics, as one would expect given the nature of the company. Some of the debt metrics, graphically, are: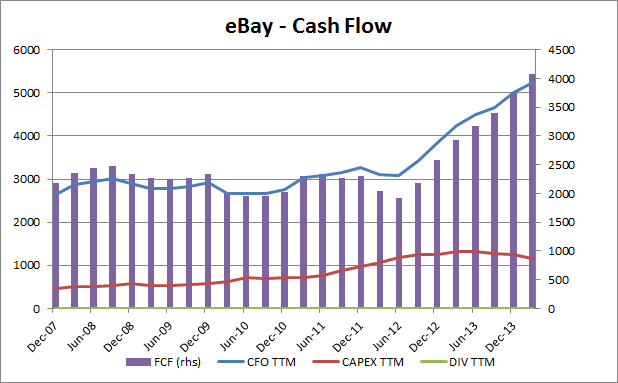 As evidenced above, the company generates significant free cash flow which can service debt and support growth. Trailing twelve month free cash flow equaled just North of $4 billion.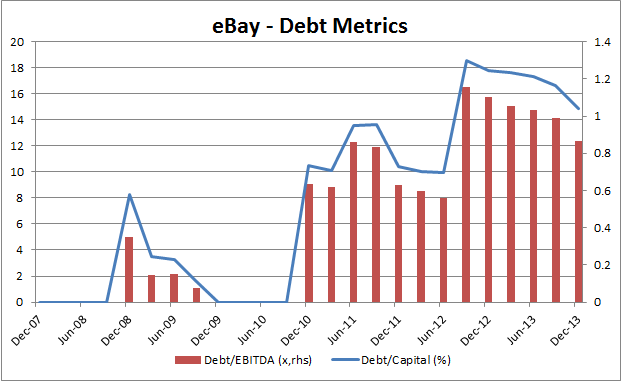 You will note that "net debt" has not been used as cash is not necessarily held for the purpose of repaying debt. That said, eBay has accrued $3 billion of deferred taxes on $9 billion of the $9.8 billion of cash held overseas - essentially giving them the ability to repatriate a net $6 billion into US cash. While net debt is not used, this accrual and ability to repatriate cash into US accounts is a credit positive.
Further, debt is covered by EBITDA (.84x EBITDA) and occupies a very conservative amount of the capital structure (17%).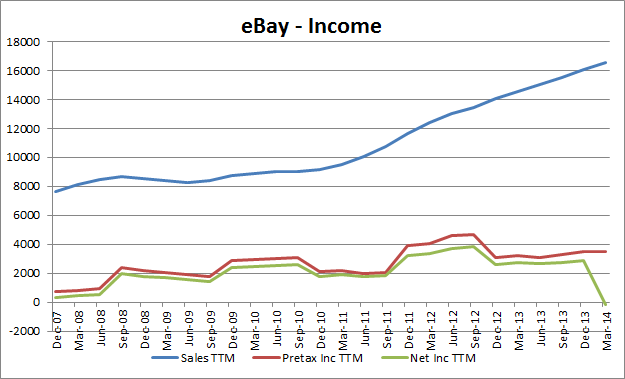 Income has also been healthy and generally growing. Net income recently took a hit due to a large tax bill.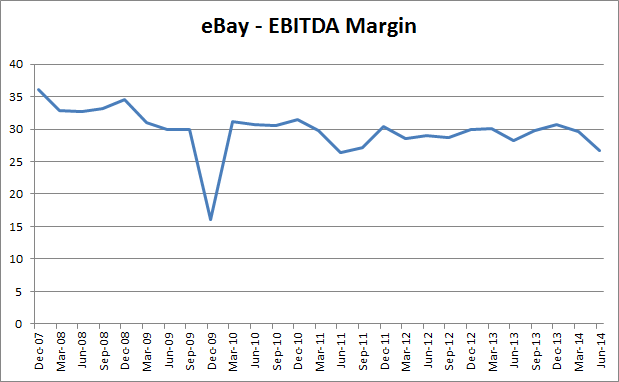 EBITDA margin has been holding in near the 30% level, but has recently taken a dip. This is somewhat of a concern, but will have to be monitored to see if it continues to trend this way.
At June 30, 2014, eBay had approximately $4.1 billion of senior unsecured notes outstanding; approximately $1.2 billion of senior unsecured indebtedness outstanding under their $2.0 billion commercial paper program; no indebtedness or letters of credit outstanding under the $3.0 billion senior unsecured revolving credit facility and $3.0 billion of available borrowing capacity under their senior unsecured revolving credit facility (of which $2.0 billion of available borrowing capacity is reserved to provide liquidity support, if required, for the commercial paper program); and no secured indebtedness outstanding. At June 30, 2014, eBay subsidiaries had approximately $12 million of secured indebtedness outstanding and approximately $17 million of unsecured indebtedness outstanding (recall that the debt of subsidiaries is structurally senior to that of the parent company).
The distribution of this debt (including the new maturities) is as follows: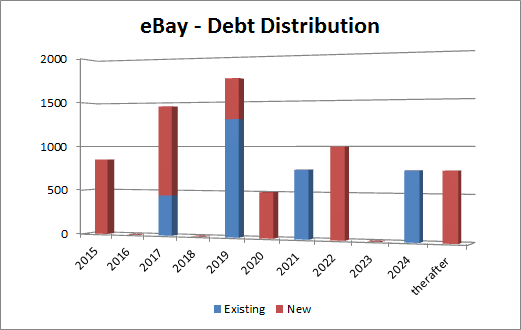 The largest debt maturity year is 2019, with approximately $1.8 billion of debt coming due. Trailing twelve month free cash flow is $4.5 billion. Debt maturities should not strain the financials of the company.
Having shown the conservative financial profile of eBay, let's now take a look at the existing debt and new debt of eBay (new debt is shaded green and bolded).

Click to enlarge
As the table shows, the new debt came at a concession to outstanding debt, but only marginally. I tend to favor the 2021 debt due to its spot in the belly of the curve and the pick-up available coming out of the 2020 existing debt (+41bps and take out 4pts). You should also be able to realize the roll of the benchmark from the 7yr to the 5yr in time for potential Fed rate hikes.
Next, let's take a look at the eBay credit curve (new issues marked in orange):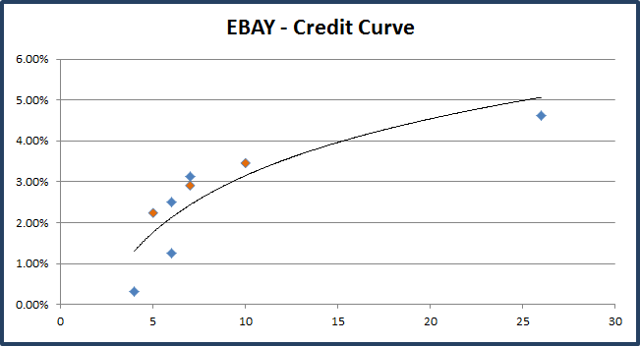 Click to enlarge
While the new issues help define the curve, they fall above the curve and make them attractive within the eBay debt complex. Note that the existing 2022s are attractive as well.
Then eBay on a basis point per unit of duration (BPUD) basis to get a picture of the value of "rate risk" (again, new issues in orange):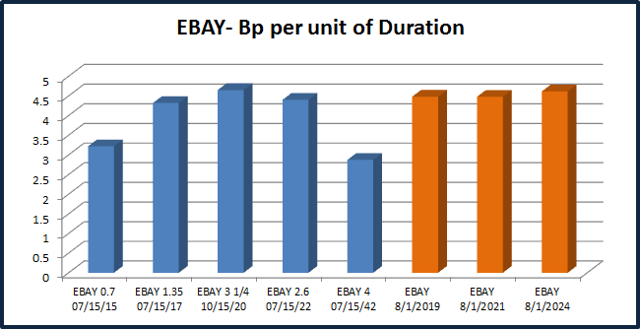 Click to enlarge
On a BPUD basis, all three new issues are valued near where you might expect them to be. On this basis, the new 2019s are still compelling.
Of course, we have to look at the bonds versus comparables. The peer group being used for eBay is Amazon (NASDAQ:AMZN), Fiserv (NASDAQ:FISV), Macy's (NYSE:M), MasterCard (NYSE:MA) and Intel (NASDAQ:INTC). eBay is difficult to find comparables to as it is retail on a technology platform, payments and enterprise.
First, a look at the fundamentals:

Click to enlarge
As you would imagine, eBay compares very well to the selected peer group.
Next we move to the peer relative value table to discern if eBay bonds compare favorably to their peer group's bonds:

Click to enlarge
The peer group credit curve (note existing eBay bonds in green, new eBay bonds in orange).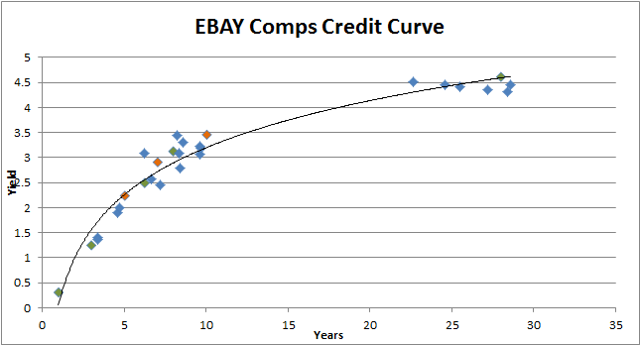 Click to enlarge
The new seven and ten year debt is attractive relative to the curve.
And on a BPUD basis: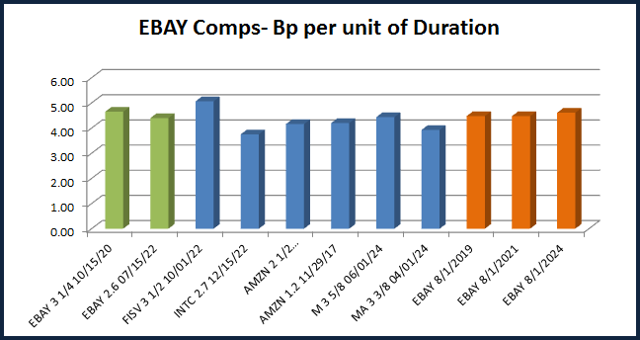 Click to enlarge
The new bonds on a BPUD basis are also attractive relative to their peers.
Bottom Line: I believe that the new eBay bonds offer compelling relative value versus their peers and the existing debt of the company. While many investors may not be attracted to the absolute yields, relative to similar options and existing debt, there is an opportunity here. While they may not have significant upside due to the rate environment, there is the potential for marginal spread compression versus their peers. Given the potential for rising rates and the relative spread levels, the 2021's are compelling due to their position in the belly of the curve (which should outperform in a rising rate environment) and their "roll down" from a seven year benchmark to a five year benchmark.
CUSIPs on the new bonds (from the term sheet):
2017 Floating Rate Notes: 278642AM59
2019 Floating Rate Notes: 278642AJ21
2019 Fixed Rate Notes: 278642AH64
2021 Fixed Rate Notes: 278642AK93
2024 Fixed Rate Notes: 278642AL76
Disclosure: The author has no positions in any stocks mentioned, and no plans to initiate any positions within the next 72 hours. The author wrote this article themselves, and it expresses their own opinions. The author is not receiving compensation for it (other than from Seeking Alpha). The author has no business relationship with any company whose stock is mentioned in this article.
Additional disclosure: This article is for informational purposes only, it is not a recommendation to buy or sell any security and is strictly the opinion of Rubicon Associates LLC. Every investor is strongly encouraged to do their own research prior to investing.