If you're skeptical about the second coming of the fertilizer boom, or missed out on it, there might be a better way to play the agriculture market: Kick the tires on Deere & Co. (NYSE:DE)
Wait, you're say, they make those riding lawnmowers, right? Yes, but they also make a range of tractors and other farm equipment that look like Lego experiments gone wild – to this city boy at least: drawn planters, air hoe drills, draper platforms, wheel rakes and rotary cutters.
Whatever these machines do, they tap into the rising importance of global agriculture in a big way. The company's average annual revenue growth in agriculture products is 23 per cent over the past two years, hitting annual sales of $18-billion (U.S.) in 2009.
As well, Deere's exposure to global markets is impressive, with divisions in many of the world's most spectacularly growing emerging markets, including Brazil, Russia and China. It even struck a joint venture, in 2008, with India's Ashok Leyland Ltd. to manufacture construction equipment there – meaning Deere has the entire BRIC region covered.
Of course, a strong brand and a good business don't necessarily translate into a must-own stock. But in the case of Deere, the stock is also appealing, largely because of the company's track record for producing fairly steady earnings and revenues. Both dipped during the recent financial crisis, but Deere remained highly profitable throughout the ordeal. Its second- and third-quarter earnings per share for this year were back to near-record highs.
Other names in the agriculture sector are prone to fits of exuberance and despair. Shares in Potash Corp. of Saskatchewan Inc. (POT) and Monsanto Co. (MON) (a go-to name for genetically modified seeds), both surged with the agriculture boom of 2008, but the stocks are nowhere near their record highs today. Indeed, they look a little like deflated bubbles.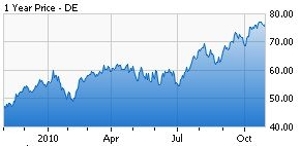 Click to enlargeBy comparison, Deere has given investors a steadier ride, rolling along much like its machinery. Sure, the stock dipped during the 2008-2009 bear market, but its ups and downs over the past five years have been far more moderate. Its overall gains have nonetheless walloped the broader market: The stock has risen an average of 20 per cent a year over the past five years, compared with less than 1 per cent for the S&P 500.
The big downside to a steady stock is that it nearly always looks expensive, unless you scooped it up at the market's trough in early 2009. Deere is now just 19 per cent away from a record high. For long-term investors who want to gain exposure to an agriculture theme, this isn't a big problem: The stock trades at a modest 17-times estimated earnings, giving it a reasonable valuation as this agriculture theme unfolds.
For others, you might want to consider buying on a dip. The risk? If interest in agriculture-related stocks persists, there might not be one.
Disclosure: None