Uncovering undervalued opportunities in a market that is constantly reaching new highs is exceedingly difficult. The efficiency of the market generally prices securities so that its risk is factored into the share price. However, there are certainly anomalies to this axiom, and Overstock.com (NASDAQ:OSTK) falls into that category with its altered business model.
About Overstock.com
Overstock is an online retailer offering discount brand name, non-brand name and closeout merchandise, including bed-and-bath goods, home decor, kitchenware, furniture, watches and jewelry, apparel, electronics and computers, sporting goods, and designer accessories, among other products. The Company is also a channel through, which customers can purchase cars, insurance and travel products and services. Overstock sells advertising. The Company also sells books, magazines, compact discs (CDs), digital versatile discs (DVDs) and video games (BMMG). Overstock sells these products through its Internet Websites located at overstock.com, o.co and o.biz. Overstock operates in two segments: direct business and fulfillment partner business.
Overstock has been a publicly traded company since 2002 and its stock price has been quite volatile. Following the IPO, shares rose and eclipsed $70 per share in late 2004. Ever since that climax, the shares have had temporary surges and subsequent declines.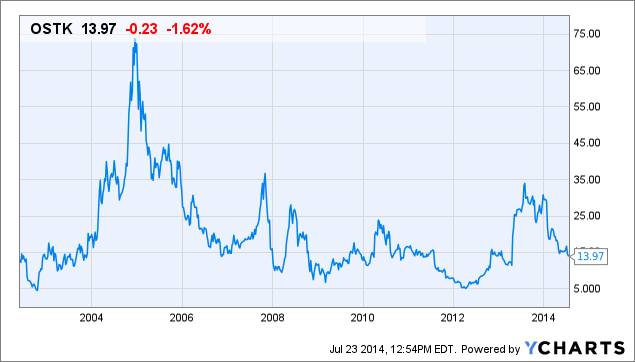 Resurgence Last Summer
The stock saw its most recent resurgence last summer, as net income expanded to $3.7 million from $0.5 million y/y. The improvement was driven by revenue growth of 22% coupled with a 1.7% improvement in gross margins. The gross margin improvement came from a shift in product sales mix into higher margin home and garden products, as well as lower warehousing costs.
The stock rose from approximately $12 a share in April of last year to above $35, after the positive earnings announcement. Recent quarters have not been as favorable and the stock has sold off and sits at a 52-week low of approximately $13.80 per share.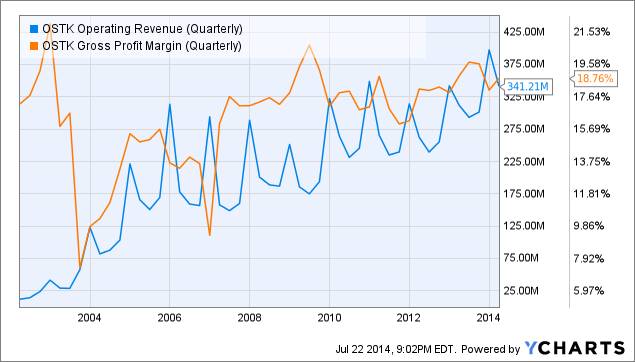 Q1 Quarterly Report
In Overstock's most recent quarterly report, revenue expanded 9.4% y/y which led to gross profit growing 8.6% y/y, as margins declined slightly from 18.89% to 18.75%. Even though gross profit improved, operating income actually declined 18% y/y, which worried investors. However, nearly all of the rising expenses were from increased marketing expenditures. By keeping marketing constant, operating income would have risen. Overstock is investing in its brand through marketing efforts and investors should not have such a myopic view of the situation.
Further, the situation seemed even more bleak on the surface, as net income fell 48% y/y. Nevertheless, the reason for the drastic decline was a $2.5 million dollar swing in income taxes. An accounting adjustment made the fundamentals of the business seem much weaker than they actually are.
Now that I have provided a brief narrative into the OSTK's trading history and have discussed recent operating results, lets move on to the future outlook.
Business Model
Overstock derives its revenue through two distinct avenues. The majority of revenue, 88.8% comes from fulfilment partner revenue. Revenue from this segment comes from merchandise sales, which fulfillment partners ship directly to consumers and businesses. This method proves to be essentially riskless, as OSTK is just the intermediary. Direct revenue, which accounts for the other 11.2% of total revenue, is derived from merchandise sales that the company owns.
The mix of revenue has improved y/y as direct revenue declined from 13.4% of total revenue to just 11.2%. This decline in direct revenue allowed Overstock to reduce their inventory by $4.3 million, which reduces exposure to seasonal inventories and ultimately markdowns. Overstock will leverage its brand, which it has bolstered through recent advertising efforts, in order to generate revenue through a less risky avenue.

New Initiatives
Overstock has been rolling out numerous low downside, high upside initiatives for the last few quarters. I will now discuss the most notable initiatives.
Source: Overstock.com
Flash Deals
Flash deals was a recent initiative launched late last year, which will drive site engagement. Every day at 12pm E.T. there is a litany of new deals available. Many of the products offer significant discounts and will spur users to frequent the site.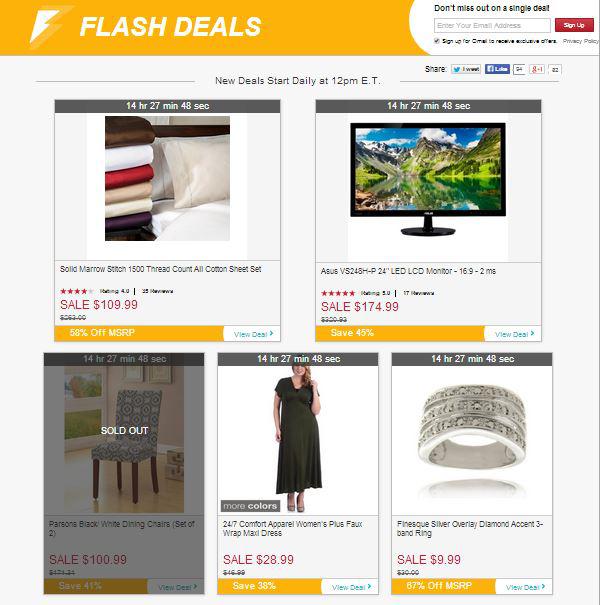 Source: Overstock Flash Deal Site
Farmers Market
Overstock has been expanding its offering, which does not increase its risk to any degree, as it shifts to fulfilment revenue. Last year, it integrated a Farmers Market into its site. Through its website you can buy a variety of food ranging from organic, to gluten free, and even vegan. The site provides users with valuable transparency, which even lets them see where the product was made.
Pet Adoption
In February, Overstock announced plans to allow online shoppers to browse through the profiles of thousands of rescue animals and find themselves the perfect pet. This quarter will be the first quarter in which the program will have a full quarter after launch and the site has already made over 14,500 connections.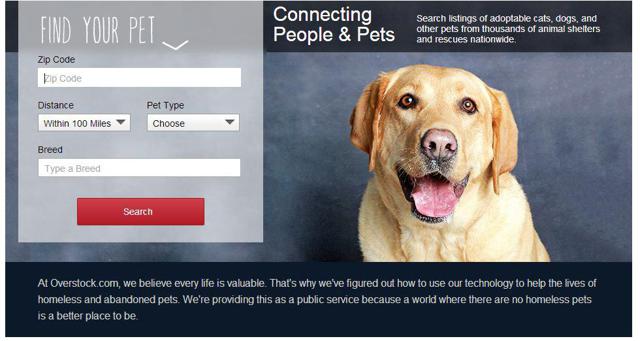 Source: Overstock Pet Adoption
Insurance
Right before the last quarter ended, Overstock launched an insurance sales segment to its website. However, the initiative did not have time to affect last quarter and this will be the first quarter in which it can potentially see revenue generated from it. Overstock will act as the intermediary and will facilitate a third party selling it. Thus, this initiative is essentially risk-less as their downside is the paltry sum of adding the technological framework to the site to run the system.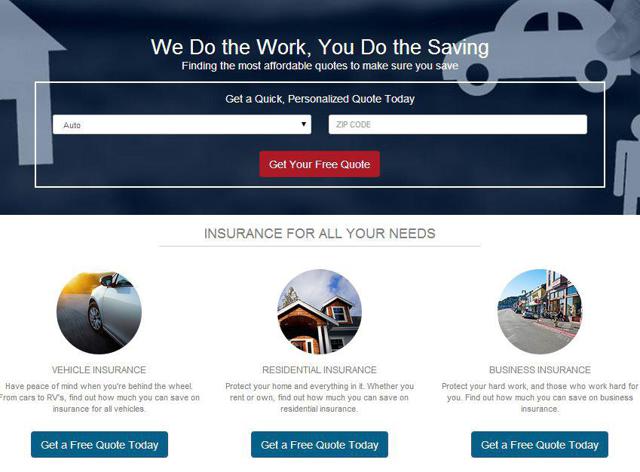 Club O Loyalty Program
Overstock has taken a play out of Amazon's book with its Club O loyalty program. The membership cost is typically $19.95 for a year, but they were having a $10 off savings at the time I was researching for this article. The membership, like Amazon's, includes free shipping, but also offers various other rewards to drive continuing sales. Each order allows you to receive 5% back and they even give 5% back for select restaurants. This rewards program can create serious customer loyalty. If successful, this program has the opportunity to create a competitive advantage and drive repeat sales.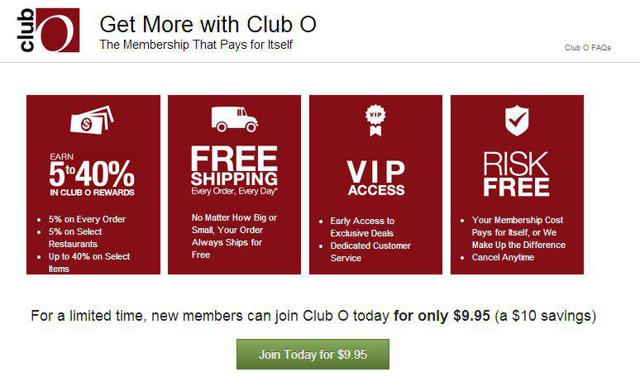 Source: Overstock.com
Launch of Supplier Oasis Fulfillment Services
The most significant change which will most likely positively affect the quarterly earnings release on Thursday, will be the integration of a new multi-channel logistics solution, Oasis Fulfillment Services. The fulfillment services will allow for sellers, suppliers, and partners to strip costs from their supply chains. The cost savings from this initiative will allow for more sellers to enter the site, which will expand the inventory of goods. Expanded selection will drive more traffic and sales and hopefully convert some of those sales to Club O members. If converted, sales will increase further and perpetuate the cycle.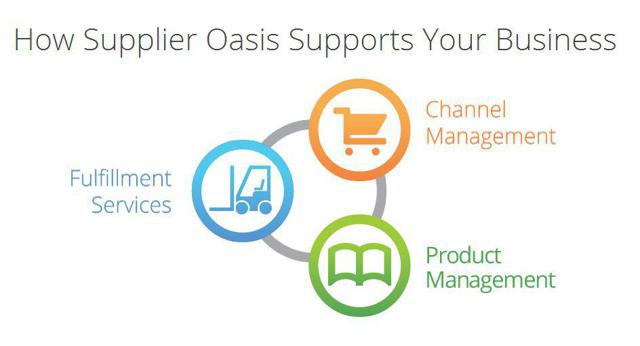 Source: Supplieroasis.com
Bitcoin
Overstock was one of the first e-commerce retailers to begin accepting bitcoin currency. Subsequently others have followed suit, such as Dell. The acceptance of bitcoin could potentially be very positive. The first effect will be a savings of interchange fees by 2%, which could improve the bottom-line greatly, as net margins hover around 2%. Further, customers that would like to purchase with Bitcoin may decide to shop on Overstock, as opposed to a site such as Amazon.
As of March, CEO Patrick Byrne announced that it had surpassed $1 million in Bitcoin sales and forecasts that Overstock will process approximately $15 million in Bitcoin transactions this year alone. Through its partnership with Coinbase, it mitigates exchange rate risk by immediately converting Bitcoins for USD. This initiative is yet another with high potential and limited downside.
Other Notable Positives
Stock Option Reductions & Minimal Stock Award Risks
The threat of stock options being exercised and thus reducing profits has been reduced greatly. In Q1 of 2013, 575,000 options were outstanding. As of the last quarter report, 226,000 options were still outstanding. Moreover, the weighted average of the options is $17.30, so expenses will not be incurred until the stock rises significantly. Restricted stock awards also will not be a near-term threat to profits as 645,000 are outstanding with a weighted average price of $28.52.
Deferred Tax Assets
Due to losses in the past, Overstock carries a tremendous amount of tax loss carry forwards, approximately $145.6 million in federal, and $135 million in state. These carry forwards do not begin to expire until 2020 and 2031 respectively. Income taxes will be offset in the future by these and profits will be enhanced.
Record Suppliers Added
As of March they had 2500 independent fulfillment partners, which is up from 2400 in the prior quarter. Further, a easily overlooked figure that was not mentioned until the Q&A of the last conference call was more suppliers were added last quarter than any other quarter.
"We've seen an all time high number of new suppliers wanting to come and work with us at Overstock and signed on more in the first quarter than any other quarter."
Source: Earnings Conference Call
This increase of suppliers will facilitate the perpetuating selling cycle that I alluded to earlier.
Undervaluation
Overstock is trading at an egregious valuation on both a historical basis, as well as a relative basis to competitors.
On a price to sales basis, OSTK trades at near an all-time low, as well as below competitors. OSTK trades at just .260x its sales compared to its closest competitor Zullily (NASDAQ:ZU) which trades 3.1x sales. This represents a trading multiple of over 12x OSTK's. It is also worth mentioning that Zullily is not currently profitable, but has a much larger market capitalization ($340 million vs. 4.65 billion). Further, OSTK trades at a severe discount to Groupon's (NASDAQ:GRPN) trading level of 1.61x sales. However, with GRPN being a degree of magnitude larger, it should have a premium, albeit a compressed one as it still is unprofitable.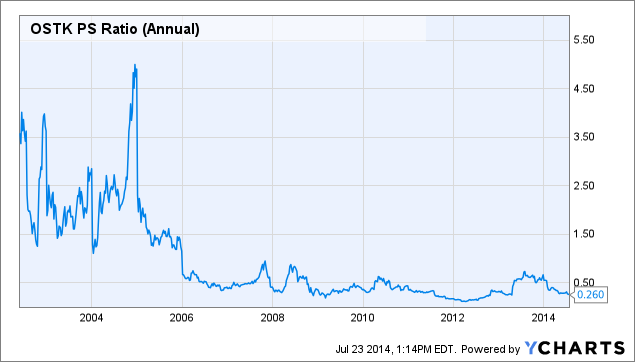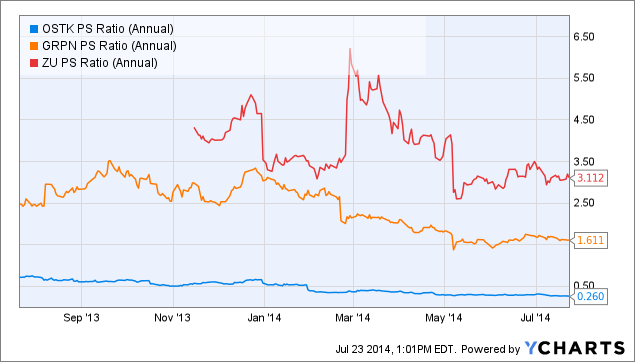 On a one year forward price to earnings basis, OSTK is also undervalued trading at 15.18x. OSTK is at the low end of its historical p/e trading range and trades at a severe discount to Groupon's 156x and Zullily's 110x. Although both companies are larger than Overstock, they are both unprofitable currently, which is why a forward p/e ratio had to be used.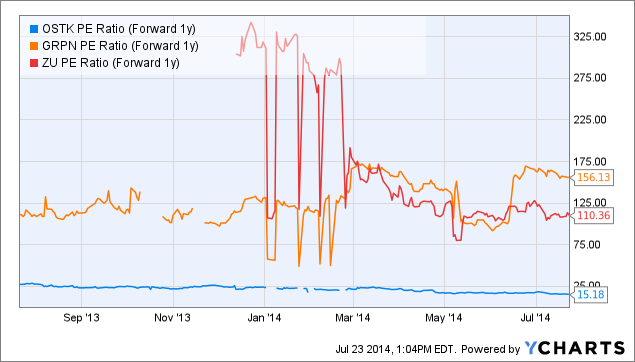 Final Remarks
Overstock has been overly chastised by the market. The shifting away from direct revenue into fulfillment revenue will mitigate risk, while simultaneously expanding its product offerings. The launching of new, virtually risk-less initiatives has the potential to be extremely accretive in the coming quarters. Coupling the new features with the Club O loyalty program and an influx of suppliers may create an enduring buying cycle. Ahead of Thursday's quarterly earning numbers, I highly suggest adding OSTK to your portfolio.
Disclosure: The author is long OSTK. The author wrote this article themselves, and it expresses their own opinions. The author is not receiving compensation for it (other than from Seeking Alpha). The author has no business relationship with any company whose stock is mentioned in this article.