The industrial conglomerate giant General Electric (NYSE:GE) reported second quarter results that reflected its steady return to its industrial roots. The company's stock price is moving at a very steady pace and in the last twelve months this stock has rewarded the investors with 15.69% in total returns. Although this historic return is not very high, things may change soon as the company is making important moves to accelerate significant growth. If correctly executed these initiative could add reasonable growth and will turn this company into an even more attractive long-term investment opportunity.
Increased Revenues and Profits
General Electric experienced lower single-digit growth and its revenues increased 3% to $36.2 billion from $35.1 billion in the second quarter of 2013. However, the total revenues figure was slightly lower than the average estimates of $36.3 billion. The two major business segments performed in opposite fashions. General Electric, the largest industrial company in the U.S., stated that revenues from its industrial businesses, with products including jet engines, power generators, oil field machinery and medical imaging equipment, rose 7% in the second quarter for the fiscal year 2014. However, revenue at its sizable finance unit, GE Capital, declined 6% in the quarter.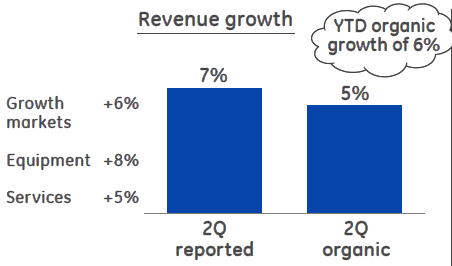 Source: Investors Presentation
Despite lower revenues growth the company's bottom-line growth was in the double-digits due to improvements in the margins and cost control. General Electric successfully generated net income of $3.5 billion, a healthy 13% increase from the second quarter of 2013. The company's operating earnings per share rose 8% to 39 cents per share which matched analysts' expectations.
Industrial Segment is Driving Growth
The GE capital did not perform well and revenues from this business declined 6%. The top line and bottom-line growth was a result of the strong growth in the company's three largest industrial businesses which include power and water, aviation and oil, and gas. Also the backlog of orders for General Electric's industrial equipment and services reached a record $246 billion up $23 billion from the same quarter last year. . Industrial profits outpaced revenue growth as cost-cutting initiatives improved margins.
In the industrial segment the power and water business' revenues increased 10% and profits increased 4%. These were driven by strong demand for equipment, thermal, and renewables. The oil and gas business' revenues increased 20% and profits increased even higher by 25%. The aviation business' revenues also grew 15% and profits improved 12% primarily due to higher commercial engine shipments.
Overall, the industrial segment profits rose 9% in the second quarter to $4.2 billion and this increase was supported by the segment's margin expanding by 20 basis points year over year. The margin expansion was the result of the company's simplification goal and now General Electric is on track to achieving its $1 billion or more in structural cost-out for the year, with $382 million of cost-out through the first half of 2014.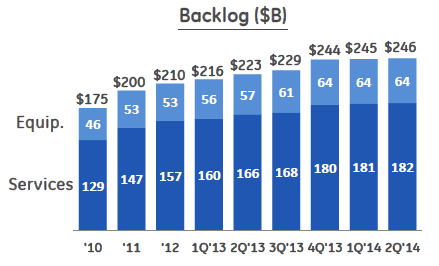 Source: Investors Presentation
Spin off and Acquisition
General Electric has steadily decreased its dependence on GE capital since the financial crisis of 2008. The move away from finance comes only a month after General Electric agreed to buy the energy businesses of Alstom, a French industrial corporation, for $13.5 billion. Before the financial crisis, the finance unit routinely accounted for more than half of the company's earnings.
In the second quarter, GE capital contributed 43% of the company's earnings. General Electric will spin off its consumer credit business with an initial public offering in the New York. Through this IPO General Electric will sell 15% of the company and will be called Synchrony Financial. This new company is expected to raise $3.1 billion out of $20.7 billion of division's total value.
General Electric's current power business is adding growing earnings each quarter. Though the acquisition of Alstom, General Electric's power and grid business will be strong enough to bring more growth and synergy benefits as the demand of electric power will continue rising. Alstom's power businesses are profitable and have many existing long term maintenance contracts with power plant operators across the world. The acquisition will bring $1.2 billion synergies annually by the fifth year and will also add $0.06 to $0.09 of earnings per share in 2016.
Iconic Appliance Business
General Electric intends to go through another major operational change as the company is looking forward to selling its iconic appliance business. The home appliance industry in the U.S. is dominated by top four industry players accounting for an estimated 79.2% of total industry revenues in 2014. The home appliance industry is highly competitive and saturated with very low margins.
This unit generated more than $8.3 billion in sales last year and earned an operating profit of $381 million. Now it is expected that this unit may be valued at $1.5 billion to $2.5 billion and getting rid of this business is the right strategy. This will leave the company with additional resources to focus on its core business segments that are capable of delivering significant growth and allow General Electric to lead the market.
Conclusion
General Electric is trading at a forward price to earnings multiple of 14.47 times which is comparatively lower than its historic five year average of 15.9 times and also cheaper when considering the S&P 500 forward price to earnings multiple of 17.4 times. General Electric currently offers an upside potential of around 10% when you consider the average analyst target price of $29.11 and additional 3.33% dividend yield. General Electric is repositioning itself to focus on more lucrative business opportunities. Its recent acquisitions will definitely increase the earnings stream in the long-term and over the next five years its EPS will grow at an average annual rate of 8.34%. Therefore the consistent earnings growth will pull the stock up and on the basis of the above factors General Electric is a long-term buy stock.
Disclosure: The author has no positions in any stocks mentioned, and no plans to initiate any positions within the next 72 hours.
Business relationship disclosure: The article has been written by a Gemstone Equity Research research analyst. Gemstone Equity Research is not receiving compensation for it (other than from Seeking Alpha). Gemstone Equity Research has no business relationship with any company whose stock is mentioned in this article.