Peabody Energy (BTU) reported 2Q 2014 EPS of -$0.28 per share, in line with analyst consensus estimate of -$0.28 per share. The loss for the quarter was down from EPS $0.33 a year ago. However, adjusting for a large tax benefit of $184.7MM recorded in 2Q 2013, the 2Q 2014 loss per share improved y-o-y from a loss of -$0.31. The improvement in loss per share is even stronger adjusting for other items such as gains on disposal, loss in unconsolidated affiliates, and asset impairments amounting to another $0.09 per share.
Revenue for the quarter came in above expectations at $1.76BN versus analyst expectations of about $1.65BN. EBITDA for the quarter reached $213.1MM, strongly outperforming midpoint guidance for the quarter of $170MM, and came in higher than the higher end of the guidance range of $140MM to $200MM. Sequentially, EBITDA was up strongly from $176.9MM in 1Q 2014, but lower than $254.3MM a year ago. Capital expenditures for the quarter came in at $40.3MM contributing to the cash positive quarter.
Production for the quarter improved both in the US and in Australia as compared to the same period last year. Specifically, US production grew from 44.1MM tons in 2Q 2013 to 46.3MM tons in 2Q 2014. Australia grew from 8.6MM to 9.7MM tons for the same period, see Exhibit 1.
Exhibit 1 - Operating Summary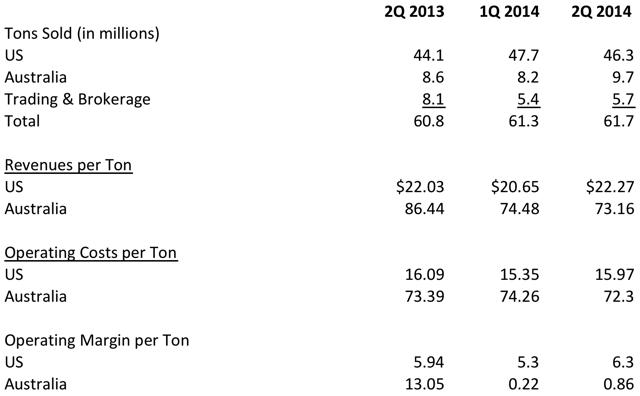 Click to enlarge
Source: earnings release dated July 22, 2014
US mining operations showed strong sequential growth in cash operating margin per ton from $5.3 to $6.3, and a slight margin expansion on a y-o-y basis from $5.94 to $6.3. The margin expansion in the US was predominantly due to higher price realizations in the quarter and cost control. Cash margins per ton also expanded in Australia from $0.22 to $0.86 per ton, however this should be taken with a large grain of salt, as on a y-o-y basis the margin in Australia collapsed from $13.05 in 2Q 2013 to $0.86 in the past quarter. The collapse in cash margins in Australia was mainly due to collapse in met coal prices and realizations, slightly offset by cost reductions.
Outlook
Management provided guidance for 3Q 2014 of loss per share range of -$0.53 to -$0.40, which came in below consensus expectations of analysts of about -$0.19 per share. On an EBITDA level, management guided a wide range of $140MM to $190MM for 3Q 2014, with a midpoint of $165MM, implying a sequential decline. Note that midpoint guidance for 2Q 2014 was $170MM, but the actual figure came in at $213MM. I effectively view this as a wash of the current strong quarter.
The company lowered its Capex guidance for FY2014 to $210MM-$250MM range, from the $250MM-$295MM range guided in the first quarter. The new range represents maintenance capital expenditures and the management believes it can be sustained for several years before increases would be necessary.
Full-year production guidance was updated to 245 to 260MM, of which 185 to 190 are expected to be US tons and 35 to 37 Australian tons with the remainder likely being brokered tons. Note that production guidance was cut by 5MM tons in the US, which was entirely driven by PRB rail issues. Cost per ton guidance was unchanged from 1Q 2014 with US costs down -1% to -3% from 2013 driven by cost containment efforts, and Australia cost per ton ranging from low to mid seventies.
Exhibit 2 - 2014 Guidance and Cash Flow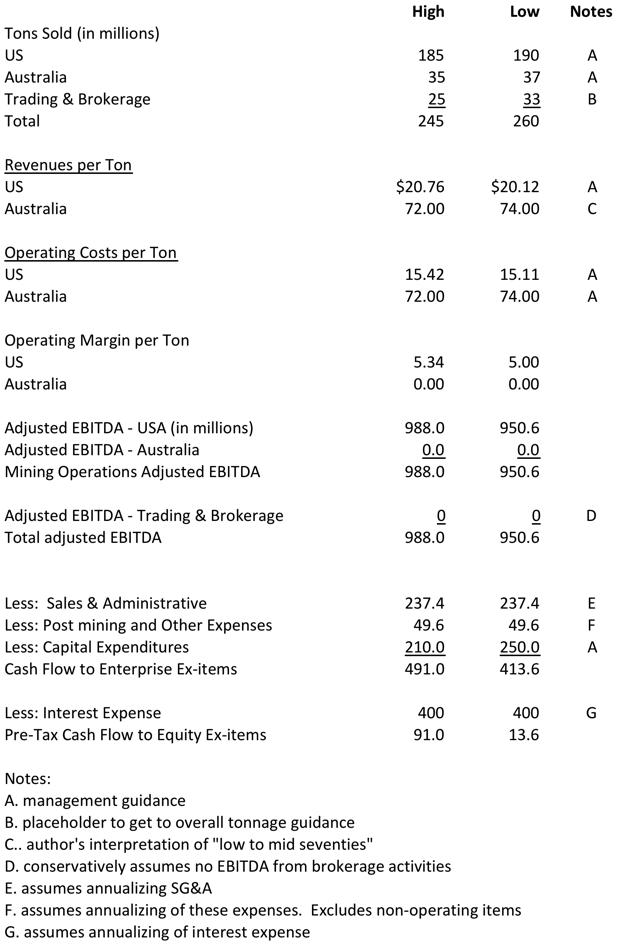 Click to enlarge
Source: analysis by the author
Translating the guidance into a rough operational cash flow model for the year, it appears that the company will still be slightly cash flow positive for the year despite an extremely difficult operating environment, whereby the entire Australian operation is effectively not contributing any EBITDA.
Selected Key Points from the Earnings Conference Call
The company commented on a question about consolidation in the industry in the US. Management said it was basically not interested in Eastern US, and only interested in tier 1 assets, and they were not sure that they saw any tier 1 assets being available for sale. I personally find it ironic, that BTU as well as Alpha Natural Resources (ANR) and Arch Coal (ACI) bought rivals at the very top of the market (acquired firms were MacArthur Coal, Massey Energy, and International Coal Group, respectively), and at close to the bottom of the market not much activity is taking place.
Comments on met market fundamentals - seaborne still oversupplied, but demand rising. Market to rebalance in 2015 as growth picks up driven by China stimulus and overall global growth. Management appears to believe that long-term met coal fundamentals are still good. China met coal imports to pick up second half of the year versus the first. Furthermore, the company thinks that the longer the pricing stays at current levels the higher will be capacity cutbacks. Little new capital is going into met coal projects, and the management thinks that we are currently at the bottom.
China steam coal generation up 5% while domestic production down 2%.
US steam fundamentals - overall US demand up 6% into June. PRB inventories are at 49 days and expect further reductions, and rail issues negatively impacting the basin. Rail issues in the PRB likely to continue, with June being the lowest performing month. July saw slight improvements but still bad. Traditionally 3Q of the year one of the highest shipping quarters for the year, and company expects to see the rail system to improve and continue healing into 2015.
As a color on 3Q 2014 guidance, the expected deterioration of results in the third quarter is attributed to three long wall moves, possible shipment deferrals, and variability introduced by PRB rail issues.
As an initiative to manage current market challenges the company emphasized owner operator conversions in Australia, which would reach 90% by the end of next year (and stay at that level), helping to reduce costs and run operations more efficiently. The company is also focused on non-core asset sales, and sold $160MM or so of non-core asset since June of last year. No specifics were provided as to future asset sale amounts.
In summary, the company reported a strong and cash flow positive quarter considering the very challenging environment and Australia contributing almost no EBITDA. That said, the positive impact of the quarter is offset by worse-than-expected outlook on 3Q 2014 predominantly driven by 3 long-wall moves and PRB rail issues. Overall, the main driver of the stock price going forward will likely be whether the global met markets improve and PRB rail issues get resolved in the US.
Disclosure: The author is long BTU. The author wrote this article themselves, and it expresses their own opinions. The author is not receiving compensation for it (other than from Seeking Alpha). The author has no business relationship with any company whose stock is mentioned in this article.
Additional disclosure: For full disclaimer please see my profile page.