Amazon.com, Inc (NASDAQ:AMZN) is set to report FQ2 2014 earnings after the market closes on Thursday, July 24th. The e-commerce company's revenue will be under the microscope again on Thursday, as Wall Street is predicting another quarter well into the red. CEO Jeff Bezos has been running the same strategy at Amazon for quite some time, just keep increasing sales and spend money like crazy on increasing the size and scope of the business. This quarter Amazon rolled its new and first ever smartphone, the Fire Phone. The phone has got a pretty cool 3D screen, but the real appeal of the phone is that it should make it easy for shoppers to find goods they want to buy directly off Amazon.com. Analysts will also be looking for sales of the new Fire TV set-top box which was released back in April. Here's what investors are expecting from Amazon this quarter.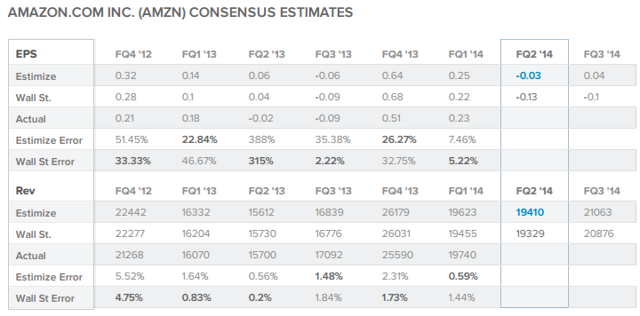 Click to enlarge
Source: Estimize.com
This quarter 44 contributing analysts on Estimize.com have come to a consensus loss expectation of -3c per share and $19.410B in revenue compared to a consensus of -13c EPS and $19.329B from Wall Street. This quarter neither Wall Street or the Estimize community expect a profitable quarter from Amazon, but both groups are looking for solid year-over-year growth of 23%, which would be in line with the average sales growth rate over the past year.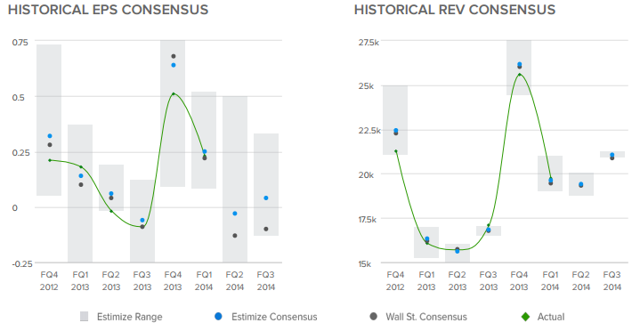 Click to enlarge
Source: Estimize.com
The Estimize community is more optimistic than the Street this quarter, but still looking for the quarterly loss to increase compared to the same period of last year. This quarter costs associated with the rollout of 2 new products are likely to hold Amazon back on the bottom line, but the business will continue to grow and Jeff Bezos will have even more cash to throw back into the reinvestment funnel.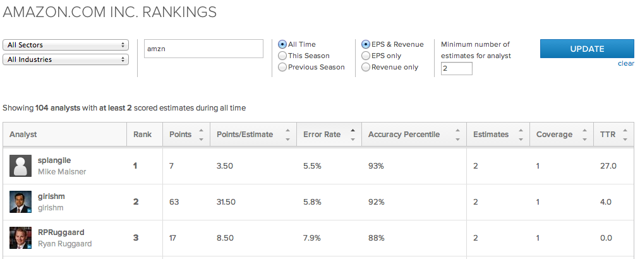 Click to enlarge
Source: Estimize.com
Estimize.com ranks and allows the sorting of analysts by accuracy. The analyst with the lowest error rate on Amazon is an information technology professional who goes by the username splangile. Over 2 previously scored estimates on Amazon, splangile has averaged an error rate of 5.5%. Estimize is completely open and free for anyone to contribute, and the base of contributing analysts on the platform includes hedge fund analysts, asset managers, independent research shops, non professional investors, and students.
The Estimize consensus was more accurate than the Wall Street consensus 65% of the time last quarter on the coverage of nearly 1000 stocks. A combination of algorithms ensures that the data is not only clean and free from people attempting to game the system, but also weighs past performance and many other factors to gauge future accuracy.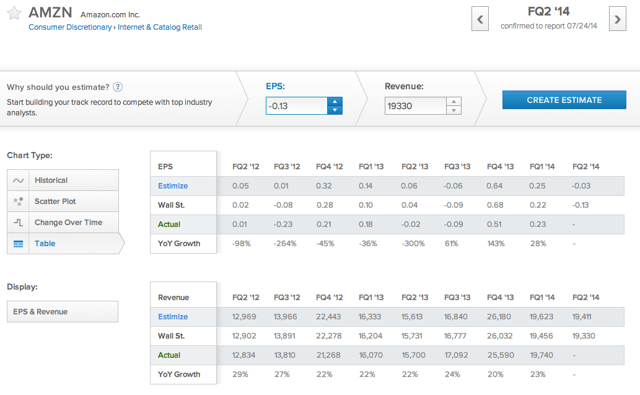 Click to enlarge
Source: Estimize.com
Contributing analysts on the Estimize.com platform are forecasting that on Thursday Amazon will report a loss 10c per share smaller than Wall Street's earnings forecast and beat the Street's revenue consensus by $81 million (<1%). Investors have been hard on Amazon in 2014, but since May they seem to have been cutting the e-commerce site some slack. This quarter Amazon will need to prove that all the money it has spent on developing its new smartphone and TV set-top box products will translate to a big payoff on the revenue side.
Disclosure: None.