Starbucks Corp. (NASDAQ:SBUX) is set to report FQ3 2014 earnings after the market closes on Thursday, July 24th. Starbucks is coming off strong earnings last quarter, with global comparable sales up 6%. Over the previous 6 months, the price of coffee has skyrocketed due to a drought in Brazil and a coffee killing fungus in central America. Starbucks' strategy of hedging its coffee purchases over a wider timeframe should give it a huge advantage over smaller competitors which are buying coffee at the relatively high commodity prices. Here's what investors are expecting from Starbucks this quarter.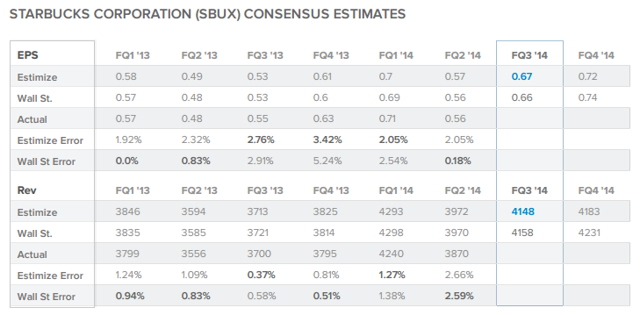 Source: Estimize.com
This quarter 39 contributing analysts on Estimize.com have come to a consensus earnings expectation of 67c EPS and $4.148B in revenue compared to a consensus of 66c EPS and $4.158B from Wall Street. Throughout the past couple of years, Starbucks has been posting year-over-year revenue growth of approximately 11% to 12% each quarter. This quarter contributing analysts on Estimize are looking for steady growth of 12%.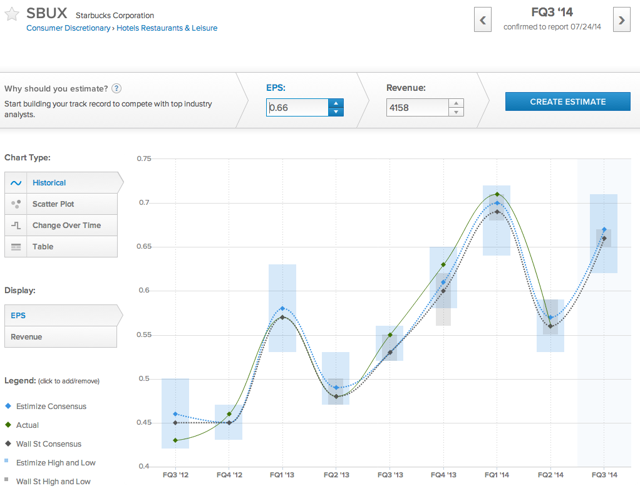 Source: Estimize.com
Last quarter Starbucks reported earnings in-line with Wall Street's earnings consensus after previously beating it 3 periods in a row. On Thursday the Estimize community expects Starbucks to come in just 1c per share ahead of the Street's consensus and for earnings to increase by 22% compared to the same quarter of last year. Starbucks is also raising the prices of some drinks in stores between 5c and 20c and increasing the cost of packaged goods in food stores by 8%, which should help to boost profit margins further going forward.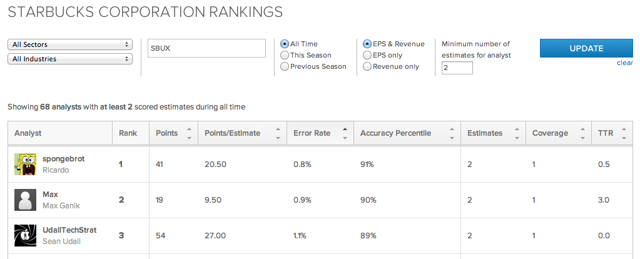 Source: Estimize.com
Estimize.com ranks and allows the sorting of analysts by accuracy, the analyst with the lowest error rate on Starbucks is an anonymous student who goes by the username spongebrot. Over 2 previously scored estimates on Starbucks, spongebrot has averaged an impressively low error rate of 0.8%. Estimize is completely open and free for anyone to contribute, and the base of contributing analysts on the platform includes hedge fund analysts, asset managers, independent research shops, non professional investors, and students.
The Estimize consensus was more accurate than the Wall Street consensus 65% of the time last quarter on the coverage of nearly 1000 stocks. A combination of algorithms ensures that the data is not only clean and free from people attempting to game the system, but also weighs past performance and many other factors to gauge future accuracy.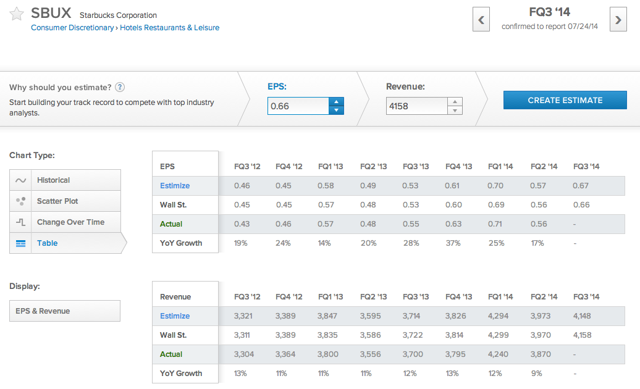 Source: Estimize.com
Contributing analysts on the Estimize.com platform are forecasting that on Thursday Starbucks will report earnings a penny per share ahead of Wall Street's earnings forecast and miss the Street's revenue consensus by $10 million (<1%). This quarter, the Estimize community is expecting Starbucks to keep grinding along with earnings and revenue growth rates that are in-line with recent quarters despite the rising cost of coffee in the first half of 2014 which may slow down the competition.
Disclosure: None.