After the sharp rise in US natural gas prices during the colder than normal winter of 2013-2014, the prices have been falling sharply since early June 2014. They hit a high spike of over $6/mmbtu in mid-February 2014. Even as late as June they were $4.75/mmbtu. However, they have since fallen dramatically to approximately $3.75/mmbtu. Some might worry that they will continue to fall; but if you look at the chart below, you can see that natural gas prices (the August 2014 August future) are currently resting on major support (see below).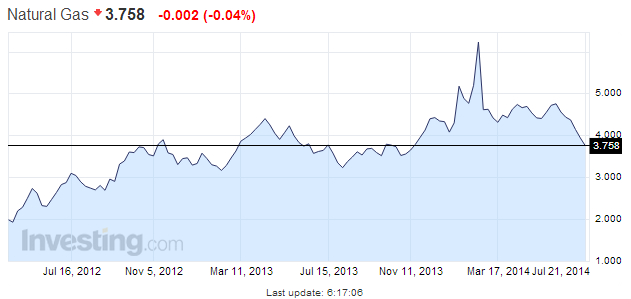 There is an old adage about not trying to catch a falling knife, when you buy a stock or commodity. However, the technical support in the natural gas price chart above argues that investors may want to bet on a rebound upward at this point. The summer has not been as warm as many had been expecting. Hence the lower natural gas prices. however, the current prediction is for an El Nino year this coming winter (2014-2015). We will have to wait to see how severe that turns out to be; but some think it will lead to severe changes in weather. This could cause more natural gas use for heating. We will have to wait until later this year for the forecasts to become more definite.
Other than the weather, the amount of natural gas in storage in the US is still much lower than normal (as of July 11, 2014). It is -22.2% below last year at this time and -25.5% below the five-year average for this time. The chart below gives a pictorial view of what is going on.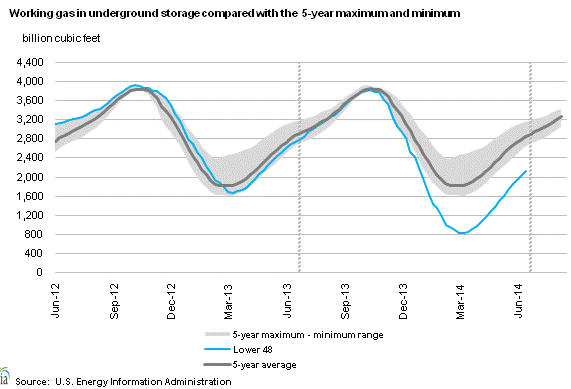 As readers can see, there is still a lot of catching up that has to be done; and virtually all of it has to be done by sometime in October 2014. Otherwise prices will start to rise again just on the significant shortage of natural gas to start the cold weather season. Plus U.S. natural gas prices normally start to rise then anyway on the switch to depletion of stores.
Aside from a possibly colder than normal winter of 2014-2015, demand gains are expected to be higher than supply gains over the next few years. The article, "U.S. Natural Gas Stores Are Dangerously Low, That's Good For Pipeline And Storage Companies", does a more thorough job of describing the likely increases in demand over the coming years. One of these is that the first U.S. LNG plant (liquefied natural gas plant) from Cheniere Energy (NYSEMKT:LNG) is expected to come online at the end of 2015. The mere expectation of the beginning of LNG exports will probably be enough to push US natural gas prices slightly higher. Usually the market starts to react about six months in advance of an event.
All of the above mean that natural gas prices will tend to go up in the longer term. In addition one barrel of oil is the energy equivalent of about 6 mmbtu of natural gas. Historically natural gas has traded at a price of 6-12 mmbtu of natural gas per the price of a barrel of oil. At the closing Nymex prices today of $3.76/mmbtu for natural gas and $104.42 per WTI barrel of oil, one barrel of oil is trading at a multiple of about 27.8 mmbtu/barrel of oil. If one uses the midpoint of the normal range (9 mmbtu/bo); then a normal expectation would be for natural gas prices to roughly triple relative to the price of oil in the long term. This would increase revenues significantly for most natural gas E & P companies.
One still does not want to bet too heavily on being able to catch a falling knife. The trend of U.S. natural gas prices is still downward for until proven otherwise. However, there is no reason to believe natural gas prices will find support soon. Most investors would not want to bet on a purely natural gas company at this time. However, there are companies that have reputations as purely natural gas companies that are not "purely natural gas producers". They are probably good investments at this time. Three that come to mind are Ultra Petroleum Corp. (UPL), Encana Corp. (NYSE:ECA), and Cabot Oil & Gas Corp. (NYSE:COG).
All three of the above companies have started to expand their formerly all natural gas E & P operations into oil and liquids production. However, the investing public seems to still view them as solely natural gas companies. Therefore they have been punished accordingly as natural gas prices have fallen. These three companies are also three of the lowest cost producers of natural gas in the U.S. That should also help them stay profitable no matter what happens to natural gas prices. In that sense too, they have been unfairly punished.
What are these companies doing to expand into oil and liquids? COG now has about 66,000 net acres in the prolific Eagle Ford Shale (in addition to its natural gas holdings). The EUR of COG's wells in the Eagle Ford Shale is about 500 Mboe (about 90% oil). The wells have a before tax IRR% of 66% at a WTI price of $90/barrel and an IRR% of 86% at a WTI price of $100/barrel. These wells are highly profitable; and they should help COG to expand its oil and liquids business quickly and profitably. Net production from the Eagle Ford was already 7,721 Boe/d in Q1 2014. This was an increase of 42% year over year.
Between both liquids and natural gas, COG has a next five years average analysts' EPS growth estimate per annum of 51.01%. This is fantastic. COG also has significant natural gas hedges to ensure that its natural gas revenue will not disappear due to falling natural gas prices. If you wish to read more about COG, please click on the colored link to the following article, "Cabot Oil & Gas Is A Buy On Natural Gas And Oil Development Results And Price Growth."
UPL has about 260,000 net acres in the Marcellus Shale, 53,000 net acres in and around the Pinedale and Jonah fields in the Green River Basin in southwest Wyoming. It also has 8,200 net acres in the Uinta Basin. UPL produced 57.2 BCFE of natural gas and crude oil during Q1 2014. Production consisted of 53.3 Bcf of natural gas and 658,000 barrels of oil (about 7,200 bopd). Oil production was up 145% year over year in Q1 2014. UPL has a planned 2014 exit rate for oil production of about 11,000 Bopd. This will again be good growth in 2014; and it makes UPL less susceptible to the gyrations in natural gas prices.
The average analysts EPS growth estimate for UPL for FY2014 is 75.60%. The average analysts' next five years EPS growth estimate per annum is 15.80%. It has a PE of 11.82 currently. This is a great grower and a great value for an E & P company. That means the selloff in UPL is likely overdone (market emotions based to a large degree). If you wish to read more about UPL, please click on the colored link to the following article, "Multiple Catalysts Should Propel Ultra Petroleum Upward For Years."
ECA is perhaps the most oily of the three. It had Q1 2014 production of 67.9 Mbarrels of liquids per day. This was a 56% increase year over year. On May 7, 2014 ECA reached an agreements for its wholly owned subsidiary, Encana Oil & Gas (USA) Inc., to acquire approximately 45,500 net acres in the heart of the Eagle ford for $3.1B from Freeport-McMoran (NYSE:FCX). In Q1 2014, production from this property was approximately 40,000 bopd, 6,000 bpd of NGLS, and 44 MMcf/d of natural gas. This will add nicely to ECA's oil production level of Q1 2014 of 32,100 Bopd and its NGLS production of Q1 2014 of 35,800 bpd.
The totals, although ECA did not own the Eagle Ford acreage in Q1 2014, would be 72,100 bopd and 41,800 bpd of NGLS. This is a huge amount of liquids production; and it should make ECA much more immune to natural gas price falls. The natural gas production in Q1 2014 was approximately 2,809 MMcf/d. On top of this ECA has significant hedges for natural gas at higher than the current Nymex market price. These should guarantee higher than current prices for its natural gas. If you wish to read more about ECA, please click on the colored link to the following article, "Major Changes At Encana Make It A Legitimate Oil Growth Play Now."
The average analysts' EPS growth estimate for ECA for FY2014 is 59.60%. The average analysts' next five years EPS growth estimate per annum for ECA is 25.00%. For a stock with a PE of 20.84 and an FPE of 12.27, these numbers mean ECA is an excellent value with good long-term growth potential.
As readers can see each of the above companies are moving significantly into oil and liquids production. This argues that there is much less reason for them to have fallen so rapidly in recent weeks. The falls are virtually certain to be overdone (even if you believe the fall of natural gas prices is justified and semi-permanent); and smart investors will be the first to recognize these emotionally determined instead of value determined situations. All of the above companies are long-term buys.
The two-year charts of the above companies provide some technical direction for these trades.
The two-year chart of COG is below.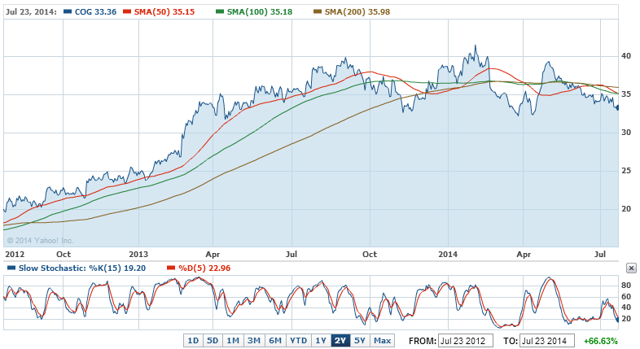 The two-year chart of UPL is below.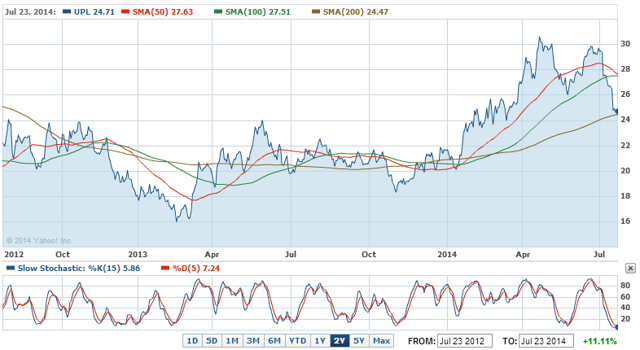 The two-year chart of ECA is below.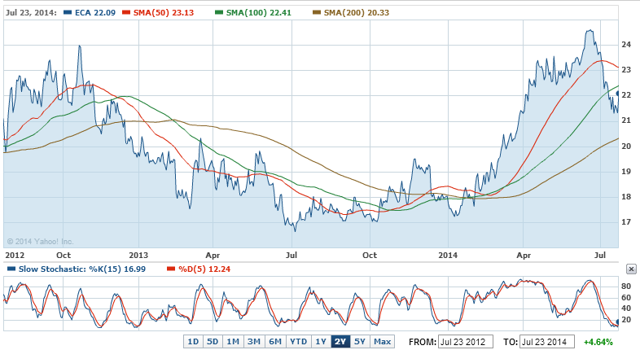 As readers can see all of the above stocks are at oversold levels on their slow stochastic sub charts. All are still in uptrends or at worse consolidating sideways on their main charts. However, all have moved significantly lower recently by more than 10%. If you believe in the longer-term stories described above (and in the referenced articles), this makes all of them good long-term buys at this time.
NOTE: Some of the above fundamental fiscal data is from Yahoo Finance.
Good Luck Trading.
Disclosure: The author has no positions in any stocks mentioned, but may initiate a long position in ECA, UPL, COG over the next 72 hours. The author wrote this article themselves, and it expresses their own opinions. The author is not receiving compensation for it (other than from Seeking Alpha). The author has no business relationship with any company whose stock is mentioned in this article.