As an investor who has covered the electric utility sector for quite some time, I always find it necessary to determine what needs to occur in order for a company to meet and/or exceed analysts' expectations. With that said, I wanted to take a closer look and share my thoughts on what needs to happen in order for American Electric Power Company (NYSE:AEP) to deliver a fairly solid quarter when the company announces its results on July 25.
Company Overview
Headquartered in Columbus, Ohio, American Electric Power Company, Inc., a public utility holding company that is engaged in the generation, transmission, and distribution of electricity for sale to retail and wholesale customers. The company generates electricity using coal and lignite, natural gas, nuclear energy, and hydroelectric and other energy sources. It also supplies and markets electric power at wholesale to other electric utility companies, rural electric cooperatives, municipalities, and other market participants.
Recent Trend Behavior
On Wednesday, shares of AEP, which currently possess a market cap of $26.34 billion, a forward P/E ratio of 15.24, and a dividend yield of 3.71% ($2.00), settled at a price of $53.97/share. Based on a closing price of $53.97/share, shares of AEP are trading 0.87% below their 20-day simple moving average, 0.84% above their 50-day simple moving average, and 10.10% below their 200-day simple moving average.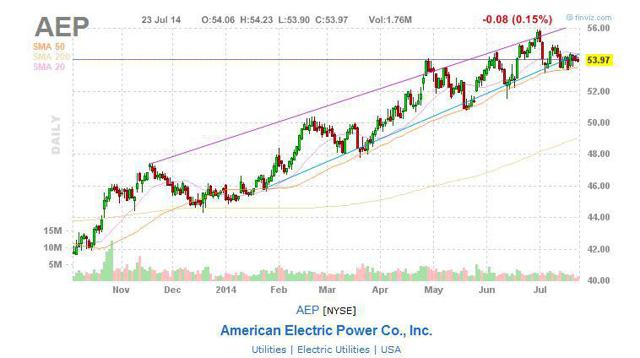 Although these numbers indicate a short-term downtrend and a long-term downtrend for the stock, which generally translates into a selling mode for most near-term traders and a buying mode for many long-term investors, I strongly believe if the company can demonstrate a better-than-expected earnings performance when it announces Q2 results on July 25, there's a very good chance the company's trend behavior will begin to move in a much more positive direction.
Upcoming Earnings Outlook
When it comes to the company's upcoming Q2 earnings, there are a number of things potential investors should consider. For instance, analysts are currently calling for AEP to earn $0.75/share in terms of EPS (which is $0.40/share lower than what the company had reported during Q1 2014, and $0.02/share better than what the company had reported during the year-ago period) and $3.92 billion in terms of revenue when its latest earnings are released on July 25.
In order to meet and/or exceed its quarterly EPS estimates, I'd like to see a 2%-to-4% increase in the company's Q2 Operating Earnings (as compared to Q1's Operating Earnings of $560 million), a 2%-to-5% increase in the company's Q2 Retail and FERC margins in each of its five primary segments (Vertically Integrated Utilities, Transmission & Distribution Utilities, AEP Transmission Holdco, Generation & Marketing, and AEP River Operations) and lastly, a 3%-to-5% increase in the company's revenues (as compared to Q1's revenues of $4.6 billion).
Power Plant Sale May Help Improve Long-Term Growth
On May 28, AEP's CEO Nick Akins noted that the company may decide later this year or early next year whether it will sell the Generation Resources unit which operates a number of power plants in the Midwest. Due to the lack of sustainable earnings and the fact that returns aren't as consistent as those in its regulated business, the move makes sense. If the move were to occur this year, I'd think the company's full-year earnings could a see a 2%-3% increase and the same would be true if the move were to occur in 2015.
Conclusion
For those of you who may be considering a long-term position in American Electric Power, I'd actually look to keep a closer eye on the potential sale of its Generation Resources unit over the next 6-12 months. In terms of the company's upcoming quarter, steady increases of at least 2% in the company's operating earnings as well as a solid increase of at least 3% in terms of its revenues could help AEP meet or even surpass analysts' expectations when it announces earnings on July 25.
Disclosure: The author has no positions in any stocks mentioned, but may initiate a long position in AEP over the next 72 hours. The author wrote this article themselves, and it expresses their own opinions. The author is not receiving compensation for it (other than from Seeking Alpha). The author has no business relationship with any company whose stock is mentioned in this article.