As an investor who has covered the IT services sector for quite some time, I always find it necessary to determine what needs to occur in order for a company to meet and/or exceed analysts' expectations. With that said, I wanted to take a closer look and share my thoughts on what needs to happen in order for Xerox (NYSE:XRX) to deliver a fairly solid quarter when the company announces its results on July 25.
Company Overview
Headquartered in Norwalk, Connecticut, Xerox has been a leader in document technology and services and continues to build on its heritage of innovation. The company is now the world's leading enterprise for business process and document management, offering global services from claims reimbursement and automated toll transaction to customer care centers and HR benefits management.
Recent Trend Behavior
On Wednesday, shares of XRX, which currently possess a market cap of $14.92 billion, a forward P/E ratio of 10.69, and a dividend yield of 1.96% ($0.25), settled at a price of $12.78/share. Based on a closing price of $12.78/share, shares of XRX are trading 1.69% above their 20-day simple moving average, 3.06% above their 50-day simple moving average, and 12.40% above their 200-day simple moving average.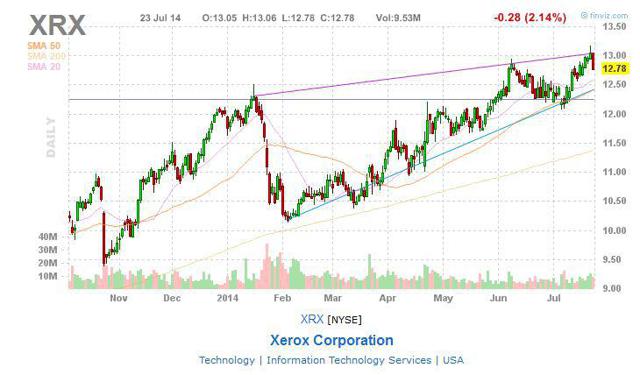 Although these numbers indicate both a short and long term uptrend for the stock, which generally translates into a buying mode for most near-term traders and many long-term investors, I strongly believe the company's trend behavior will continue well into the second half of the year when it announces Q2 results on July 25.
Upcoming Earnings Outlook
When it comes to the company's upcoming Q2 earnings, there are a number of things potential investors should consider. For instance, analysts are currently calling for XRX to earn $0.26/share in terms of EPS (which is $0.01/share lower than what the company had reported during Q1 2014, and $0.01/share lower than what the company had reported during the year-ago period) and $5.31 billion in terms of revenue when its latest earnings are released on July 25.
In order to meet and/or exceed its quarterly EPS estimates, I'd like to see a 2%-to-4% increase in the company's Q2 operating profit (as compared to Q1's operating profit of $442 million), a 2%-to-5% increase in the company's Q2 cash flow from operations (as compared to Q1's cash flow from operations of $286 million) and lastly, a 3%-to-5% increase in the company's revenues (as compared to Q1's revenues of $5.1 billion).
Xerox's Latest Acquisition Could Boost Service Ops Revenues
On May 28, Xerox announced that it would be buying ISG Holdings, the parent of two companies - StrataCare and Bunch CareSolutions - for $225M in cash. StrataCare provides medical bill review and claims management software/services, and Bunch's offerings cover bill review, claims, nurse care management, insurance network management, and analytics, among other things. The good thing about this acquisition, in my opinion, is the fact that it will boost Xerox's revenues, 57% of which were generated by the company's service ops segment.
Conclusion
For those of you who may be considering a long-term position in Xerox, I'd actually recommend to keep a closer eye on the recent acquisition of ISG Holdings over the next 6-12 months and its impact on the company's overall revenue growth. In terms of the company's upcoming quarter, steady increases of at least 2% in the company's operating profits as well as a solid increase of at least 3% in terms of its revenues could help XRX meet or even surpass analysts' expectations when it announces earnings on July 25.
Disclosure: The author has no positions in any stocks mentioned, and no plans to initiate any positions within the next 72 hours. The author wrote this article themselves, and it expresses their own opinions. The author is not receiving compensation for it (other than from Seeking Alpha). The author has no business relationship with any company whose stock is mentioned in this article.