Zynga (NASDAQ:ZNGA) can be a good long-term investment if it finds the right mobile strategy. In spite of the $527 million acquisition of NaturalMotion, Zynga is still outplayed by King Digital (BATS:KING) and Glu Mobile (NASDAQ:GLUU). Even the release of Farmville 2: Country Escape did not improve ZNGA's moribund market performance this year.
ZNGA's -21.12% YTD is in great contrast with GLUU's +88.51% performance.

Source: Google Finance
Zynga still generates more sales than Glu, but many investors seem to like Glu recently. It might be because Glu, unlike Zynga's long history of losses, posted a +0.133M quarterly net income last April 30.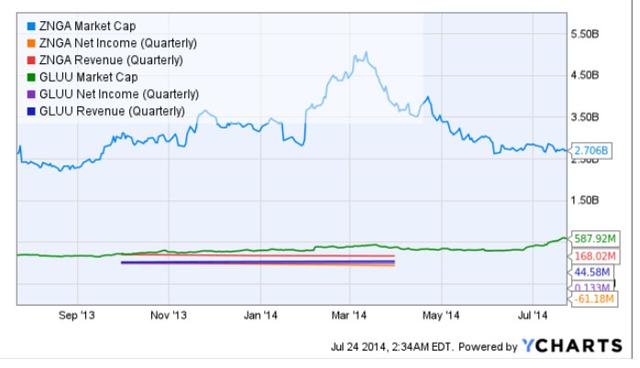 Fighting, Not Farming, Games
Another reason why GLUU is outperforming ZNGA is that it has a bigger portfolio of successful Android/iOS games. Glu specializes in freemium mobile online multiplayer fighting games. Zynga might also find it profitable to create fighting games for smartphones/tablets.
Zynga had a big hit with Mafia Wars on Facebook. NaturalMotion can update the old static Mafia Wars mobile game so it has the graphics and gameplay mechanics of Clash of Clans.
Zynga should copycat other successful mobile games to gain more Android/iOS gamers. Cloning others is nothing new to Zynga.
The old Mafia Wars was inspired by another game called Mob Wars. FarmVille was also inspired by FarmTown. Zynga's current management ought to be inspired by the runaway success of Clash of Clans.
Clash of Clans has more downloads than Zynga's FarmVille 2: Country Escape or CastleVille: Legends. The casual farming or city building games are still popular among Facebook and mobile users. However, it might help Zynga to offer another genre.
Cloning Clash of Clans
Zynga's current market cap is now lower than Supercell's $3 billion valuation. Supercell is the developer of Clash of Clans. As of February 2014, Clash of Clans helps deliver 29.4 million Daily Active Users (DAU) and $5.5 million daily sales to Supercell. Zynga should also take note that Supercell was already getting more than 900k new users every day.
The success of Clash of Clans inspired Supercell to make a clone of it - Boom Beach. IGG, another gaming firm, came up with clones called Clash of Lords 2 and Castle Clash. Each IGG clone version of Clash of Clans managed to get 10 to 50 million downloads from Android device users. Other game developers made clones of Clash of Clans too.
The point is that Zynga should appreciate the growing popularity of multiplayer fighting games among mobile device users. Zynga's marketing muscle can help it create a Clash of Clans clone that might equal (or even surpass) IGG's versions.
Profiting from the Addictive Nature of Multiplayer Fighting Games
Clash of Clans, like the old Mafia Wars Facebook game, is very addictive. My sister-in-law (a Chemical Engineer and college professor) is hooked on Clash of Clans. Her co-workers introduced the game to her about a month ago. She introduced Clash of Clans to me three week ago. However, I only started playing Clash of Clans last July 18 using BlueStacks.
I was compelled to buy 500 gems for 220 Pesos ($5) last July 22. I had to do an in-app purchase, because I needed the 500 gems to buy a third builder unit. Supercell will probably get more money from me this week. I need more gems to accelerate the creation of new buildings and war troops in Clash of Clans.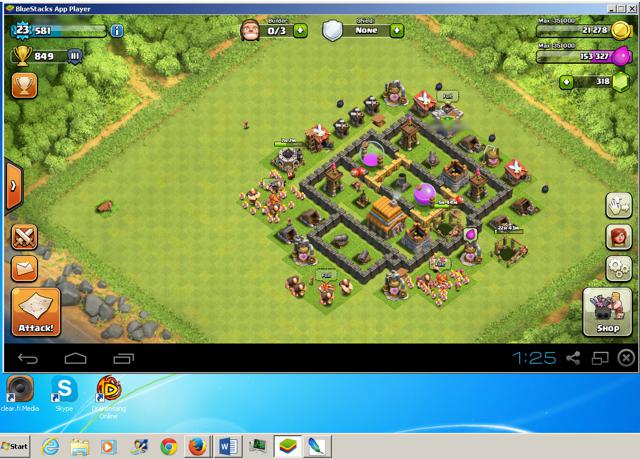 (Source: Alcaraz Research)
The point is that Clash of Clans' competitive gameplay reminds me of Zynga's Mafia Wars on Facebook. Freemium fighting games provoke the macho spirit in some people. Online multiplayer fighting games are highly profitable. Some players will spend real dollars to buy virtual items to make their game accounts stronger.
Furthermore, Zynga, Glu, King Digital, and IGG make freemium games because some people (like me) do not have the time to play games all day. We would rather spend money to accelerate our game progress. I spent more than $150 on Mafia Wars in 2010. Another player even spent $166,000 on Mafia Wars in 2011.
Conclusion
Zynga's growth potential is severely limited if it sticks to releasing just new versions of FarmVille or CityVille for Android/iOS. Zynga should again cater to mobile gamers who are into multiplayer combat games. NaturalMotion should be creating multiplayer fighting games like what Glu Mobile and Supercell are doing right now.
Creating a Mafia-themed clone of Clash of Clans may win back old Mafia Wars on Facebook players. The rise of smartphones and tablets means the money is in mobile. A future Android/iOS version of Mafia Wars that can generate $5 million in daily sales is highly desirable to investors.
Zynga may also merge with Glu Mobile to get an instant foothold on the mobile fighting games genre. I am not playing any Zynga games right now, and I'm not also investing in ZNGA anytime soon.
Disclosure: The author has no positions in any stocks mentioned, and no plans to initiate any positions within the next 72 hours. The author wrote this article themselves, and it expresses their own opinions. The author is not receiving compensation for it (other than from Seeking Alpha). The author has no business relationship with any company whose stock is mentioned in this article.