There is no doubt Aeropostale (NYSE:ARO) is lackluster in a struggling teen retail sector. The stock of Aeropostale is trading off a 52-week high of $15.73 and an all-time high of $37.93 in March of 2010. Though the equity trades like it is fundamentally broken sitting close to an all-time low at $3.25, I believe the company is fundamentally sound as long as a turnaround takes place in the next year or two. Currently Aeropostale has more cash than debt but the restructuring of the business model will take the company into the red going into the holiday season with hopefully a more permanent return to black thereafter. The company ended Q1 2014 with cash and cash equivalents of $24.5 million and $8.5 million in short-term borrowings. Inventory on hand was $173 million as of the end of Q1 2014. Sycamore Partners, a retail investor group and major holder, has given the company a lifeline of $150 million dollars in which to draw credit and the company also has the ability to draw from its current $230 million revolver credit line. Realigning the business by closing lower traffic malls stores and focusing more online will cost the company yet provide a lower fixed cost structure and save Aeropostale $30 to $35 million in 2015.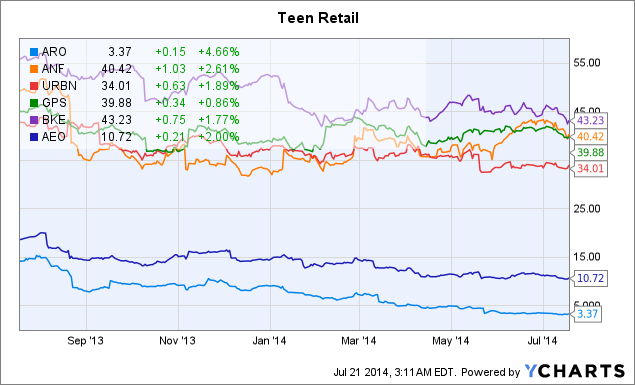 The back-to-school season and holiday are key to the turnaround of Aeropostale. The company is seeking to regain once lost customers with a new campaign which launches July 28th with the slogan, "You've changed so we've changed." This campaign will draw consumers back in to see a new Aeropostale. The new Aeropostale gives teens more choice as it caters to teen moods and activities. Choice comes from a powerful sub branding strategy including Live Love Dream, Bethany Mota, a Pretty Little Liars collection, and less reliance on graphics. Embracing social media has already had great effects as Aeropostale's social listening score improved to 85% this year from only 37% positive last.
There has been very little loyalty in teen retail and fashion is constantly changing. Aeropostale competes with the likes of Abercrombie & Fitch (NYSE:ANF), American Eagle Outfitters (NYSE:AEO), Urban Outfitters (NASDAQ:URBN), The Gap (NYSE:GPS), and The Buckle (NYSE:BKE) to name a few. Look at the table below to see same store sales trends for Q1 2014.
| | | | |
| --- | --- | --- | --- |
| Company | Market Cap | 2014 Estimated Sales | Q1 2014 Same Store Sales |
| Aeropostale | 265 M | 1.88 B | -12% |
| Abercrombie & Fitch | 2.94 B | 4.02 B | -4% |
| American Eagle Outfitters | 2.08 B | 3.22 B | -10% |
| Urban Outfitters | 4.68 B | 3.35 B | 0% |
| The Gap | 17.58 B | 16.72 B | -1% |
| The Buckle | 2.07 B | 1.16 B | -0.9% |
Teens have lost much of the need for a mall to socialize as shopping visits decreased from a peak of 38 trips/year to a low point of 27 trips/year during the fall of 2013. Potentially good news is that in the Piper Jaffray biannual survey the trend has leveled and seen an uptick to 28 trips/year in 2014. Cell phones and mobile have become a bigger part of teen status, rather than apparel, and those that embrace social media may come out winners. Though the back-to-school campaign is a catalyst for the start of an upswing in the equity, improving results is the only way a continuation will incur. Aeropostale was one of the first to have their "cheese moved" and went out searching for a solution. Part of the solution to lagging sales was to embrace social media which may have given the company a head start. Aeropostale is doing a good job at embracing social media and is second in likes to Abercrombie's Hollister brand. Below is a table of Facebook likes and visits which can give investors an impression of embracing the Facebook part of social media. By observing Facebook likes you can see how well the company is doing at getting clientele interactive with the brand which may lead to increased sales this back to school and holiday season.
| | | |
| --- | --- | --- |
| Company Facebook Page | Likes | Visits |
| Hollister (Abercrombie Brand) | 12,089,704 | 80,820 |
| Aeropostale | 10,532,215 | 158,914 |
| American Eagle Outfitters | 9,882,067 | 246,992 |
| Abercrombie & Fitch | 8,861,903 | 21,699 |
| Old Navy (a Gap brand) | 8,323,259 | 448,435 |
| The Gap | 6,104,488 | 87,727 |
| Urban Outfitters | 2,021,897 | 135,440 |
| The Buckle | 387,452 | 66,976 |
Watch Aeropostale as the back-to-school campaign kicks off. If the company convinces teens and parents, the company truly has changed, same store sale will likely reverse and above average gains may ensue.
Disclosure: The author is long ARO. The author wrote this article themselves, and it expresses their own opinions. The author is not receiving compensation for it (other than from Seeking Alpha). The author has no business relationship with any company whose stock is mentioned in this article.