Executive Summary
Panera Bread Company (NASDAQ:PNRA) is a very popular national bakery and cafe shop with over 1,700 locations in over 45 states. The company operates in three primary business segments: bakery and cafe operations, franchise operations, and product operations. The company specializes in soups, salads, and sandwiches but has recently expanded into new product categories. With Panera's expansion into new product categories, as well as its strategic moves to improve its competitive advantage and continue its differentiation among competitors I see Panera offering growth potential going forward. Historically Panera has outperformed the S&P average over the long term and I believe it has the potential to continue to do so. One of the key developments that may allow Panera to continue outperforming may come from an area you least expect.
What Panera Is Doing Right
Panera is doing a good job of improving its competitive position within the industry. Although it operates in a highly competitive industry, Panera has done a good job of differentiating itself and creating a subculture of loyal customers. Where Panera truly excels is its appealing environment, high-quality food, beverages, customer service and marketing.
One of the key areas where Panera is differentiating itself from its competition is in the quality of the food and the natural ingredients. Panera is continuing to improve its menu to provide a higher quality of food that customers can be confident in eating. Panera has recently announced that it will be dropping all artificial additives from its menu as it strives for a menu of only natural foods. Panera has also promised to use only antibiotic free chicken in all of its offerings.
It has introduced some new items that have brought people back into its stores. Besides adding new soups, salads and sandwiches, Panera has also expanded into new product categories such as Pasta. Although pasta may be a surprise for some, many have latched onto Panera's new offering. Panera is also building new stores with drive-thru service to offer a faster, more convenient version of the restaurant. With these new product categories and continued growth of current categories the stock appreciation could continue long term.
Looking at the historical performance Panera has clearly outperformed both the S&P and the overall restaurant industry the past several years of the economic recovery.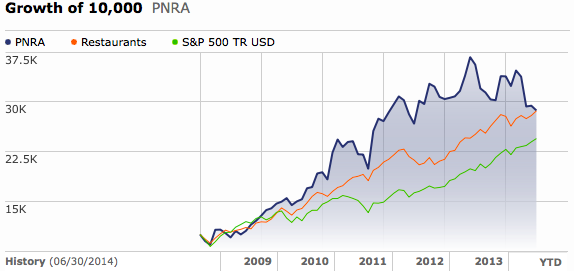 Looking at a more long-term chart you can see that over the past ten years Panera has still performed strongly and outperformed the S&P.

Both charts are courtesy of Morningstar.
What May Hurt Panera
The biggest factor that is hurting Panera is its competition. Chipotle Mexican Grill (NYSE:CMG) is often the most mentioned competitor in the space. They both offer similar ideologies when it comes to natural antibiotic free food. The restaurant industry can be extremely competitive in many different areas. Locations, customer service, price, value, food quality, ambiance, and overall customer experience are all extremely important when differentiating yourself from competition and maintaining your current customers. Panera must ensure that it is able to continue to implement strong plans in these areas to maintain its competitive advantage and loyal clientele.
Its ability to successfully implement its growth plans and strategies will be important in the success of Panera's stock price going forward. Panera is working on new menu items and improving existing items with customer tastes and expectations, opening new locations, investing in new marketing and technology that can improve its stores' functionality and customer retention rates. If Panera is unable to make its plans a reality in a cost effective manner its results could be impacted.
The political environment could also have an adverse effect on Panera. There have been significant discussions in raising wages, focusing primarily on the food industry. If any new laws or regulations are put in place, that could significantly increase labor costs, new store openings may slow and current locations may suffer profitability.
Additional Catalysts
The company offers excellent financial strength as well as earnings predictability, which makes it a favorable stock among many analysts. Panera continues to expand into additional locations, adding roughly 115 new stores this year as its growth continues. Since Panera has excellent overall financial health and continues to expand, its increased investments in brand promotion and streamlined operations and customer service should prove to be a wise move. Additional wild card catalysts are yet to be determined, but the possibility of expansion into more drive through locations, new store layouts, or another potential market differentiator could become the "next big thing" that gets customers flocking back to Panera on an even more regular basis. Although Panera does have excellent customer retention and loyalty, a new initiative could help encourage those who may not have visited in a while to return to Panera sooner than they may have otherwise.
Panera presents a variety of unique offerings that I feel could be a real catalyst going forward. In addition to healthier and organic food offerings, Panera's drinks can be the category that propels it to new levels of growth. My personal findings have been that new Paneras are offering drive through locations, which could increase the amount of customers going to Panera to order simply a drink and perhaps a pastry item to supplement. Additionally, I have observed that many clients of Panera have been ordering what I would consider "special" drinks, meaning something other than a traditional fountain soda. While the trend seems to be moving away from traditional sodas and into new drink options, I believe Panera has a strong position in this category. Panera is offering frozen drinks and coffees, fruit smoothies, a variety of different teas, as well as even San Pellegrino Sparkling water. The combination of a trend towards healthier drink options, new drive through locations, and Panera's clientele becoming increasingly health conscious makes me believe their drinks could add a significant boost in earnings. Drink offerings tend to be high margin as well, which only adds to the potential.
Should You Buy?
Some investors may argue that Panera is not worth buying, but that actually Chipotle is the stock to buy. Looking at a pure valuation comparison Panera currently trades at roughly 21.9 times earnings in an industry where the average is 29.4. The S&P average is currently 18.6. Panera has a PEG ratio (price to earnings in relation to its growth rate) of around 1.1, making the stock fairly valued in comparison to its growth. Chipotle on the other hand currently trades at 56.2 times earnings and has a PEG ratio of 1.7. This means that the company is trading at a multiple of nearly double its growth rate. Although Chipotle may still have room to run, it seems as if the stock has already had its major growth. Neither Panera nor Chipotle pay dividends. When looking at the two main stocks that are often compared, Panera seems like the favorite in my opinion. If you are looking to gain some exposure into this industry, Panera may be worth considering for your portfolio. Although difficult to predict, seeing Panera's share price in the $210-250 range by 2017-2019 would not be a surprise.
This article is given for informational purposes only and is not to be construed as investment advice. Contact your investment professional and do your own due diligence before investing.
Disclosure: The author has no positions in any stocks mentioned, and no plans to initiate any positions within the next 72 hours. The author wrote this article themselves, and it expresses their own opinions. The author is not receiving compensation for it (other than from Seeking Alpha). The author has no business relationship with any company whose stock is mentioned in this article.