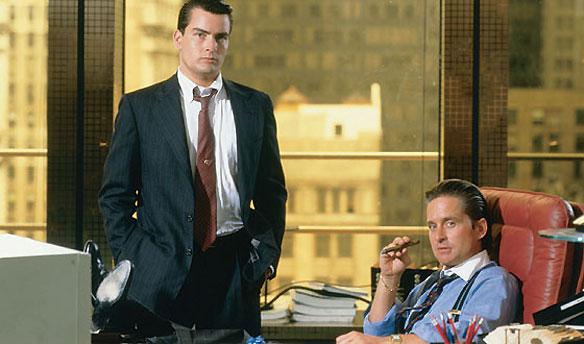 Source Of Picture: The Movie "Wall Street"
In March 2014 Molibdenos Y Metales S.A. ("Molymet"), Molcyorp Inc's (MCP) largest shareholder, received approval from regulators to tap the debt capital markets. According to a prospectus listed on Molymet's website, Molymet's "new bond issue" seeks to raise capital of 500 billion Colombian pesos ($270 million). Molymet is a Chile-based holding company engaged in the treatment and processing of molybdenum concentrates from the mining industry. At March 5, 2014 Molymet held 46.7 million shares of Molycorp, representing an ownership stake of about 20%. According to Fitch Ratings, Molymet's total investment in Molycorp is closer to $595 million.
The Situation
In Q1 2014 Molycorp experienced cash outflows of $78 million, bringing its cash on hand to $236 million. Based on its cash burn rate, Molycorp's cash on hand could decline to $100 million or less by the end of the year. Molycorp may seek additional capital before letting its cash level approach $100 million. Below are high level estimates of the company's cash burn: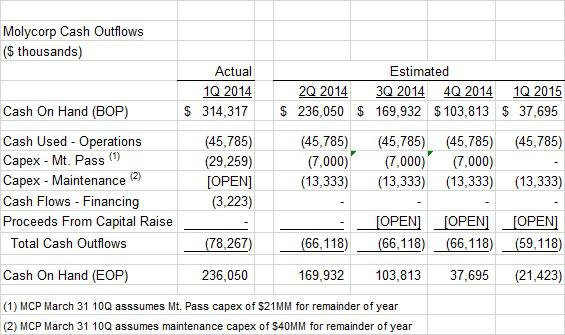 Timing
The timing of Molymet's proposed capital raise comes as Molycorp is seeking a solution to its cash burn. Earlier this month, Bloomberg News reported that Leon Black, of hedge fund manager Apollo Global Management (NYSE:APO), was snapping up Molycorp's convertible debt; if Molycorp seeks to restructure its debt, the hedge fund is positioned to take control of the rare earth miner. Just two weeks ago, when S&P downgraded Molycorp's corporate debt to "CCC", citing "unsustainable debt levels," it also made reference to a distressed debt transaction:
We could lower the rating if we believe that a default, distressed debt exchange, or some other form of capital restructuring appears to be inevitable within six months, absent unanticipated significantly favorable changes in the company's circumstances.
Molycorp Reports Q2 Earnings In Less Than 2 Weeks
Molycorp is set to announce its Q2 earnings on August 4th - less than two weeks away. Given its Q1 loss of about $86 million, I expect the company to announce another operating loss. As each month goes by Molycorp burns cash, making it less attractive to a distressed lender like Apollo. Secondly, in my previous article I explained how it may be advantageous for Molycorp to raise capital prior to its Q2 earnings release:
If Q2 earnings are poor, the company runs the risk of [i] having to raise equity at a low stock price, which could be prohibitively expensive, or [ii] having to take an equity raise off the table altogether. It may behoove Molycorp to raise equity prior to earnings, while the stock is above $2 per share.
Molymet: In Too Deep To Walk Away?
Earlier I valued Molycorp at $1.60 per share, which assumed a capital hole of about $260 million. Molymet's proposed capital raise of $270 million is almost identical to that amount. Below is the analysis for that valuation: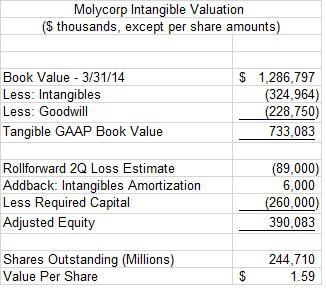 According to Fitch, Molymet's $595 million investment in Molycorp is more of a strategic play. That said, if Molycorp faced possible bankruptcy or needed a bootstrap deal to stay afloat, could Molymet even afford to walk away from such a sizeable investment? A commenter on my previous article did not think so:
Commenter: Molymet is in the Colombian bond market raising 500,000,000,000 Colombian Pesos ($267,000,000 USD) for working capital. Molymet has invested over $500 million in Molycorp. Do you really thing Molymet is going to walk away from this large of a strategic investment http://bit.ly/1qfJ3kZ?
Conclusion
Molycorp needs a solution to its cash burn. The timing and the amount of Molymet's proposed capital raise implies that a dilutive event for Molycorp is imminent. I advise investors to avoid Molycorp until after its Q2 earnings release gives more visibility on the company's capital needs.
Disclosure: The author is short MCP. The author wrote this article themselves, and it expresses their own opinions. The author is not receiving compensation for it (other than from Seeking Alpha). The author has no business relationship with any company whose stock is mentioned in this article. I have a net short position in Molycorp