While the financial media and blogosphere is already ablaze with stories about how everything could change next week, some key potential market drivers and their potential affects may have been understated. Read and be warned:
PRIOR WEEK MARKET DRIVERS
Monday Oct. 25th: Inconclusive G20 Meeting Convinces Markets New US Stimulus Freed Of Last Possible Hurdle.
Trends based on the assumption of a big, coming US stimulus continue: Risk Assets Up, USD Down
Tuesday Oct. 26th: UK GDP Beats Forecasts, Sinks Stimulus Expectations, Boosts GBP.
Expectations of new stimulus had been weighing against the GBP, and with these removed for now the pound rallied to become the week's strongest major currency.
Wednesday Oct. 27th: WSJ Article Reports Smaller More Gradual US Stimulus.
Specifically, it mentioned about $500 bln, possibly spread out gradually over the coming 6 months.
This was THE market mover of the week. Speculation for a $1-$2+trln new US stimulus plan had been the primary force behind the risk asset rally for the past month, but this report surprisingly did little to reverse market trends.
As the chart below (click to enlarge) of the bellwether S&P 500 shows, risk assets halted their rise but did not reverse, despite their sitting at multi-month highs:
Key Takeaway: Markets have still priced in a much larger stimulus package than that which appears to be coming. If in fact the coming stimulus is smaller than expected or perhaps deferred, expect a deeper reversal across stocks, commodities, forex, and US bond markets.

COMING WEEK'S MARKET DRIVERS TO WATCH
Technical Picture In Brief
Note just a few key points about the S&P 500, our simple picture of risk appetite: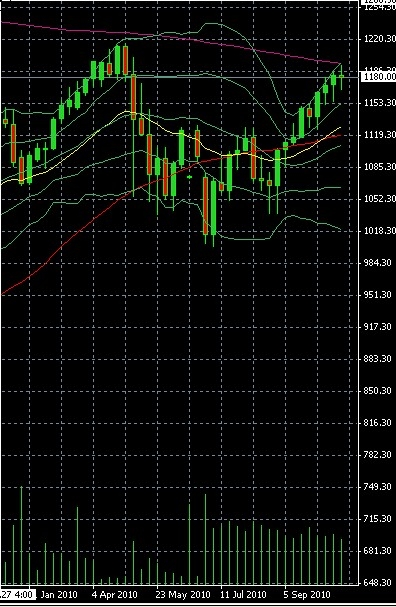 S&P 500 Weekly Chart January-October 2010 Chart courtesy of AVAFX, MT4 02oct317
BEARISH: S&P 500 Approaching Key Resistance Of Double Top From April 2010 And 200 Week SMA At Around The 1200 Zone, Struggling To Hold Buy Zone And Stay Above 20 Day SMA If Those Breached Is Bearish Near Term Signal

BULLISH: Established Uptrend Since September Demands Respect
KEY TAKEAWAY: Markets are extended and need new reason to keep rising, they are likely to get a clear answer this week. As we note below, odds favor a flat to bearish outcome for risk assets, unless Washington ends up with far more new Republicans and stimulus than expected, and mutual funds resist the temptation to book profits now that their fiscal year has ended.
Tuesday November 2nd US Congressional Elections
For all the noise, this is unlikely to be a major market mover unless the more pro-market Republicans show unexpected strength.

Wednesday November 3rd FOMC Announcement On New Stimulus Policy
We warn that there is still a chance the Fed may decide to wait altogether. Recent jobs, housing, spending and earnings data continue to suggest the same slow but steady stabilization/recovery story of the past years rather than any new meaningful deterioration. Given current accusations from abroad that the new stimulus is indirect devaluation, the Fed does have some motivation to hold off.
If the size or speed of new QE disappoints markets, this becomes THE market mover of the week, causing the past month's trends across all asset markets to unwind to the extent of the let-down. Specifically:
Stocks AND US bonds pull back. While these usually move in opposite directions, expected stimulus was supposed to boost demand for both, as the Fed bought newly issued Treasury bonds from the banks, which then put the money into stocks
USD rises as fears of stimulus based devaluation ease
USD strength pressures the EUR, JPY and other major USD forex counterparts lower, along with the popular USD commodity hedges like gold and crude oil
The Bank of Japan might not need to announce new stimulus
Surprise BoJ Meeting November 4th May Announce Yet More Stimulus
Much depends on what the Fed does. It will be interesting to see Japan's response if the Fed announces only a smaller stimulus or even defers it altogether.
Friday's Monthly US Jobs Reports
With US earnings season fading in importance, October Non-Farms Payrolls and Unemployment reports, along with those reports that provide hints about them (ISM Mfg and Non-Mfg PMIs, ADP Non-Farms Payrolls, etc) bear watching.
Last month's report was not only below expectations, it highlighted the growing budget troubles of US states and cities. Their job cuts overwhelmed a gain in private sector jobs to turn a predicted slight net gain into a 95K net jobs lost.
Jobs underpin consumer spending which underpins housing and the banks, thus a significant beat or miss is likely to move markets. No big upside surprise expected.
Coming Portuguese, Greek, Elections Could Spark Renewed Anxiety Over The EU And Euro

The EUR held up fairly well considering the clear rise in EU debt crisis related tensions, which included:
2 separate reminders that Greece is likely to default within the coming years, from both PIMCO head El-Erian and New York University economist Nouriel Roubini

French unrest over pension reforms

Reports that Greek, Irish, and Spanish banks comprise a growing portion of ECB borrowing (61% vs. 51% in August) even though overall ECB lending is at its lowest level since early 2009
Next week brings additional potential EU Crisis risk events:
Portugal
On Saturday October 30th the Portuguese government and main opposition party reached an agreement and avoided a budget crisis that could have shaken confidence in Portuguese and other PIIGS bonds. Now we must hold our breath until the actual vote.
Greece
The situation in Greece is potentially of greater concern. On Wednesday the Prime Minister revised the 2009 deficit higher for a third time, up to 15% of GDP and also said that tax take for this year is below expectations. The prime minister has said that if his party fails to get a clear mandate at the local elections he will call a general election to put his austerity plan to the public for a vote. That however, would put in doubt the government's scheduled presentation of next year's budget to parliament on 18 November, which has to be voted on by 21 December.
Mutual Fund Profit Taking On Stocks
This may be the most underrated threat to stocks for the coming week. As reported in businessinsider.com, most mutual funds ended their fiscal years last week. They are now free to take profits on winners that will not be taxed until the following fiscal year. Given that slower growth is expected in the coming year, we could see selling pressure, particularly given the technical barriers equities face as noted above.
NOTEWORTHY BUT NOT MARKET MOVING
RBA Expected To Leave AUD Rates Unchanged?
Markets anticipate this so anything short of decidedly more hawkish language or a rate hike should not move the AUD pairs
More Mortgage Buybacks Coming?
CNBC reports another group, including big players like Prudential, forming to sell back bad mortgages to the banks.
WILDCARDS: SOURCES OF UNANTICIPATED MARKET MOVING EVENTS
New EU sovereign debt/banking crisis news, in addition to those noted above
New disclosures on the US Bank Stability, Either From Poor Business Conditions or Foreclosure Fraud Scandal
China Real Estate Bubble
DISCLOSURE & DISCLAIMER: NO POSITIONS, THE ABOVE IS FOR INFORMATIONAL PURPOSES ONLY AND NOT TO BE CONSTRUED AS SPECIFIC TRADING ADVICE. RESPONSIBILITY FOR TRADE DECISIONS IS SOLELY WITH THE READER