Lockheed Martin Corp. (NYSE:LMT) is the world's largest defense contractor, with operations that exceed those of competitors such as Boeing (NYSE:BA) and Northrop (NYSE:NOC). The stock, which is a high dividend achiever, set an all time high in 2008, before falling off a cliff and finally making a recovery in early 2009. However, recently the stock's prospective has come into question again as a tightening defense budget from the United States looks to threaten earnings growth. As you can see in the chart below, the stock has been unfavorable with investors recently, pushing it down to a P/E ratio of 10, and 60% of sales.
click to enlarge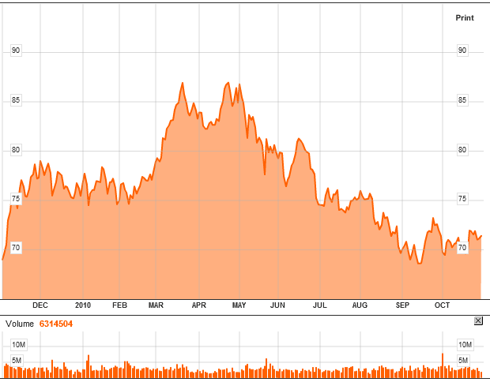 Click to enlarge
Lockheed, being the biggest defense equipment manufacturer in the world, has a big, well known brand with a strong client base - including the US government - which accounted for 85% of Lockheed's revenue in 2009. The company generated $11.3 billion in revenue in 3Q of 2010, a 6% increase YoY. In its recent earnings release (see earnings call transcript here), the company reported diluted earnings per common share of $1.57, compared to $2.07 from Q3 '09. The decline in earnings wasn't due to ineffective operations, but rather a higher tax rate the company faced all throughout 2010 compared to 2009, and a $178 million charge on a voluntary executive separation program, which the company believes will save more in the long run than the cost of the program. Also, in its footnotes for its most recent 10-Q, the company noted a onetime income tax expense that was charged $96 million dollars, due to the effects of the 2010 health care act. However, the profitability trend for the company has been strong despite a hold down in recent quarters.
One thing I absolutely love about Lockheed Martin is that the managers have always looked to increase shareholder value. The company has already repurchased 169 million shares outstanding in this fiscal year, and announced another $3 Billion share buyback last week. Since 2002, the company has been taking advantage of its strong free cash flow, and slowly returning cash to shareholders through share repurchase and increasing dividends. In 2006, Lockheed Martin paid an annual dividend of $1.25 a share a with a yield of 1.4%. Since then the dividend has increased 111% and will equal an annual $2.64 a share for 2010. With its recent increase from .63 cents a share to .75 cents a share, 2011 dividend is expected to come in at $3.00 a share, up another 14%.
In terms of valuation, Lockheed Martin presents a great opportunity for the conservative investor. As already mentioned, Lockheed is a cash generating machine, producing strong free cash flow quarter after quarter. For the most recent quarter, Lockheed reported operating cash flow of $3.4 billion with free cash flow of $3 billion. Its current P/CF is better than the S&P500's average and its own 5YR average, and in line with industry average. P/S of 0.6 is significantly lower than its 5YR average and the industry and S&P500 average. ROE and ROIC has grown significantly in recent years, further justifying the effectiveness of the management. In 2002, ROE was 8.19% and ROIC was 3.65%. Since then both have grown to 78.49% and 35.42% respectively. Despite the growth, in the last couple of years, the shares have lagged as the market fails to recognize the growth in operation and earnings.
For the aggressive portfolio, Lockheed Martin may not be the most attractive play. But for the conservative portfolio, I believe Lockheed Martin should be one of the largest positions in that portfolio. The continuous growth of ROE and ROIC, along with share buybacks and rising dividends, give investors a lot of return for their money. The stock has room for capital appreciation also, as the market undervalues the stock because of short term cyclical changes. Of course, before buying, conduct your own due diligence.
Disclosure: No positions