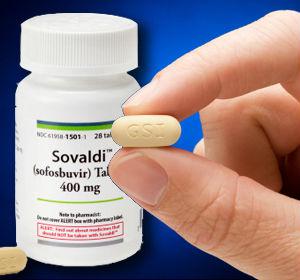 Picture Of Sovaldi Pills. Source: hepatitiscnewdrugs.blogspot.com
Gilead Sciences, Inc. (NASDAQ:GILD) announced Q2 earnings, and the company delivered... in spades.
Total revenues of $6.53 billion exceeded analysts' expectations of $5.86 billion.
Revenue for Sovaldi, its drug to treat hepatitis C ("HCV"), delivered product sales of $3.48 billion, exceeding average analysts' estimates of $2.92 billion and the $2.98 billion expected by Ravi Mehrotra of Credit Suisse.
Non-Sovaldi revenue of $3.05 billion was in line with the $2.94 billion the market was expecting.
Net income of $3.66 billion, or $2.20 per share, was 23% higher than analysts' estimates of $1.79 per share.
Below are the details of the financial results: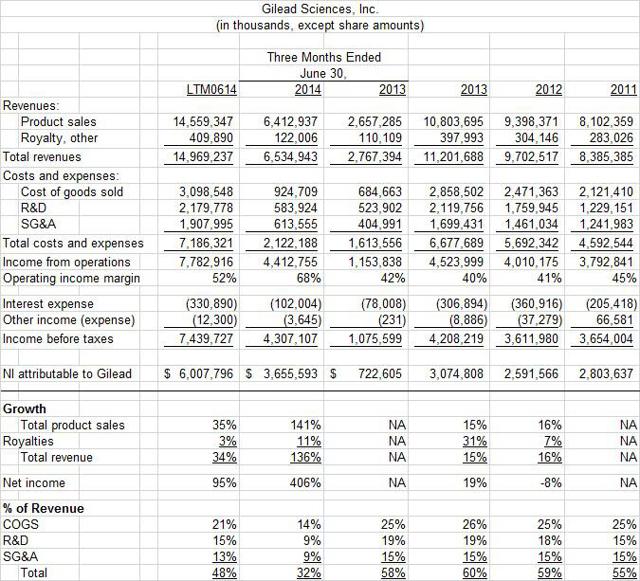 Click to enlarge
Revenue increased 136% from Q2 2013 to Q2 2014. However, Q2 2013 revenue did not have contribution from Sovaldi. Sequentially, revenue was 31% above Q1 2014 revenue of about $5.0 billion.
Operating income margin of 68% during Q2 2014 exceeded the 42% achieved in the prior period. Cost of goods sold declined from 25% in Q2 2013 to 14% in Q2 2014. This most likely reflects the increased contribution from the fast-growing Sovaldi.
Research & development and SG&A as a percentage of revenue declined from about 34% in Q2 2013 to 18% in Q2 2014, as Gilead is benefiting from the ramp-up in scale.
At a market capitalization of about $139 billion, Gilead traded at about 23x net income through the last 12 months ended June 2014 ("LTM0614") of $6 billion. The company is extremely undervalued at these levels.
Conclusion
Analysts set a high bar for Q2 revenue and earnings estimates, and Gilead delivered. Its revenue - including and excluding Sovaldi - met or exceeded expectations, and it beat the market's earnings expectations. At 23x LTM0614 net income, the stock is a screaming buy.
Disclosure: The author is long GILD. The author wrote this article themselves, and it expresses their own opinions. The author is not receiving compensation for it (other than from Seeking Alpha). The author has no business relationship with any company whose stock is mentioned in this article.
Additional disclosure: I own straddles on Gilead.