Recent turbulence related to foreclosure procedures at Countrywide and mortgage repurchase claims from GSEs, the Fed (NY), Blackrock and others have pummeled Bank of America (NYSE:BAC) over the past several weeks, given the inherent franchise strength and low relative valuation at 'normal' earnings levels (~6X projected 2012 earnings).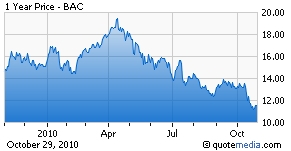 Third quarter results announced recently (see earnings call transcript here) included a $10.4 billion forward-looking goodwill impairment charge related to limits on debit interchange fees under the financial reform legislation (July 2010). Given the book size, this charge is significant, even considering impact on both debit and credit card portfolios. Excluding this, 3Q earnings increased to USD 0.27/share, against analyst consensus of USD 0.16/share. Total revenues also increased slightly to over USD 26.7 billion. Apart from the significant charge related to the card services book, mortgage warranty claims related to securitized pools of the 2004-'08 period also caused significant perceived risk increase and hence, pressure on the stock price. BAC currently has around USD 4.4 bn in repurchase reserves, against outstanding claims of USD 12.9 billion. Considering the average loss impact proportion (22-25%) of prior repurchases in this pool, the current reserves look more than sufficient to cover potential claims. Also, BAC and most other lenders seem to have their act ready to manage through the tussle on the foreclosure front - though the 'omissions' and lack of control on the process is quite shameful, across many of the large banks. Given the above, despite open/unknown risk factors, especially on the foreclosure front, it is important to note that BAC has budgeted/provisioned reasonably against the major areas of potential headwinds.
A look at the revenue mix across segments - Card Services (24%), Global Corporate banking (19%), Global Markets (17%), Wealth management (15%), Home loans and insurance (14%) and Deposits (12%) - show a heavy skew towards consunmer/retail banking and wealth management. I personally feel that a good part of onerous regulations in this sector has already seen the light of the day, and potential incremental pressures on consumer credit and mortgages should be relatively low in 2011. Given this, though, interest spreads would remain tight:
Loan loss provisions should definitely decrease in 2011 as compared to 2010 level of USD 31 bn
Card services revenues should stablize in 2011 due to lower card delinquency and repayment delays
Mortgage fees should look up due to continued refinance activity in a low rate environment
The above factors, primarily driven by overall franchise strength and market share, should yield positive revenue and earnings numbers in 2011 as compared to the current year. It should also be noted that BAC's loan to deposits ratio has significantly reduced over the past 3 years (to less than 1:1) and loan loss reserves are at their highest level (close to 3.8%). Given these factors, and a book value of over USD 11, further downward pressure on the stock price seems unlikely.
Of course, this is against the expected backdrop of a gradual continued improvement in employment and the housing market, which seems justified given general trend shown by leading indicators, and pro-active Fed/gov't support to any market pressures so far. It's, however, worth a wait-and-watch towards the end of the year to see how the foreclosure story plays out before building long positions - especially given the high foreclosure pipeline volume (USD 54+ bn) as compared to other large competitors like JPM and C.
Financials on the whole look extremely tricky to take value calls on, as always, given accounting practices and rapidly changing regulatory and legal pressures at multiple ends. However, if you are one who really doesn't believe in a doomsday scenario, and want to look at fundamental business value and segmental growth/stablization potential, stocks like BAC are worth watching as we head into next year. I personally would consider entering before EOY, especially at any entry opportunity below 11.
Disclosure: No positions in BAC, JPM, C at this time