Salesforce.com (NYSE:CRM) is a company ahead of its time. A decade ago Salesforce.com was calling for the end of software as we know it. Now that vision is becoming a reality as more and more companies get their services in the cloud. Salesforce.com is constantly innovating and is now bringing many of the lessons learned from Facebook and social media into the business of customer management. Their services provide business customers with a more effective and lower cost method of managing clients, sales, leads and much more.
A more effective and lower cost method is a powerful argument indeed and the customer base is growing rapidly, leading to surging revenues and profits. Revenues have nearly doubled in two years (from 749 million to 1.3 billion) and profits are up about 4 fold in two years (from 18 million to 80 million).
So the growth is there and the future is extremely bright for CRM but is all that growth and future glory already priced into the stock?
click to enlarge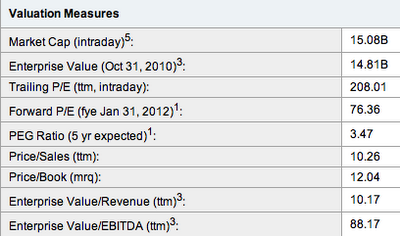 CRM is trading at 208 times trailing earnings (that's not a typo) and at 76 times 2011 estimated earnings. It will take a lot of growth to justify the current stock price, let alone drive further stock price appreciation. At some point, as the company matures, we can expect that high PE multiple to contract to a more reasonable level and that could spell trouble for CRM shareholders.
In the past there has been plenty of takeover speculation, with the common rumors suggesting Google (NASDAQ:GOOG) or Microsoft (NASDAQ:MSFT) targeting Salesforce.com, but those rumors are fading as Salesforce.com grows. With a market cap of 14 billion and trading at a sky high valuation any bid for the company is becoming more and more unlikely.
Bottom line is this. Salesforce.com is a company that I would love to own but, try as I might, I can't justify buying into shares at over 200 times earnings. With it's current stock price of $116 it appears to be in bubble territory and I would hold off and wait for a more reasonable entry point.
It's on my A+ watch list but too pricey for my portfolio.
Would you buy into CRM at these levels? Feel free to comment below.
Disclosure: Author is long GOOG. No positions in CRM or MSFT