Medical Properties Trust, Inc. (NYSE:MPW) acquires, develops and invests in healthcare facilities. It leases these properties to healthcare operating companies and healthcare providers. It also provides mortgage loans to healthcare operators and offers other type of loans to healthcare providers and operators. MPW focuses exclusively on providing capital to acute care facilities of all kinds through long-term triple-net leases. MPW maintains that it is the only healthcare REIT focused on funding hospital and other facilities where patients must be admitted by doctors. This focus has given the company expertise in this particular niche with an intellectual and financial advantage over other medical property trusts.
The types of properties that MPW purchases include rehabilitation hospitals, long term acute care hospitals, ambulatory surgery centers, women's and children's hospitals, regional and community hospitals, medical office buildings that are adjacent to or integrated with other healthcare facilities and some single-discipline facilities such as cancer centers, orthopedic hospitals and others. The distribution of the assets is shown below: (Tables taken from MPW website)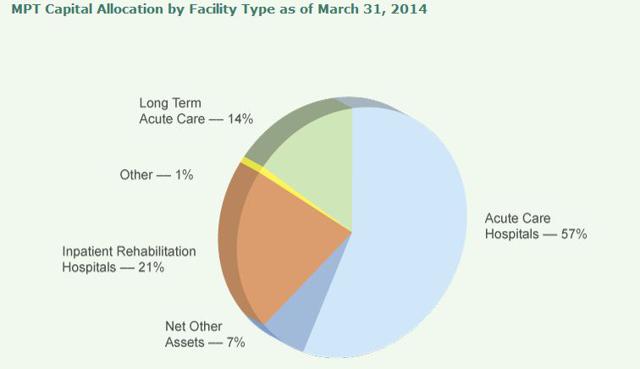 The company reported the following on May 6, 2014:
At March 31, 2014, the Company had total real estate and related investments of approximately $3.0 billion comprised of 117 healthcare properties in 25 states and in Germany. The properties are leased to or mortgaged by 28 hospital operating companies. Based solely on this portfolio and approximately $180 million of future acquisitions, the annual run rate for Normalized FFO per share is expected to range from $1.10 to $1.14. Actual 2014 Normalized FFO may differ from this range and the Company will provide periodic updates as acquisitions are finalized.
The distribution of these properties across the United States is shown in the illustration below: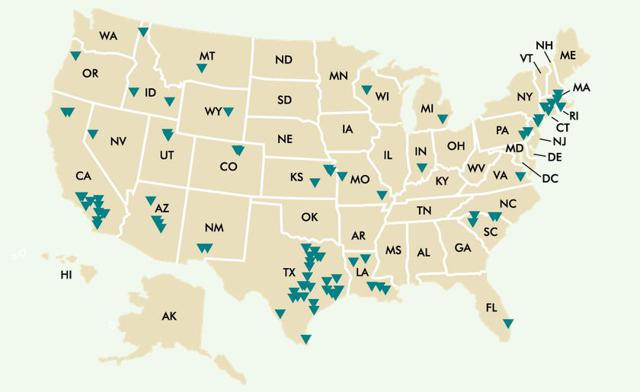 MPW closed a transaction in December, 2013 to take possession of 11 rehabilitation hospitals across Germany. The distribution of those hospitals is shown below: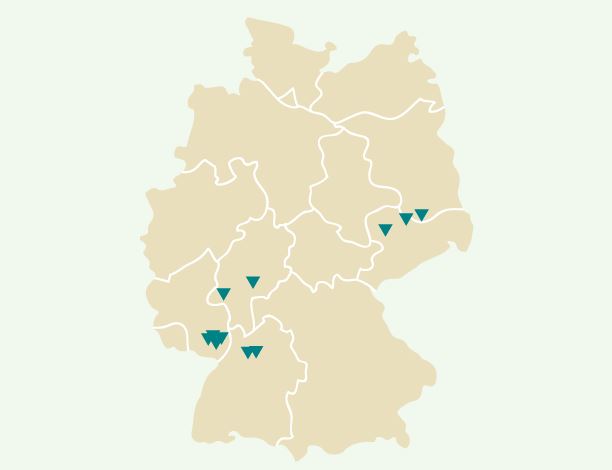 The company further reported that FFO was $0.26 per share, up 4%, that it had issued 9.9 million shares of common stock to fund additional purchases and sold $300 million of senior notes in April.
The company also reported in June that it closed on a $900 million credit facility which could expand to $1.15 billion if certain conditions are met. President and CEO Edward K. Aldag Jr. stated that this credit facility would allow the company to continue to move forward to close on a strong pipeline of opportunities both here in the U.S. and abroad. Not only does the company work on expanding the number of facilities, it also manages its leases to grow income by having over 90% of them covered by escalation provisions. Many of the leases have a floor increase annually with an additional provision to increase with the CPI. The company estimates that rents will increase from 1.4% annually with 0% increase in the CPI to 4% if the CPI increases 5%.
Historically the company's revenue and EPS has been growing at a 16 to 17% rate. The graphs below have been taken from TDAmeritrade.

One of the reasons that the valuation of MPW is low with a corresponding dividend rate of return that is higher than its peers has to do with negative earnings surprises during 2013. MPW's earnings were considerably lower in 2013 compared to 2012.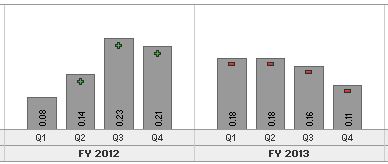 So in spite of a $.01 increase in the dividend, the price of this REIT has lagged the market.
Several independent rating companies have a buy on MPW. The Street has maintained a buy on this REIT since November 2011 and S&P has recently placed 4 stars or a buy as of the end of June of this year. S&P estimates that FFO per share will increase in 2014 and 2015 as a result of recent acquisitions. Ford maintains a sell on the issue because of the deceleration of earnings over the past 5 quarters. Back in February, Brad Thomas wrote:
Based on a current share price of $13.27, I consider MPW to be trading at "sound value". I intend to add more shares as my BUY TARGET remains $13.00. Since my last article I am even more confident in MPW as the earnings record, balance sheet management, and growth prospects all translate into strong fundamentals.
Conclusion:
This healthcare REIT appears to be heading in the right direction to assure investors of a steady dividend that will grow with CPI over time. It is a triple net leasing REIT that is located in a niche which requires specialized expertise in a growing area of the economy. There is little question that the populations of the US and Europe will require increasingly acute health care facilities with the aging populations in both these areas. This company permits the operating companies in healthcare to expand with a lot less capital which puts it in an ideal position to continue growing over the next decade. With the current yield at 6.4%, this stock looks to be an excellent choice for the retiree who is looking for current income from one's investments with a built-in CPI to help cover inflation.
Disclosure: The author is long MPW. The author wrote this article themselves, and it expresses their own opinions. The author is not receiving compensation for it (other than from Seeking Alpha). The author has no business relationship with any company whose stock is mentioned in this article.