Pure retail companies have never been sweet spots for the famed investor Warren Buffett and make up a very small part of Berkshire Hathaway's (NYSE:BRK.A) (NYSE:BRK.B) portfolio.
Buffett is no stranger to consumer brands that have retail outlets such as Benjamin Moore & Company or Justin Brands and the H.H. Brown Shoe Group, all of which can be found in Berkshire's portfolio, but pure retailers whose primary business is to distribute their products principally through their own outlets that they control is an area that has historically given Mr. Buffett some degree of consternation, even today.
Annual Meeting Notes
At BRK's annual meeting in May in response to the question, "How should we figure out what our circle of competence is?" Buffett noted the following, "I would say in my own case I've gone out of it more often in retail than any other arena. It's easy to think you understand retail and then subsequently find you didn't, as in the department store in Baltimore." His comment was in reference to his 1966 purchase of the Baltimore department store Hochschild Kohn.
Later at the same annual meeting Mr. Buffett's business partner, Charlie Munger, stated: "I think the new technology is going to be quite disruptive, retail in particular. When you get computing power on this scale, it is changing the world."
Mr. Munger points out this could make for either a land of opportunity or a graveyard of failure.
Not A Core Competency
Buffett generally shies away from investments in business that he does not understand or does not consider part of his "core competencies". Currently, Berkshire does not own any general merchandise or clothing retailers, focusing more on niche areas such as home furnishings, jewelry, confectionery and party supplies.
Buffett's investments in the stocks of publicly traded retailers are also a mixed bag. He did well with his investments in Wal-Mart (NYSE:WMT) and Costco (NASDAQ:COST), but has cut some of his losses in Tesco (NASDAQ:TESO), a U.K. supermarket chain that is struggling to maintain market share.
Buffett is a big believer in buying brand names at bargain prices. Each of these investments represented calculated risks in doing just that.
Laissez-Faire Management Style
A large problem with retail is that the game keeps changing.
Consumers are finicky about what and when they make purchases. In addition, low barriers to entry allow many to get in the game, sometimes at a lower cost or by implementing a new technology, such as with Amazon (NASDAQ:AMZN), completely changing the way business is done. This makes long-term, sustained, competitive advantage difficult to obtain.
Because the retail game is in flux, there is a constant demand for new ideas and new initiatives and the threat of new entrants are around every corner. This environment requires leaders that can assess the effects of the future on the business and many times this fresh thinking comes from the outside. The retail industry tends to have more family-owned businesses that hire from within and may not have the needed external perspective or fortitude to make those changes.
This tends to go against one of Buffett's investment tenets as he places a great deal of trust in the management of the companies that he buys, which allows them to operate independently and with little supervision or monitoring.
This laissez-faire approach to management may not be best suited for investments in this sector.
Outlook for Berkshire Hathaway Without Retail Exposure
Better-suited investments do continue to roll out of the highly practical and experienced management team at Berkshire Hathaway.
On July 1st, the company announced its completion of the acquisition of Miami-based television station, WPLG, previously owned by Graham Holdings Company. This suggests Buffett sees future promise in the diversified media business.
In May 2014, Buffett made inroads into travel insurance, with acquisitions MyAssist, a personal concierge service, and Insure America.
In 2013, revenues in nearly all major Berkshire sectors (insurance, railroad, financial/financial products).
With a relatively anemic retail sector in 2014, as gauged by SPDR S&P Retail ETF (NYSEARCA:XRT), we are optimistic that Buffett is moving in the other direction-and suggest investors hop on to Berkshire Hathaway's ride up.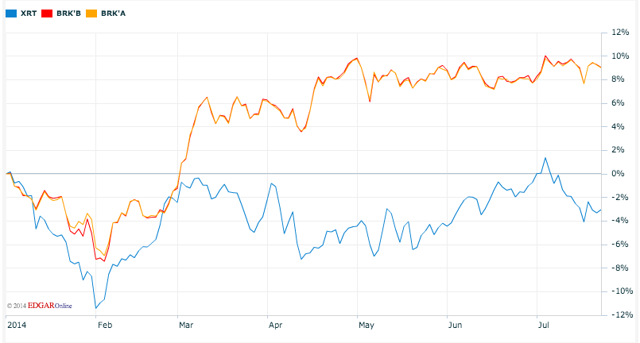 (Nasdaq.com)
We invite readers wishing to join the discussion on Warren Buffett and Berkshire Hathaway to click the +FOLLOW button above the title of this article --and those looking for the latest developments to click +Get real-time alerts.
Disclosure: The author has no positions in any stocks mentioned, and no plans to initiate any positions within the next 72 hours. The author wrote this article themselves, and it expresses their own opinions. The author is not receiving compensation for it (other than from Seeking Alpha). The author has no business relationship with any company whose stock is mentioned in this article.