The trend is your friend and the stock market still looks up for the moment, although I'm looking for a pull-back of some kind. With volume as low as it's been this year, I think it looks like investors are being very cautious in cash, while fund managers and other wall-street experts are saying everything is ok to buy. Maybe these pro's don't want to lose their jobs with the lower fund inflows this year like many main-street folks have been un-employed these past two years.
Good Value Drug Company
I've got a buy recommendation this week on Par Pharmaceutical Companies. Their earnings report is coming out this Wednesday November 3rd, so get ready for that to commit to a buy long position or not if they come in with some weak earnings.
Tetrahydrocannabinol and Many Other Drugs
Par Pharmaceutical is valued at about $1 billion and develops, manufacturers, and markets a number of generic and proprietary drugs including Dronabinol, a form of Tetrahydrocannabinol or THC. If Marijuana gets legalized they might be a beneficiary with Dronabinol, but this is a very small part of their overall business with their many other drug pipelines.
Good Valuation for Continued Growth
Par Pharma has a PE ratio of about 13 which looks of reasonable value currently, and their balance sheet is very healthy in itself with its very low debt to equity ratio. Their 5 year EPS growth rate has averaged 14.43 over the industry average of 9.00. The bottom line on Par Pharma's fundamentals is that currently its selling at a decent discount to the rest of the industry.
New Drug in Their Pipeline
Par Pharmaceutical reported last Tuesday it's now shipping a generic version of the cold and cough treatment Tussionex after getting final approval from the FDA. Par said U.S. sales of this drug are about $200 million plus.
Buy Long Par Pharmaceutical – Ticker PRX
Buy Entry: 30.00 to 32.50
Stop-Loss: 29.00
Take Profit Areas: 35.19 to 35.54, 37.19 to 37.62, 39.79 to 40.23
click to enlarge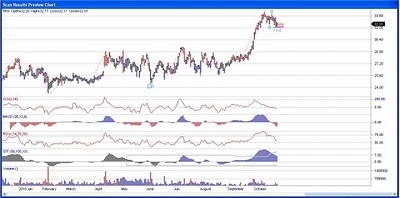 Disclosure: Going long PRX per trade plan outlined above.