Key Takeaways:
As anticipated Gilead's (NASDAQ:GILD) share price did not respond to the record setting new drug sales of Sovaldi. As we noted in our report the best trading approach was to be positioned short Volatility with the weekly options short $93 Calls and short $85 Puts.
EPS of $2.36 vs. consensus/our est. of $1.72/$1.98. Our $4.1B Sovaldi WW sales estimate was off primarily due to lower than expected volumes of V.A./Medicaid patients, small inventory build, and possibly lower than modeled average pricing. Net Revenues were $6.534B vs. our est. of $6.553 driven by stronger than expected HIV and HCV sales.
Extremely important Pipeline data for oncology pipeline coming by year end with simtuzumab, pending data results will determine rapidity of an acquisition of MGNX and a "go/no-go" for a INCY acquisition.
Congressional and Payor criticism of Sovaldi's price has likely only increased HCV awareness, diagnosis, and treatment. "All the controversy is a constantly daily reminder for the public" to get tested or treated.
U.S. Food and Drug Administration Approves Gilead's Zydelig® (idelalisib) for Relapsed Chronic Lymphocytic Leukemia, Follicular Lymphoma and Small Lymphocytic Lymphoma. GILD will immediately begin promotion, with approval in EU pending.
Share Repurchase activity is only going to accelerate from here: $1.7B YTD ($1.2B 2Q14 15M shares), another $1.7B by the end of September 2014! This is accelerating, and GILD's CFO continues to argue that their "shares are currently undervalued." We agree.
Sovaldi was approved In Australia.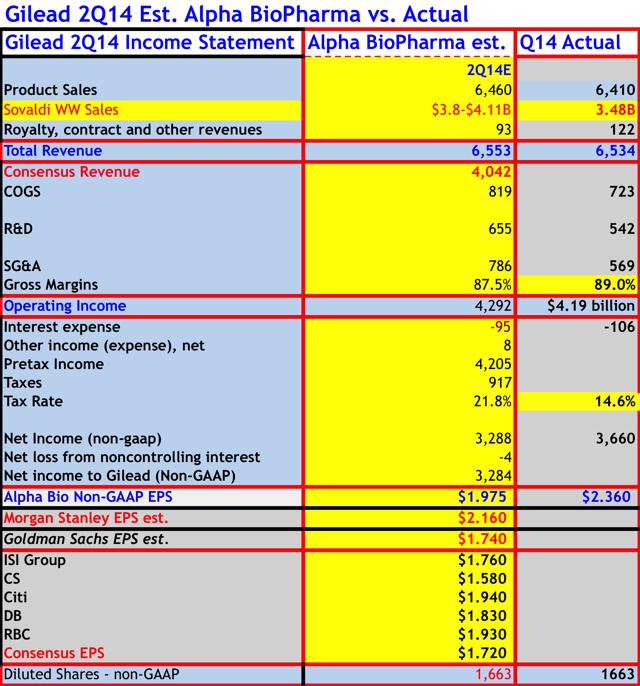 HCV: Sovaldi
GILD reported $3B U.S. and $500M ex-U.S. mostly from France and Germany, vast majority of EU sales were related to demand, supply chain were at levels necessary to supply demand. Management confirmed that warehousing has begun; patient warehousing if it continues may have downstream impact on distribution channel
80,000 patients have been treated with Sovaldi, (70,000 U.S. patients, 10,000 EU). US HCV IMS Data showed a high capture rate. Increased usage with interferon free regimens being used, all-orals are being approved by payors increasingly with Olysio despite costs, supports the notion of >$100K Sovaldi/Ledipasvir pricing, we model only $83,300 of the new FDC regimen representing >10% to our estimates on pricing alone. GILD estimates that 40% of patients treated are F3-F4, while 60% are F0-F2. 80% of all Sovaldi patients are new to treatment with only 20% being treatment experienced.
70% of physicians have prescribed Sovaldi to date, vs. 50% in 1Q14 (30% of Docs have been warehousing all patients ahead of Sovaldi/Ledipasvir launch in October). This translates into a rapid sales launch of Sovaldi/Ledipasvir ($4.34B including 4Q14 new drug inventory build for 2015 ~$300M), based on the reality ~1/3 of docs have yet to even begin treating their patients, thus a larger than expected Warehousing may be present in 4Q14 than 4Q13 when Sovaldi was originally approved.
GILD's HCV Clinical Trial Program has treated and cured 6,000 patients, which is a very robust safety and efficacy data set that should translate into more rapid development of its 3rd and 4th wave HCV regimens based on Sovaldi backbone comparatively to Merck (NYSE:MRK) developing regimens with all novel drug candidates.
Sovaldi/Ledipasvir
U.S. PDUFA Oct. 10th, EU later 2014, in Japan Sovaldi/LDP will be filed 4Q14, GT1 Phase 3 with 22% cirrhotics, 99% treated with Sovaldi/LDP + Ribavirin attained SVR12, and 100% of those treated without ribavirin achieved SVR.
10,000 patients treated in EU (France and Germany predominantly), full pricing and reimbursement is ongoing and sales haven't begun in many markets.
In Japan, GILD has submitted its NDA for approval in GT2 patients based on Phase 3 data showing 97% patients achieved SVR12, representing GILD's first NDA in Japan. GILD expects early 2015 launch of Sovaldi in GT2 patients and Sovaldi/LDP in 2H2015.
Waves 3 and 4 on the Way
Dr. Mark Schoenebaume (ISI) asked about GILD's progress on triplet regimens and how GILD intends to combat MRK's attempt to deliver 4-week cures. GILD's first-gen pan-genotypic regimen with Sovaldi/GS-581 is already in Phase 3 and expects first data readouts during the 2H15 (AASLD November 2015?). AASLD 2014 will be critical for elucidating these questions and competitive dynamics for the HCV market 2017 and beyond. GILD will be releasing Phase 2 data on its 3rd wave triplet regimens reducing treatment durations as follows using Sovaldi + GS 9451 or GS-9669:
6-8 weeks in cirrhotics,
4-6 weeks in treatment naive for 3-4 drug combos.
Management noted "the Hurdle bar has gone way up," and that "any regimen must be >95% SVR12 before going into Phase 3." Thus, if MRK's 4-week data delivers anything <90-95% SVRs, a 4-week regimen wouldn't be competitive relative to a GILD 6-week regimen that delivers 100%. Management recalled that they disclosed data from NIH in March showing that you can take 6 weeks of three GILD drugs Sovaldi/Ledipasvir + (GS-9451) that delivered 100% cure rates. GILD noted that once AASLD data comes out they will have a better idea of which regimen they will select for their Phase 3 future triplet pan-genotypic regimen, and underscored that they "can move rapidly into Phase 3."
In essence, AASLD 2014, is a key event this year, more so than what most analysts expected at the beginning of the year and we anticipate that the broad breadth and depth of GILD's 2nd, 3rd, 4th wave regimens at AASLD this year will diminish much of the "glow" shined upon MRK's HCV pipeline after the Idenix (NASDAQ:IDIX) acquisition and reassert GILD's dominant market position in HCV despite new competition.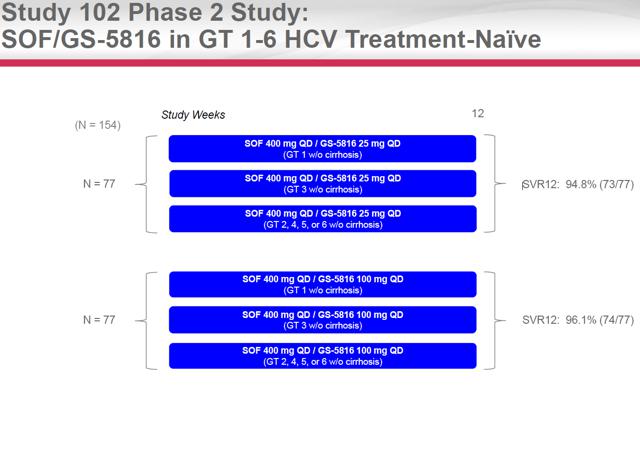 Pipeline News flow in Oncology and NASH during 2H2014/2H2015 could be VERY Bullish
GILD will be releasing its first Simtuzumab data in Oncology in MF (with Jakafi), Pancreatic and Colorectal Cancer data is expected by end of 2014 (ASH 2014 in December?). We anticipate that if Simtuzumab fails this will only increase the need for an oncology focused M&A. Management is looking for a good separation of PFS curves with 2 doses of simtuzumab 2mg/10-mg, and ideally would like to see a dose response in solid tumor studies before committing to a Phase 3 program
Ongoing Phase 2 enrollments in NASH with Simtuzumab and will fully be enrolled by year-end and data is expected by 2H2015! GILD's discussions with the FDA 6-months ago determined that "histology is not an approval endpoint, they want clinical efficacy, changes in Hepatic Venous Pressure Gradient (HVPG) at 48 weeks=clinical endpoint. Histology is only a link for two studies, but HVPG is the key, but FDA can change their minds." Simtuzumab has always been a high risk novel target, "If it works it could be really really useful for solid tumors."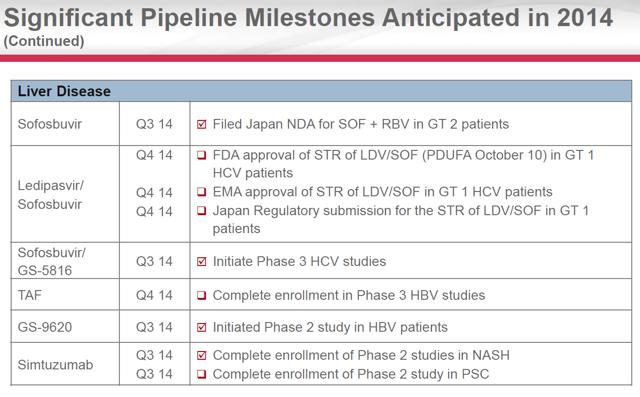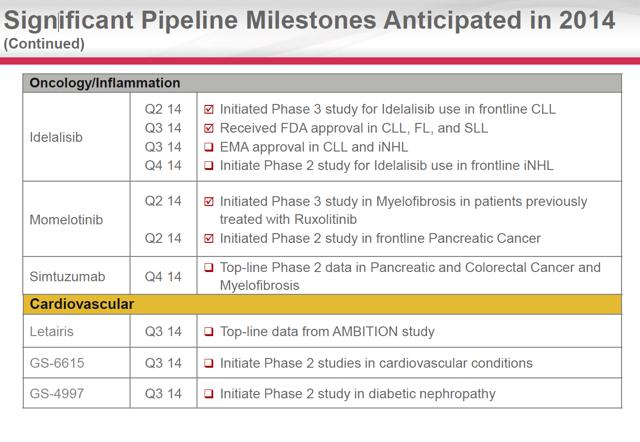 We conclude by saying that GILD shares remain severely undervalued; their large EPS beat highlights the strong earnings power GILD truly possesses and see it well above $96/share by year end, $116-$124 by 2015, and $141-$160 by 2016. Given the fact they anticipate repurchasing $1.7B in stock the next 6-10 weeks ("by September") provides an incremental buyer during this period noting that from January 2010 through June 2014, ~53% of free cash flow was utilized to purchase and retire ~21% of shares outstanding. Given the strong pipeline news flow throughout the remainder of the year in Oncology with Simtuzumab at ASH (December 2014) and at AASLD (November 2014) provides a low-risk setup with upside optionality from Simtuzumab in Oncology, and additional data in NASH by 2H2015 that collectively could represent ($10-$12B in Peak Sales). Based on GILD's extreme repurchase activity acceleration into 2H2014 $1.7B more in 3Q14 alone), and examining their average share repurchase price we estimate that there is a fundamental floor value for the stock between $80-$82/share.
Disclosure: The author is long GILD. The author wrote this article themselves, and it expresses their own opinions. The author is not receiving compensation for it. The author has no business relationship with any company whose stock is mentioned in this article.
Additional disclosure: Long GILD through Options and stock