Introduction
In my previous article, I briefly wrote that AMD's (NYSE:AMD) third-quarter guidance seemed rather conservative as we head into the company's stronger half of the year. Last week, the pre-earnings rally brought the stock to a new 52-week high of $4.80, but the stock has fallen over a dollar since due to an EPS miss and poorly perceived guidance. This poor guidance caught many investors off guard and was largely the reason for the big plummet. While I don't believe AMD will go significantly beyond its projections, I do believe that the company set a light goal for itself that I expect to be beaten.
The Bad Outlook
For the second quarter, AMD generated in-line revenue at $1.44B and guided for an inadequate two percent increase, plus or minus three percent. This puts its projected revenue range between $1.42 and $1.51 billion. Prior to earnings, analysts were expecting that for the third quarter AMD would generate between $1.44 and $1.79 billion, with an average of $1.57B. Even if AMD reaches its own high-end projection, it will still be 4% lower than the average expectation from analysts; this created the catastrophic response we witnessed post-earnings.
Over the years, AMD has built a rather strong reputation for being conservative in its guidance. In fact, it's likely that the chipmaker has been so conservative that nearly every high-end outlook it provided became the new expectation. My chart below shows it crushing its own guidance for five straight quarters. Last quarter, when they fell directly in the middle of its guidance, the stock got crushed instead.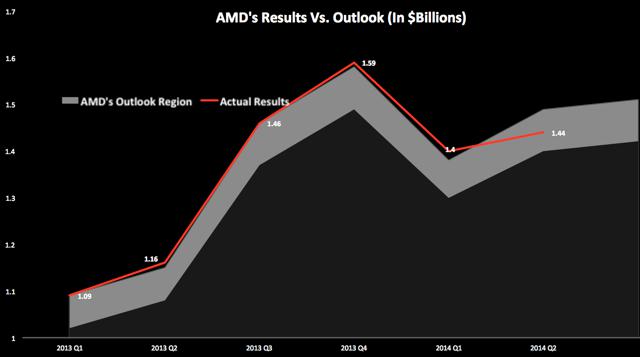 Why it's conservative
The second half of the year is when AMD typically engenders a stronger performance. Within just the last year, AMD has widely shaped its revenue stream to be very altered from its former business, fundamentally making the observation of its historical performance obsolete. This essentially creates a good reason to guide low, but that being said, I believe that there are a few factors that show it is very conservative.
Earlier this year, AMD stated that they expect to generate sequential PC revenue growth for the rest of the year while stating that they believe the PC market will fall 10%. While they did not confirm this statement last week, it increased its PC revenue by 1% and adjusted its year-end PC market outlook to a lesser 5-7% decline. In addition, AMD also mentioned last week that it expects to grow its GPU revenues for the rest of the year. On the semi-custom side, the side of significant interest, AMD expects to ramp revenue as the console makers prepare for the holiday season, but it isn't expecting any massive boosts for the rest of the year.
Last holiday season, there was extreme demand for the gaming consoles as they launched in late-November. Both consoles sold over a million units within 24 hours and from then on, Sony (NYSE:SNE) and Microsoft (NASDAQ:MSFT) suffered massive supply constraints. Sony's PS4 was resold at higher prices for several months following its launch as it consistently sold out within minutes of being available. Historically speaking, consoles always sell significantly more units during holiday season than any other time of the year. A quick look at the historical chart of gaming consoles below adds some color.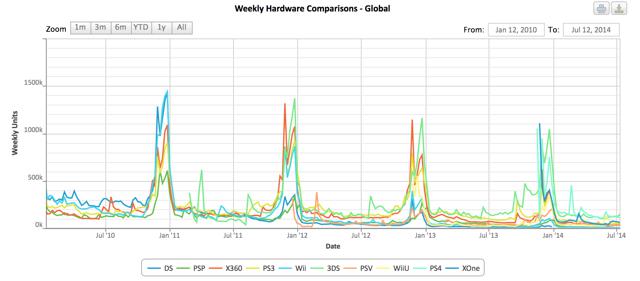 Source: VGChartz
Coming around to this holiday season, I think that the console makers will try to avoid a repeat of last year and may result in very strong sales for the holiday season. For AMD, this will likely result in stronger than expected semi-custom revenues for the third quarter. Even China, whose introduction to the console market begins this quarter, could also provide an unforeseen boost but know that this market is a gray area.
Throwing in some numbers
As I mentioned above, the chipmaker guided that it would generate $1.42-1.51B for the third quarter. AMD's revenue is broken down into two parts, GVS (graphics and visual solutions) and CS (computing solutions). If AMD improves its GVS revenue by a conservative 5% ($810M) due to increased GPU and semi-custom sales, and generates flat CS revenues ($669M), it will generate a total of $1.48B. In another scenario, if GVS increases 8%, and CS increases 2%, this figure will jump to $1.52B.
When you consider that AMD previously guided for sequential increases in CS revenue while stating that they expect to ramp GPU and semi-custom revenue for the holiday season, I think that the latter makes more sense while still being fairly reasonable (and maybe even conservative).
Closing thoughts
Guidance will continue to play a major role in upcoming earnings releases, especially for the year-end where analysts are expecting between $5.5-$6.72B. As it stands, we just can't predict what AMD has in store for its future yet. By the end of the year, AMD will announce 1-2 new semi-custom wins and will also launch its first 64-bit ARM-based processor by the end of the year. This will add to the volatility to come. However, in regards to guidance, I find that GPU, PC, and very strong semi-custom sales will drive AMD beyond the projections they announced last week.
Please note that whether it is conservative or not, my long-term outlook on the company will be unaffected as it extends beyond next earnings and next year, as I am a firm advocate of its complete transformation due by 2016.
Disclosure: The author is long AMD. The author wrote this article themselves, and it expresses their own opinions. The author is not receiving compensation for it (other than from Seeking Alpha). The author has no business relationship with any company whose stock is mentioned in this article.