Another week, another gain... barely. It would be risky to assume the tepid advance will carry forward into this week though, but only as risky as it would be to expect that looming pullback we've been talking about for some time now. With midterm elections here - and a likely shift from Democratic control to Republican control of the government's houses - it's unclear how investors and option traders will feel about things when they wake up on Wednesday morning.
On the other hand, the emotionally-charged response is likely to be more short-lived than most market participants are thinking. So, since we effectively have a week to sit back and let the volatility run its course, we'll use today to focus on the bigger picture.
Let's start at the very top.
Economic Calendar
Real estate data dominated last week's economic updates, and overall, things were positive on that front. Existing homes sold at an annual rate of 4.53 million... much better than expected, and much better than last month's sales. New home sales were up to an annual rate of 307K. Home prices went up too, anywhere from 0.5% to 1.7% (depending on the yardstick).
Real Estate Report Card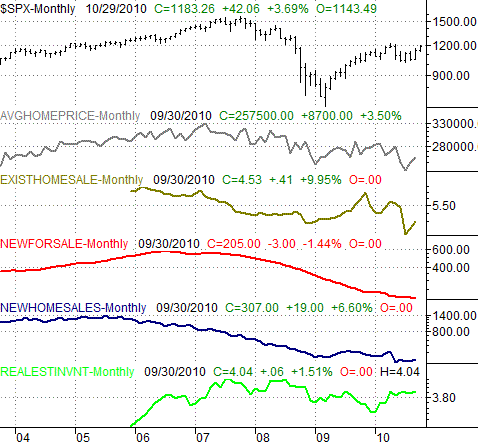 On the confidence front, the Conference Board's measure went up to 50.2 (+1.7) for October, while the Michigan Sentiment Index sank to 67.7 (-0.2).
And on the employment front, continuing claims as well as new claims both fell to near new multi-year lows of 4.356M and 434K, respectively.
While the encouraging unemployment claims levels were well-touted, the media didn't really give enough credit where it was due. The chart below might do that job, however. Though both were technically still in a downtrend from last year's peaks, the progress had been stagnant for weeks. While there are still too many newcomers and returnees to the job market to create real net growth in payrolls, the new claims level is indeed working its way towards respectability. Take a look.
New/Initial Unemployment Claims Versus the S&P 500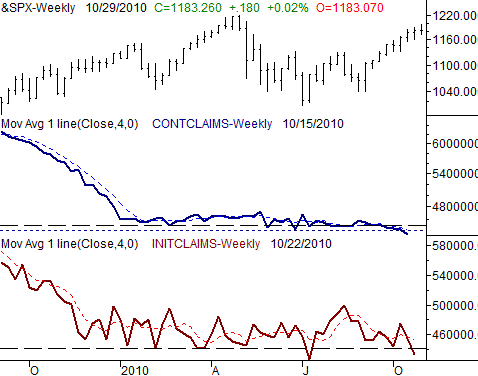 Here's all the data for last week, and everything in the cue for this week.
Economic Calendar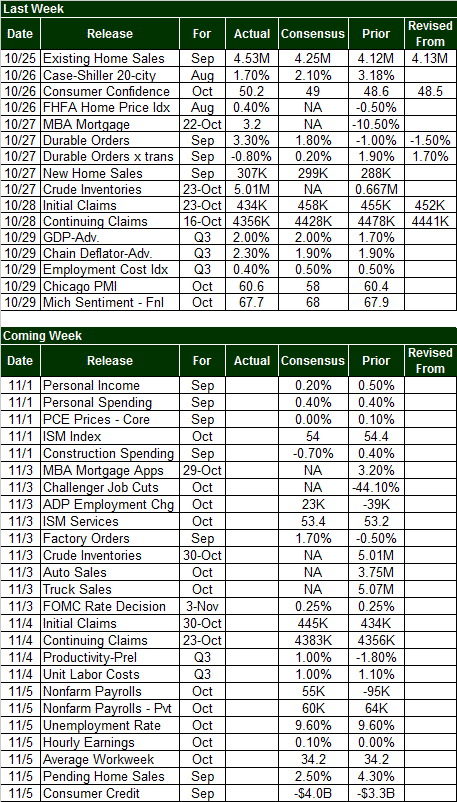 The coming week will be even busier than last week. Personal spending and personal incomes, along with construction spending, will be unveiled on Monday, letting us know just how confident consumers are.
On Wednesday, look for a decent (+1.7%) improvement in factory orders to offset the -0.8% dip in last month's durable orders (ex-transport.... orders were up 3.2% with transportation in the mix). That said, we'll get more detailed and timelier reports on car sales with Wednesday's October-auto-sales figures.
Friday will be a big day as well, mostly stemming from updates on the unemployment battle. We're looking for (net) private payroll additions of 60K - pretty much in line with last month's 64K - though that won't likely be enough to push the unemployment rate any lower than last month's 9.6%. The average workweek and hourly earnings should also be flat.
Also on Friday, pending home sales for September are expected to be up by 2.5%, which is still positive but not as strong as the prior month's growth of 4.3%. Yet, consumer credit is on pace for yet another contraction... this one by -$4.0B.
S&P 500
Well, technically, it was a winning week - the S&P 500 gained 0.18 points (0.001%) over the past five trading days. While a gain is a gain is a gain, it's clear there's something amiss here. Perhaps it's just a holding pattern for the election. Or, perhaps the tank really is out of gas.
Visually, the clues are mounting up for option trading. We already have a bearish MACD cross, and we've seen several high-volume selloffs (relative to the buying daily buying volume) over the last two weeks. And even with just a look at the S&P's daily bars, we've obviously eased up on pushing the upper Bollinger band higher. Moreover, the 20-day moving average line (blue) at 1171 is getting more and more within striking distance as a support line.
That being said, the CBOE Volatility Index, or VIX, is the next big clue as to the market's true direction. It has inched above the 20-day moving average line, though it's strangely been finding a ceiling at a former floor.... at 21.50; former support lines that become ceilings tend to be very, very tough ceilings to crack. Ergo, when and if 21.50 is broken as resistance, that should pretty much jump-start the market's short-term demise.
Such a move would likely coincide with a move under the SPX's 20-day moving average line, so we have a lot of things to look for in the way of pullback warnings.
As we said above though, until it happens, assume nothing. The midterm voting results may buy another week for the bulls; it may even spur another round of this already-overdone rally.
Sector Performance
It was quite a change of fortune last week on the sector front. Gold stocks, which had been hugging the bottom for a few weeks, made their way to the top of the pile over the past five sessions. As tempting as it would be to jump on the hot spot that's got such a great track record anyway, you should know the reasons gold stocks had done so well up until about a month ago (the U.S. dollar and inflation worries, mostly) have NOT rematerialized. Last week's pop was more hype than fundamentals.
On the other end of the spectrum were transportation stocks, losing -1.13%... another major reversal of fortune.
All that being said, the most reliable bull trends are playing out in the basic materials, consumer discretionary, and consumer staples sectors. That wasn't clear with last week's numbers alone, but we're seeing that shape up for the last three weeks or so.
We're about halfway through earnings season, and so far so good. About 75% of reporting companies have topped earnings estimates, while 84% have beat last year's operating earnings figures.
The most earnings 'beat' successes have come - ironically - from the utilities sector, which was supposed to be a poor performer for Q3. The consumer discretionary sector and industrials sector have easily topped estimates as well.
On the weak end of the earnings scale so far has been energy stocks; less than half have beat earnings estimates, while 'only' 72% have topped year-over-year results for the third quarter (which is actually on the low side of the scale).
Here are the major earnings unveilings slated for this week.
Earnings Calendar



Disclosure: No positions